Xbox One SmartGlass Now Available in the Windows Phone Store [Updated]
Users with an Xbox One on its way to their door step don't have to wait until it arrives to download Microsoft's companion app for the next-generation entertainment console. That's because users can download the updated SmartGlass app for the Xbox One beginning today.
That is, they can download the application if they are a Windows Phone user. Xbox One SmartGlass appeared in the Windows Phone Store this morning, along with a detailed description of the features it enables.
Like its Xbox 360 counterpart, Xbox One SmartGlass will allow users to navigate the Xbox One's software interface without ever having to pick up a controller. They can also use the application as a sort of universal media remote for any app on the Xbox One that has SmartGlass functionality. In some cases, Xbox One SmartGlass will even allow users to treat their smartphone as a keyboard and mouse to control the app they are in on their television. It's a feature Microsoft detailed when it formally announced Internet Explorer for Xbox One.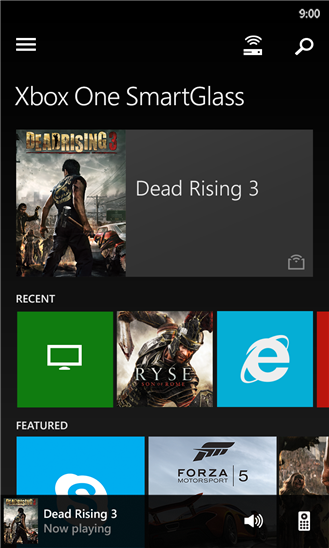 When users aren't at home they can use Xbox One SmartGlass to browse for content and pin stuff they are interested in to their Xbox One. They can also track their friend's achievements, search for help completing game levels, message Xbox LIVE friends and watch video game footage that they recorded using the Xbox One's Game DVR functionality.
Although, Microsoft doesn't discuss the feature in its description, Xbox SmartGlass also displays game information and other useful nuggets of trivia should a game or app support it. At launch, Dead Rising 3 will allow users to treat their actual smartphone as in-game tool. Microsoft also said that game developers could treat smartphones equipped with Xbox One SmartGlass as extra controllers as well.
Read: Microsoft Talks About Upgrades to SmartGlass App for Xbox One and Xbox 360
Presumably, it's only a matter of time before the Xbox One SmartGlass app shows up in mobile app stores other than the Windows Phone Store. A version of the Xbox SmartGlass app for the Xbox 360 is already available in the iTunes App Store and Google Play Store. 
Update: Xbox One SmartGlass is now available in theWindows Phone Store, Google Play Store, iTunes App Store and Windows Store.

This article may contain affiliate links. Click here for more details.