Xbox One Update with Backgrounds is Available to Everyone
The Xbox One Update that adds picture backgrounds and streaming support for both audio and video files is now available for everyone to download.
Microsoft quietly began pushing a new Xbox One Update to owners of the console this past week-end. This is the same Xbox One Update that it began letting some users test in late October as the November Xbox One Update.
Just as the post on the Xbox Wire news blog announcing the release hints at, this new Xbox One Update is massive.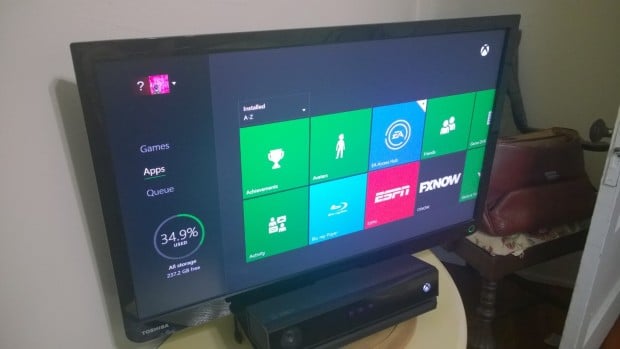 The Xbox One's Start Screen has always felt a bit impersonal. Since launching the console, Microsoft has let users change what colors the on-screen tiles are, but not much else. For example, choosing a custom background wasn't something users could do. After this latest Xbox One Update, console owners can assign artwork they've earned thanks to an achievement as their background for the Start Screen. In addition to achievement artwork, the Xbox One's Media Player app can assign personal photos as a background. Interestingly enough, you can't yet assign a background from the OneDrive Xbox One app. Backgrounds don't sync from other Microsoft devices either like tablets running Windows or Microsoft's Windows Phone operating system.
Read: New Xbox One Update Brings Backgrounds & More
Included in this coming Xbox One Update is the Showcase. Through the Xbox One and the Xbox One SmartGlass app, Xbox Live users are able to choose from their favorite achievements and video clips. Assigning either to the Showcase highlights them on an Xbox Live profile when it's viewed on the console. Up to six things can be profiled in the showcase at a time. Options for tweeting about clips are also included.
Besides those gaming features, the entire Xbox Store has been revamped. It is now easier to navigate and makes it easier to find upcoming games and things recently added to the Xbox Store.
The Xbox OneGuide is for those who use the console's live television features. When it debuted the Xbox OneGuide was only able to show users a list of shows that were airing and what was coming up next. After this Xbox One Update, the Xbox OneGuide now includes a list of shows that are trending over Xbox Live. The Xbox OneGuide now shows what shows and movies are trending on Twitter too. Xbox One users can read tweets about shows directly from the OneGuide and MiniGuide area.
Internet Explorer now has an address bar for navigating to different websites when snapped to the side of user's screen and there's a restart option for completely rebooting the Xbox One with just a controller. That last feature might sound small, but it's hugely important considering Xbox One owners had to walk over to their console and keep their finger on its power button to reset it before.
In a separate post, Microsoft talked extensively about the features it's added to the Xbox One this past year. According to their tally, over 100 features and changes have made their way to the Xbox One in small software updates released one a month. The company says that it owes most of those features to suggestions on its Xbox Feedback site.
Xbox One updates are free and anyone can update their console to the last software from the Settings app. When Xbox One Updates are available, a button inviting users to upgrade early appears in the Settings app. For those who have turned the console's low power mode off, this is the only way to get the latest update. Those with the low-power mode enabled will find that their Xbox One will update its software in the background when the console isn't in use.
The Xbox One went on sale last year for $499. Today, the high-end Xbox One costs $449 and includes a free game. The low-end Xbox One without a Kinect 2 sensor and a free game is now $349.

As an Amazon Associate I earn from qualifying purchases.