Xbox One vs PS4 2015: Digital Games
When they debuted in 2015 it seemed all but certain that Microsoft's Xbox One and Sony's PS4 wouldn't bring the digital games revolution that some said it would. Microsoft in particular had bungled the message. Opting not to share important information early enough about digital games killed an idea the company had for turning disc based games into digital games.
As both the Xbox One & PS4 have matured, so has the digital video games market. Digital games on the PS4 and Xbox One have progressed far beyond the simple downloads we thought they would see. Microsoft and Sony are embracing digital games in new ways and that on its own could help you decide which console is right for you.
Xbox One vs PS4 2015: Buying Digital Games
First, let's talk about the basics of buying digital games on the Xbox One and PS4. Mainly they haven't changed. If anything, Microsoft and Sony seem to have converged on the same experiences.
Both the PS4 and Xbox One allow users to purchase games straight from their store instead of having to go to a retailer like GameStop. If those games are relatively new, their price remains unchanged — costing $59.99 complete with pre-order bonuses and upgrades if they are available. Both Microsoft and Sony do a terrific job of making it easier to play digital games on their release day too. The Xbox Store and PlayStation let users buy games ahead of release with the credit cards they have on file. When you purchase a game before release, both consoles let you download the game immediately instead of waiting until release and forcing you to wait until morning to play. A digital download doesn't need to be complete for gamers to start playing.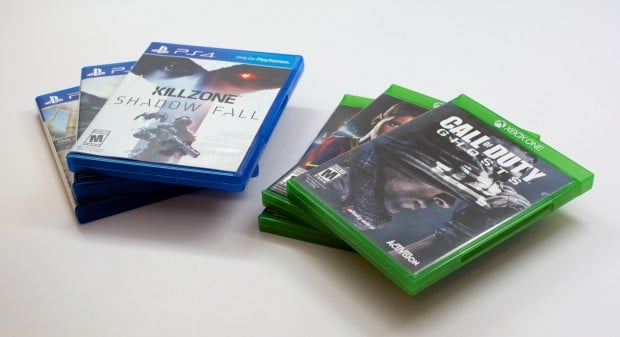 Both consoles can immediately download the game regardless of where the user made the purchase. So for example, on the Xbox One you can buy a game on your smartphone using SmartGlass and have that game ready for you to play when you get home — provided you've set your Xbox One as your home console.
Frequently, the Xbox Store and PlayStation Store hold big sales on digital games. Switching out these sales weekly allows users to get a new deal soon, even if the last one wasn't to their liking. Digital games that you purchase in either store are kept on services and then downloaded to your console when you're ready. When PS4 users are ready to switch out their hard drives for larger versions they can redownload their digital games. Xbox Live keeps track of user purchases too, letting gamers download any title and app to an external hard drive if they've run out of space on their console.
Early on Microsoft bungled digital games and pre-orders, giving the PS4 a clear advantage over the Xbox One. Now, that advantage has been nearly erased with updates to the Xbox SmartGlass app and the Xbox Store.
Xbox One vs PS4 2015: Renting Digital Games
Though buying digital games is a tie between the Xbox One and PS4, renting them isn't. This is the area we've seen a lot of changes in since 2013. Which approach to game rentals you have an appreciation for will definitely help you decide which console to buy.
Xbox One
Today, video game rentals are something Microsoft completely lags behind Sony in. The company doesn't have video game streaming technology of its own. Instead, the Xbox One is the only place where users can get EA Access.
Costing $4.99 a month, EA Access lets Xbox One owners download full digital versions of their most popular games. The EA Access downloads started with just yearly sports releases, but recently it's grown to include more. This fall Dragon Age Inquisition is being added to the service. This past June first-person shooter Titanfall arrived.
Read:
10% discounts on games made by EA Access are included with an EA Access subscription. There's early access to upcoming game releases too. If you're a big Madden fan, purchasing an EA Access subscription and an Xbox One might be the best idea you've had all year. A year of EA Access is just $29.99. When you stop paying for EA Access you lose the games you've gotten through the service, but keep your game saves. This makes your transition to a purchased version of the game pretty simple.
PS4
Sony says that it walked away from an opportunity to bring EA Access subscriptions to its fans. It did so because it didn't need a video game rental service competing with its PlayStation Now service.
PlayStation Now is by all estimates a technological marvel in its own right. Sony has a growing collection of games that allow PS4 owners to connect to its servers and stream gameplay to their console. Purchasing the game, or even buying a PlayStation Plus subscription isn't required. Games like the Mass Effect and Assassin's Creed series are all available for rental through PlayStation Now. Sony keeps a rolling list of PlayStation Now rental games here. Rentals are purchased in hourly and daily rates.
PlayStation Now offers a subscription service too. For $19.99 gamers get access to a smaller set of streaming titles at no addition charge.
Read: PlayStation Now Subscriptions: 5 Things to Know
Streaming from PlayStation Now isn't a perfect solution for everyone. It's requires a pretty decent internet connection to get going and that connection needs to remain stable over time. Any lag due to a slow internet connection and the feature is useless.
Xbox One vs PS4 2015: Digital Games Conclusion
I'd say that as far as digital games are concerned, the PS4 wins out. Those with a decent internet connection can rent a ton of games through PlayStation Now on just a whim. That's cool, that's futuristic. EA Access is the greatest deal in gaming today, but can't stand up to PlayStation Now's breadth of titles.
As for buying digital games, the PS4 and Xbox One are in a dead-heat. You can't go wrong with purchasing either if you're only going to buy your titles. The PS4 is on store shelves now for $399.99. The Xbox One now costs $349 for a model with a 500 GB hard drive and no Kinect sensor.