Xbox One vs PS4: What Matters Now?
It's been a year and a half since Microsoft's Xbox One and Sony's PS4 arrived on store shelves to battle each other for the future of gaming. In that time, a lot has changed. Early on the PS4 absolutely dominated Microsoft's offerings. At $399, the PS4 was cheaper than the Xbox One. To make matters worse, a serious of public relations disasters turned the Xbox One into a laughing-stock and the poster child for large companies not understanding their customers.

Now it's 2015 and the dynamic has changed. There's a lot to consider when you're thinking about whether to purchase an Xbox One or a PS4. Here's a breakdown of what matters today, where each console stands and how both Microsoft and Sony are planning to win over more gamers in 2015.
Xbox One vs PS4 – What They Cost Today
For the minority, picking up a new console is all about allegiances. If you've already purchased into one ecosystem it's a better idea to upgrade what you have for some. Purchasing an Xbox One or PS4 is like deciding between which car to buy for the majority though. They need information about games and features before they make a decision. They also need a price breakdown before swiping their card.
Pricing is one of the three big areas where the battle for gamers is being fought. Simply put, lower priced consoles usually sell more than their more expensive counterparts. Better pricing and better public relations moves are what propelled the PS4 to an early lead over the Xbox One. At launch, every Xbox One was $499 and the PS4 was $399.
Today, the PS3 is still $399, but includes a free digital copy of either Destiny, Far Cry 4, Little Big Planet 3 or NBA 2K15. That's some pretty decent savings, all of those games debuted within the last year. Amazon also has a PS4 with three free digital games. Microsoft has taken a two-prong approached to pricing. Today, every Xbox One comes with a digital copy of Assassin's Creed Unity and Assassin's Creed 4 Black Flag. Again, that's big savings, Unity debuted last year and still costs $60. An Xbox One without a Kinect sensor now costs $349 at Amazon. Picking up a model with the Kinect sensor at Amazon costs $449. The Kinect sensor is useful for giving the console voice commands, chatting through Skype, motion gaming, and Live TV integration.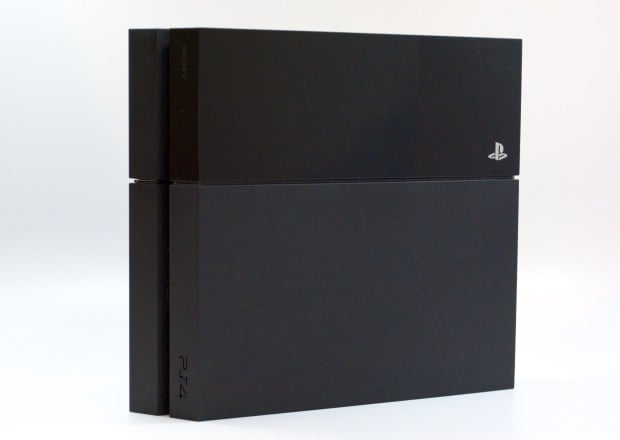 Both consoles still require that users pick up an online subscription if they plan to play online. For the Xbox One, Xbox Live Gold is $59.99 a year or $9.99 a month. PlayStation Plus costs $49.99 a year or $9.99 a month. Both companies giveaway free games with their subscription services, but these titles stop working when you stop paying for the service.
Xbox One vs PS4 – The Differences Today
Originally, the Xbox One and PS4 started out as pretty different consoles. Microsoft focused on gaming, but also had some entertainment features for the entire family. The PS4 offered entertainment apps, but focused almost exclusively on providing the best gaming experience.
Both consoles still look the same and come with 500GB of storage for users to keep apps and digital titles on. Software updates have added DLNA media streaming and external hard drive support to the Xbox One. Both are things the PS4 doesn't yet offer. With that HDMI passthrough port for watching television and the OneGuide to everything getting better; the Xbox One comes out on top for entertainment. The Kinect voice commands and big name apps like HBO Go and YouTube are bonuses.
Microsoft has spent the better part of a year adding small features, but Sony has added a few big ones that lend it the upper hand if gaming is your only concern. Its PlayStation Now streaming service allows users to rent games running on Sony's servers for a low price or pay an extra $20 a month for unlimited access to the PlayStation Now library. PlayStation Now is a gamer's dream come true – provided there's a decent internet connection at home. The PS4 also offers Share Play, an easy, but slightly dangerous way for PS4 owners to hand over control of their games to their friends.
It's completely subjective, but Xbox Live is still the online gaming service to beat. There seems to be more people there. That being said, both services have been hit by inexcusable amounts of downtime in the last year. Party Chat on the Xbox One, is still a mess too.
Xbox One vs PS4 – What The Future Hold
Investing in either of these consoles is an investment in a future. There's a lot of bright stuff coming for both the Xbox One and PS4.
Uncharted: A Thief's End, Until Dawn, Ratchet & Clank are all exclusives coming to the PS4 that we know about. For the Xbox One, there's Halo 5: Guardians, Quantum Break, Crackdown, Fable Legends and Scalebound. Which titles you're interesting in should dictate to which console you pick up.
Sony was the first of the two companies to leap into VR gaming headsets for more immersion. This week the company confirmed that it has plans to introduce what it's calling Project Morpheus sometime in 2016. Project Morpheus will use the PlayStation Camera to track user's movements. Microsoft has HoloLens, a complete computer that layers things over the user's environment instead of completely covering their eyes. Microsoft has already shown off versions of Minecraft on it.
Software upgrades are big for Microsoft as they look to combine everything they offer into one complete ecosystem. The company is promising that Windows 10 for the Xbox One will add an open App Store to the console and boost performance by 20% with Direct X 12. It's also letting Xbox One owners stream their games to a PC and adding cross-platform play so that any developer can create a game for Windows and have it work on the Xbox One or vice-versa. Apps and games on either platform should require just one purchase.
Good luck choosing your console. Remember to focus on the things that matter to you and the features you want. Don't let anything but the things you care about influence your buying decision.