Xbox One vs PS4: What Still Matters When Picking a New Console
Often times it seems like Microsoft's Xbox One entertainment console and Sony's PS4 gaming console are pretty similar. In some ways that matter they aren't.
After announcing a higher price for the Xbox One, Microsoft has spent the last five or six months throwing out everything we knew about its vision for the Xbox One. Microsoft only sold a version with Kinect at launch.  Since then it's backtracked and  is now selling a core Xbox One that matches the PS4's $399 price tag. Xbox Live was required for watching services like Netflix and Hulu Plus on the Xbox One. That too is gone. Now the Xbox One and PS4 both allow users to download entertainment apps and use them at no additional charge beyond the service itself.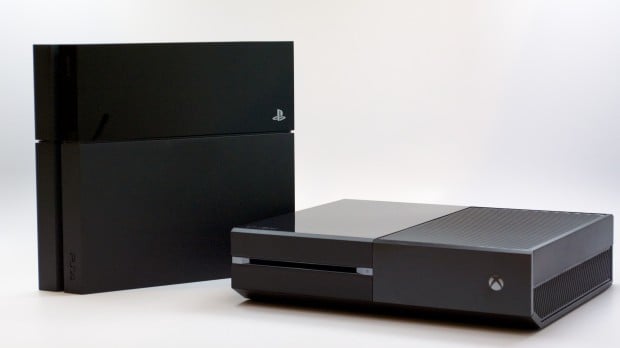 There are more similarities, but the point is the same. Last June or July there were a lot of key differences between the Xbox One and the PS4. With many of those differences gone it's easy to think that users are buying the same experience.
They aren't. Even at this juncture there are important differences between the Xbox One and PS4. It's those differences that matter more than ever when deciding to pick up either console.
The Controller
There is nothing more elemental, more essential than the controller. Devices like the Kinect 2 sensor and the PlayStation Camera have stepped in to provide lite players with a way to interact with their games. Still, it's the traditional controller that most users will interact with for the next few years. They couldn't be more different on the Xbox One and PS4.
The Xbox One controller is just an evolution of its immediate successor, the Xbox 360 wireless controller. Two bumpers and two triggers still line the top of it and there are two thumbsticks for users to control in-game cameras and the character's they're playing as. There's a simple microUSB port that allows the Xbox One to charge the controller — with a battery pack that's sold separately. Users can pair it with a computer if they're into PC gaming. Inside are rumble motors that game developers can program against to make their games  feel more realistic.
The PS4's controller is much closer to a revolution. Sony hasn't moved any of the buttons or thumbsticks. The Two thumbsticks still sit equally at the bottom of the controller's face and directional buttons sit at the top. Select and Start are now off to the side because the PS4's controller sports a touchpad for controlling games. Sony packed in a Share button for chronicling game exploits online. There's also a bright light sensor that can be paired with a PlayStation Camera for motion control.
The entire controller is rechargable and has a built-in headphone jack for listening to games and music and disturbing others. Xbox One users need two accessories just to plug headphones directly into their controller or recharge instead of buying batteries every month or so. For new buyers those are two key differences.
Exclusive Game Play
Exclusive first-party games used to act as the main attraction for console buyers. Those are still around, but today both Microsoft and Sony are bringing exclusive game play into the mix. The process works the same way exclusive games do. Hoping to attract as many buyers to their console as they can, Microsoft and Sony both teamed up with game developers and publishers to make add-on content and downloadable extras available on their platforms. In theory, this leads to users who are very serious about a particular game buying the console with all the available DLC.
New versions of the scheme are always on the horizon. In the past month Sony has announced that PS4 players of Batman: Arkham Knight will have access to some exclusive DLC content. Xbox One owners can expect to get Call of Duty: Advanced Warfare content before anyone else.
There's really no way to be on the right side of this trend. Buyers can make sure that the console they buy has a history of getting exclusive DLC for certain franchises but that's it. For example, Xbox has gotten early Call of Duty content before. PS4 users should know that before purchasing that system.
Ecosystem
Ever since Gillett shipped its first razor with replaceable blades companies have tried to get consumers to live in their ecosystem.
The Xbox One is part of Microsoft's push for today's consumers. It uses the same account as other Microsoft products and integrates with their OneDrive cloud storage service and Skype messaging service. Microsoft extends the Xbox experience with Windows. Windows 7 & Windows 8 users can stream audio and video content directly from their devices to the Xbox One.
Sony's ecosystem play is far more extensive than what Microsoft's is – at least in the hardware space – offering users. First there's the Entertainment Network account that allows users to purchase movies, television shows and books on Sony's smartphones and tablets. Then there's the PlayStation Vita and PlayStation TV. Both have their own games but they also act as an extension of the PS4. Vita and PS TV users can connect to their PS4 and play games using that device and a controller. Who cares if the PS Vita doesn't have the most popular games, when they can connect to their PS4 and play its games?
Unlike the things that brought the Xbox One and PS4 to equal ground based on pricing, the things here aren't something that either company can alter overnight. That makes them bellwethers, differences that potential Xbox One and PS4 buyers can and should base their purchasing decisions on.
An Xbox One without the Kinect 2 sensor costs users $399 as does the PS4. A version of the Xbox One with Kinect 2 sensor costs $499.

As an Amazon Associate I earn from qualifying purchases.