XBox One Available at Walmart Ahead of Cyber Monday Sale
Walmart is selling an XBox One bundle on Cyber Monday for $559, but those who don't want to wait for a potential rush can secure an XBox One today from the retailer. Walmart is selling an XBox One bundle for $617 that's guaranteed to be delivered before Christmas.
The Xbox One is nearly impossible to find at retail or online after selling out the day it launched (Nov. 22). Xbox One pre-orders were even difficult t0 come by in the days and weeks leading up to  the XBox One release. As we noted earlier today, the only major retailer to have the XBox One in stock and ready for immediate delivery is GameStop, though that company is selling the XBox One as part of a $739.99 bundle that includes a trio of games that isn't right for everyone.
The XBox One bundle Walmart is selling today includes the console itself and a choice of two other items. Buyers can opt for either two XBox One games or an extra controller and a single game. Unlike GameStop, Walmart is allowing XBox One buyers to choose from any of the 13 XBox One launch titles.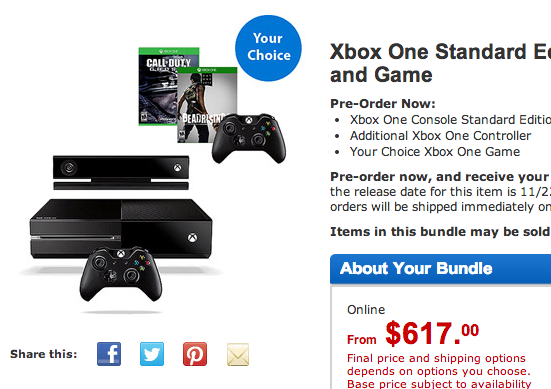 This XBox One bundle doesn't offer any sort of discount for those opting for two games plus the console. In a weird twist, Walmart is actually overcharging customers by $10 that opt for a single game and an extra controller. That's because the games sell for $59, while the controller retails for $49. We recommend opting for two games and worrying about the second controller later.
Those opting for this bundle will be able to choose two of 12 games, including Call of Duty: Ghosts, Zoo Tycoon, Dead Rising 3, Assassin's Creed 4:Black Flag,  Battlefield 4, Ryse: Son of Rome, Forza Motorsport 5, FIFA Soccer 14, LEGO Marvel Super Heroes, Madden NFL 25, Zumba Fitness World Party and NBA 2k14.
In a press release, a Walmart executive said he expects most of its customers that shopped in its stores on Black Friday to shop at Walmart.com on Cyber Monday.
"More than two-thirds of people who plan to shop in our stores on Black Friday also plan to shop Cyber Monday," said Joel Anderson, president and CEO, Walmart.com U.S.
Walmart is offering a more affordable XBox One bundle on Cyber Monday with a guarantee to deliver by Christmas. The $559 Cyber Monday XBox One bundle includes a single game. The retailer is offering a similar PS4 deal.
Walmart.com's Cyber Monday sale is already in swing, with registered customers and those using the company's mobile apps to purchase 21 early Cyber Monday deals.

As an Amazon Associate I earn from qualifying purchases.