Xfinity 10G Network: What it is…And Isn't
The Xfinity 10G network and its misleading ads are causing a lot of confusion since Xfinity launched it with a barrage of ads touting fast Internet speeds and an array of offers. Those hoping for absurdly fast Internet speed upgrades will be disapointed to hear the "10G network" is simply an Xfinity branding exercise that encompasses both its home and mobile services.
It's easy to see why consumers could think that all of Xfinity's new ads are introducing an all-new network of some kind. Wireless companies are continuously bombarding consumers with the latest and greatest wireless G or "generation." For example, current smartphones support 5G wireless, which is significantly faster than 4G.
Xfinity isn't building out an all-new network with significant upgrades, which will disappoint those looking for anything faster than gigabit Internet speeds or the ability to upload content much faster than they already can. Xfinity 10G also isn't going to blow away your current wireless provider's download or upload speeds.
The short answer is no, Xfinity does not offer 10Gb Internet and its speeds max out at 6Gbps in select markets. In many major cities, Xfinity speeds max out at just 1.2Mbps. Despite what its 10G network ads may. It doesn't even mean twice as fast as 5G as its 10G name may imply.  Xfinity's simply slapped the 10G label on its network and states that all of its home Internet customers are already on its 10G network, even if they are on one of the slowest plans.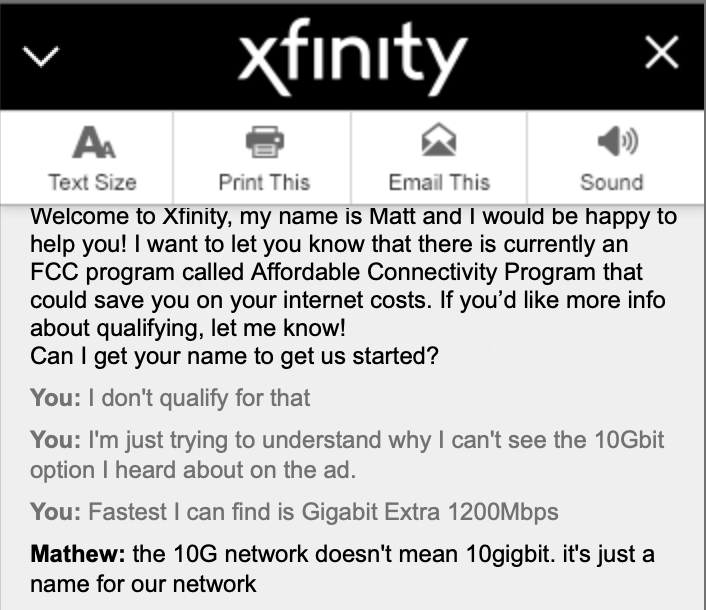 Just to double check that 10G doesn't mean 10 times as fast as gigabit Internet, I chatted with an Xfinity rep who confirmed 10G network is "just a name for our network."
What is '10G Internet Speeds' and Does Xfinity Have it?
10G Internet speeds is indeed 10 Gigabit, as defined by National Cable & Telecommunications Association, and countless other sources. Xfinity's 10G speeds are far, far slower than 10 Gigabit or even 1 Gigabit. The promos many are hearing about on TV and radio ads these days are just 200 Mbps.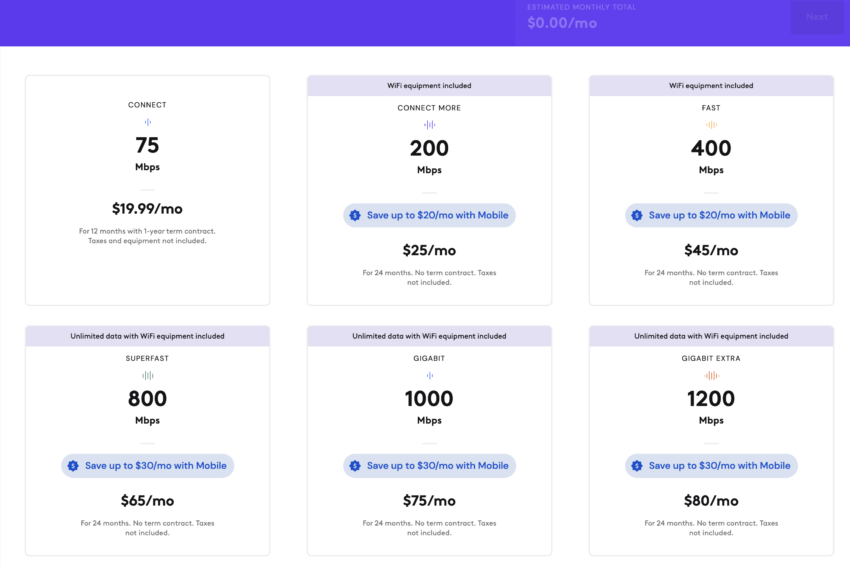 Those hoping to find blazing-fast 10G speeds from Xfinity on their website after seeing or hearing these ads will see something similar to the above offerings. Note that the fastest Xfinity service offered at my San Francisco address is just 1,200 Mbps. That's more than enough speed to download or stream content for most families, but far short of 10 Gigabits. Those living outside of major metro areas will see even more limited Xfinity 10G network speed options.
Another thing to note is that advertised speeds are the maximum download speeds. Maximum upload speeds are far slower. Even those on the fastest Xfinity 10G network plans will see upload speeds that are several times slower than their download speeds.
Xfinity 10G Network Ads
Above is just one of the many Xfinity 10G network launch ads. They largely brag about breakthroughs and feature kids reminiscing about how bad their internet connections were back in the day.
Here is another Xfinity 10G ad featuring Mario of Super Mario. He zooms through pipes in the 15 second ad, hinting at how fast Xfinity's new internet pipes are and how they might help gamers gain an edge. But like the ad fearing kids, this ad doesn't explain what Xfinity's 10G network is or isn't in terms of actual product or technology.
In another ad, a woman is disapointed to learn that her date doesn't have fast, reliable home Internet service. The lack of Xfinity 10G service is just one of the many red flags she sees in his living room. But the real red flag here is that Xfinity doesn't really tell the viewer what the '10G network' is that they're selling. It's also odd that Xfinity is poking fun at mobile data speeds and reliability considering that it sells Xfinity mobile services.
Is there a 10G network?
So is there actually a 10G network at Xfinity? Yes, but in name only. If you really want a 10G network at home right now, you're most likely out of luck. The closest thing most people can buy is AT&T Fiber's 5 Gigabit service or Xfinitity's 6 Gigabit service, which are only available in select areas.
The truth of the matter is that any nationwide network takes years to upgrade and it will be many more before most of us will be able to upgrade to a true 10G network from Xfinity or anyone else.
Consumer Confusion Over Xfinity 10G
Consumers are starting to call out Xfinity for all of the Xfinity 10G ads and promotions. While some are confused, others are calling the ads misleading and even wondering if there's room for legal action against Xfinity.
@Xfinity there is no such thing as 10G folks could this be a class action law suit in the making? Decent but way below as advertised @sonic I need you guys in my area pic.twitter.com/5JPKLauEXG

— Diablito (@diablito_76) March 6, 2023
Twitter user Diablito is just one of many that shared what their Speediest results look like on Xfinity's 10G network. Unsurprisingly, it was nowhere near the 10gigabit speeds that spring to mind when people hear the term '10G'.
https://twitter.com/PoliticalAnt/status/1630412679495000067
Xfinity Mobile is 5G, Not 10G
To make matters even more confusing, many of the Xfinity 10G ads and promos are promoting Xfinity bundles that include wireless service. Xfinity wireless runs on Verizon's 5G network. That means Verizon's responsible for building out and maintaining the wireless network, while Xfinity is responsible for signing up customers.
If you're hoping to have an early track on faster or more reliable wireless service, then you will be disappointed. On the other hand, if you want to save a few bucks by bundling your wireless with your ISP and cable TV provider, you're in luck. Xfinity Mobile gives you access to Verizon's blazing fast 5G UW service where available. Above you can see a demo of how Verizon 5G UW is actually faster than most home Internet connections.
When is Xfinity 10Gig Coming to My House?
The short answer is that it will be years before most of the country will be able to access anything close to 10Gigabit Internet. In an early February 2023 press release, Comcast stated that it hopes 50 Million customers will have access to multi-gigabit internet by the end of 2025. The same press release mentioned the 50 metro areas that already have some of the groundwork in place to make it a reality.
Is Xfinity 10G Network Good?
Xfinity is part of Comcast and has a long history of selling cable, telephone, and internet services.  You can find both positive and negative reviews online for Xfinity. Whether your experiences are good or bad with Xfinity, nothing much is going to change now that you're an Xfinity 10G network customer until the increased upload speeds the company promised become a reality in more neighborhoods.
Are the Xfinity 10G Network Deals Good?
Some of the Xfinity 10G network TV and radio ads you may hear are promoting 200 Mbps internet service for just $25 per month for two years. That's a solid deal for home internet service, but you should be aware that there are some caveats.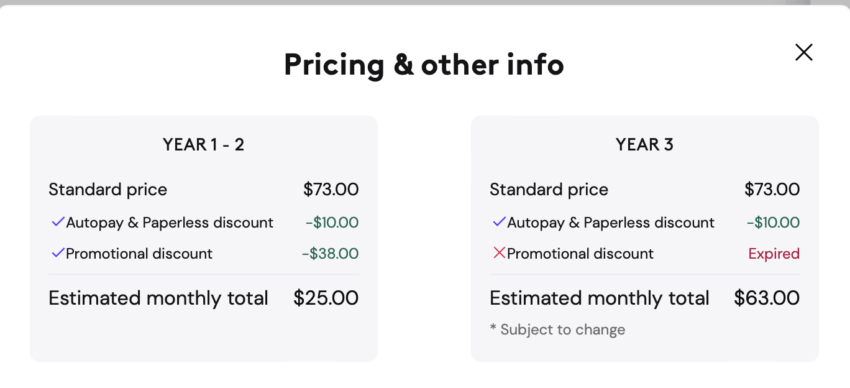 The Xfinity 10G network 200Mbps service standard price is $73 or $63 with autopay. After 24 months, the service will jump up  to the standard $73 or $63 with autopay.
While there's nothing wrong with the above Xfinity 10G network deal, you should be mindful of checking in for new promos and offers periodically so you don't get caught paying more than the $25 you signed up for down the line.
Also keep in mind that Xfinity offers home internet, mobile phone service, tv service, home phone, and home security. The $25 per month offer is a bit of a gateway to the other services and you can find yourself locked into a multi-hundred dollar bill down the road. That's because the most aggressive Xfinity deals are typically for new customers switching from competing services.
Another current Xfinity 10G promo is offering 1Gbps home Internet service for just $30 per month, but you need to add four new lines of mobile phone service for $25 each. As with the above offer, all of those prices are guaranteed for a period of time before they automatically go up to much higher prices.
Note that the above deals are only for new Xfinity customers. Existing customers that are already on the 'Xfinity 10G Network' will have to settle for less attractive offers. It's not unusual for Internet providers to give existing customers the best available deal if they call their customer service lines and request to cancel.