Yahoo! Awards CES "Last Gadget Standing"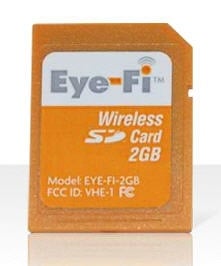 Every year, Yahoo! hold a survey that includes the Yahoo! readership on the best gadgets of the year. This year's award winner at CES was Eye-Fi, which Warner covered on GottaBeMobile before. The Eye-Fi Wireless SD Card allows you to transfer your digital photos directly from your camera over a wireless network, to either your computer or the on-line service of your choice.
Other contenders should also be pretty familiar to the GBM readership:
ASUS Eee PC 4G
Fujitsu's U810 WWAN is an ultra-mobile PC with state-of-the-art connectivity.
Verizon LG Voyager cell phone
Dash Express is an Internet-connected GPS device that gives real-time traffic conditions based on data transmitted from other Dash users. Users can also receive up-to-the minute notifications via Yahoo! Local about everything from movies to gas prices.
Sansa TakeTV offers a simple and less expensive way to move downloaded TV programs around the house. Using a cradle with standard RCA and S-Video plugs, your TV media is stored on the USB memory stick.
iRobot's iLooj is a robotic gutter cleaner that will clean a stretch of gutter (60 feet) in ten minutes.
Toshiba's TDP-EW25U wireless DLP projector can produce an image that casts 41 feet or 1.6 feet, create a 60-inch picture even when it's positioned 2.4 feet away, and accommodates high-definition video.
The Logitech DiNovo is a wireless keyboard that fits in the palm of a hand and makes it simple to navigate media when a user connects a PC to a TV screen.
Electric-Spin's Golf Launchpad Tour is a unique golf simulation input device that allows users to play golf in the convenience of their home, with their own clubs. 
You can read about the Last Gadget Standing competition on Yahoo!.