Yankees Get ThinkPad Tablets in New Lockers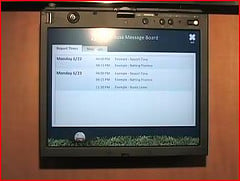 The New York Yankees have a pretty sweet clubhouse at their new stadium. Amenities include a weight room, massage tables, HDTVs and dozens of tablets. In a MLB.com video Yankees COO Lonn Trost gives a tour of the new stadium and mentions the computers mounted in each player's locker. The Lenovo ThinkPad x61t tablets are connected to the Yankees' intranet so they can watch game tape and check the team's daily schedule.
Check out the video at MLB.com and jump to 2:50 to catch the quick mention of the tablets.
Thanks to GBM forum memboer tvblake for the tip!

As an Amazon Associate I earn from qualifying purchases.