Yellow Jacket Stun Gun iPhone Case In Action (Video)
About the only time when an iPhone can be used as a weapon is if you chuck it at someone, but if you don't really have a good throwing arm, Yellow Jacket has a different solution. The company made a new iPhone case and attached a stun gun to it to stave off any unwanted visitors that get too close.
The Yellow Jacket case is a fairly basic rubber iPhone case that envelopes your device, and apart from the two metal prongs that deliver 950,000 volts and 1.3 milliamps, the case also includes a separate battery that powers the stun gun itself, as well provides twice the battery life for the iPhone. With a full battery, you can get about 50 zaps out of the stun gun.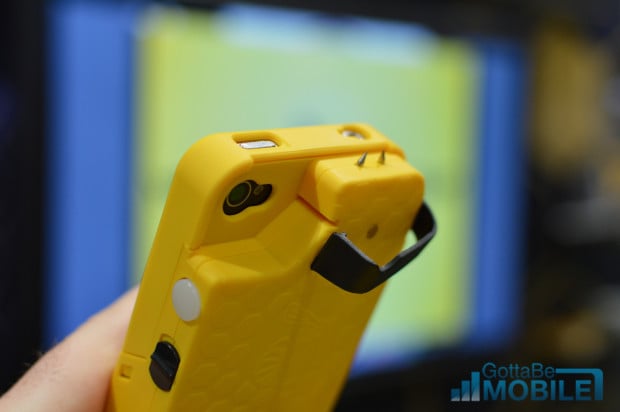 We were able to see the Yellow Jacket stun gun case up close and personal, and we have to say that the stun gun is pretty loud, which might just make muggers think twice just from hearing the sound (see the video below). Sadly, the company didn't let us control the stun gun case ourselves (for liability reasons, obviously), but we certainly wouldn't want to be on the business end of this thing.
Yellow Jacket released a stun gun iPhone case last year, but it was only built for the iPhone 4 and iPhone 4s, and was less powerful than this newer iPhone 5 and iPhone 5s model.
Fortunately, the case has several safety measures to make sure you don't accidentally tase yourself, including a safety switch and a rubber cover that blocks the two metal prongs from causing any damage if the stun gun is unintentionally set off.
This newer model will cost $149 when it eventually hits the market sometime next month

As an Amazon Associate I earn from qualifying purchases.