Yikes! More Ways To Wear Your Gear On Your Hip
Ok, this is turning into a fashion dilemma. I have to say, I'm with Rob on the recent fashion debate on whether or not to wear the OQO Model 02 on your hip, so I'm not predisposed to be a fan of the Urban Tool slotBar. Maybe I've got no fashion sense, or maybe I spent too many of my teen years working on construction sites with heavy tool belts wrapped around my waist, but I just don't get it. That said, I'm sure others will. Thoughtfix is talking about and showing off the Urban Tool slotBar as a solution to carry all of his gadgets on his hip. So, if this sort of geek fashion accessory is what you're looking for, you might want to head over and check it out. He's also got a video of it here.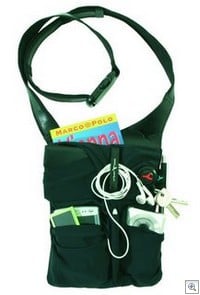 Let me also say this for all these belt toting geeks. I know black on black is the cool way to go. But it doesn't help show off the product that well in pictures and video. I just can't see Dennis wearing this. Hugo maybe, but Dennis? Nah.

As an Amazon Associate I earn from qualifying purchases.