Yo AT&T, Thanks for my Personal Cell Site :-)
Last week I started experiencing solid AT&T 3G service at home for the first time and I speculated that AT&T must have built a new tower somewhere in my neighborhood. Well, I was right. In fact, the closest AT&T tower is now exactly 100 ft from my bedroom window.
My brother has had similar frustrations with AT&T  since moving to a suburb of San Francisco. He called me to boast about his free MicroCell that he picked up from the AT&T store. In a bit of sibling rivalry, I told him "Oh yeah…well AT&T gave me a whole cell site!" It seems that AT&T's finally gotten of its rear and is trying to give us what we've been paying for all this time.
Reception on my iPhone 4  at home was horrible the first week I owned it. Since last week it's been superb and I'd been meaning to find out where the new tower was installed. On my way to get my hair cut yesterday I decided to keep my eyes open for as I walked down to our neighborhood's main street. I didn't have to look very far. I found a miniature cell site on the first telephone poll after crossing the street. A bundle of wires run up the length of the telephone pole and connect to an antenna covered by a small dome that's about 30ft off the ground.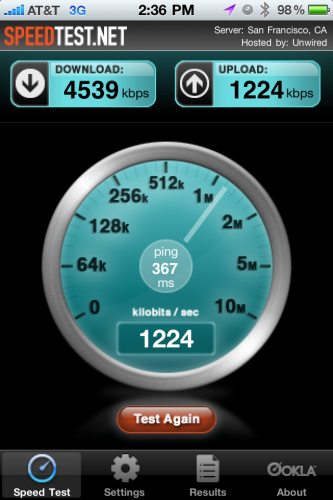 I stood about 10ft away from the telephone poll and fired up Speedtest on my iPhone to see if in fact it was an AT&T cell site. The Speedtest registered the numbers in this screen grab, confirming that it is indeed AT&T equipment. This is the fastest upload/download speed I've experienced on any iPhone in any location.
There's a lot of red tape to get build a standard cell tower here in San Francisco. The carriers are getting around the red tape by putting miniature cell sites on utility poles since the planning commission doesn't control what goes on them. T-Mobile's placed at least 38 of them in San Francisco  early this year and I wondered why AT&T didn't do the same.  These smaller cell sites have a shorter range and serve fewer connections than towers that you see built next to highways and on top of buildings, but they can be placed strategically to deal with dead zones caused by our city's many hills and valleys.
I've repeatedly complained about AT&T's previously poor reception in my neighborhood here at GBM and to AT&T by reporting dropped calls. I received a text message a week before the iPhone 4 launched and I wrote it off as a marketing gimmick to try and get me to re-up my contract. Well, I guess AT&T actually took my feedback to heart (I'm sure I'm not the only one who's complained) and got about as close as they could to where I marked the spot.
Having my own personal cell site means a few things. Yes, I know I should be able to take many of these things for granted, but I can't express how nice it is to have crisp, clear reception after three years of misery.
I don't have to buy an AT&T MicroCell and pay what I consider a ridiculous monthly fee
I don't have to install a second land line. My wife's been working a lot more from home, which means we were fighting over who got to use the cordless phones that are connected to our Comcast VOIP line. No more standing on my deck to try and get a call.
During a blackout or Comcast outage we can now use our iPhones to dial 911 or place/receive other critical calls.
No more calls going straight to voicemail.
I no longer have to repeat myself over and over again, then apologize about my crappy wireless carrier.
I don't have to manually switch between EDGE/3G in hopes of hunting down a frequency that'll handle a call.
I can try out applications/services over 3G to see how they perform w/o WiFi. This is important for review purposes and so I can get a taste of what to expect when I hit the road.
I can actually use all those minutes I pay for. I've probably rolled over more minutes than I've used since switching to AT&T.
I no longer have to give out my WiFi password to guests with iPhones so they can check their email or get online. They can simply access the Internet over 3G.
I kept my eyes open for more AT&T equipment as I walked yesterday, but didn't see any more. I'm pretty certain there are several in my neighborhood though as call quality is markedly improved and Speedtests run in the 1700kbps to 3000kbps throughout the neighborhood.
While I'm very grateful that AT&T actually seems to have solved the problems near my home, there are still plenty of coverage gaps in the San Francisco Bay Area. There are a few stretches of I-280 between San Francisco and Palo Alto with spotty coverage. It's still virtually impossible to place a call on Page Mill road in Palo Alto. This is a major exit/entrance from I-280 and it's pretty much guaranteed that AT&T calls will drop directly in front HP's headquarters. Until AT&T installs several dozen (maybe hundreds) of more towers in the Bay Area, I'll still need to carry my Blackberry/T-Mobile phone. I'm still not comfortable trusting my safety to AT&T.