You Want In To CES? You GottaBeMobile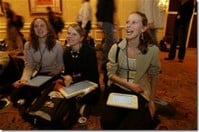 GottaBeMobile.com came to the rescue in one case and almost in another at CES. To register as press you have to provide two froms of ID, one being a business card, and in some cases show samples of your writing. If you are just registering as a part of a company you need those two forms of ID. Well, the Neek Talkers (Kim, Sarah, and Elizabeth Heiny) met up with some trouble registering and pulled out a GottaBeMobile post identifying them as the Neek Talkers. Apparently that didn't impress the registrar at the moment but the girls did manage to get registered and get into the convention.
The rescue came with Microsoft's Ken Vassallo, Lead Product Specialist of the Mobile and Tailored PC Team. He had his drivers license but didn't have a business card with him. (I guess Ken was in a hurry when he left.) Ken was trying to prove who he was when he remembered this post that I made about a dinner I had in Washington DC with him and Lora Heiny. After showing them the post, Ken got his registration complete. Glad we could be of help, Ken!
And back to those Neek Talkers for a second. Apparently an AP reporter picked up on what they were doing and snapped a photo. Way to go ladies! (The photo is at the top of this post.)

As an Amazon Associate I earn from qualifying purchases.