Your Phone Will Soon Be An Emergency Alert System
The emergency alert system, which interrupts radio and TV broadcasts was a great way to warn you about bad weather and other emergencies, but as we become more mobile, cut cables and leave FM radios in the closet, the usefulness drops.
We've heard several solutions to turning your cell phone into an emergency alert system, but they haven't always been well thought out. People have suggested that every phone must have a FM radio built-in, that mass text messages get sent out and other solutions. Unfortunately adding an FM radio to every phone would add to the cost, and sending mass text messages would take hours to deliver.
Some companies have taken it upon themselves to create alert systems, such as Apple's plan to include earthquake warnings in iOS 5 in Japan. This is admirable, but there is a need for a broader, managed solution.
How Will the Cell Phone Emergency Alert System Work?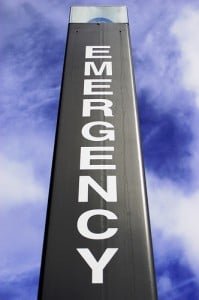 The government and the major carriers are working on this solution as we speak, so some of this may change when it comes to fruition later this year. Larry Rybar, Principle Member of Technical Staff at Verizon Wireless gave us the background on how this system should work when it rolls out in New York later this year.
Broadcast SMS
Enter CMAS, FEMA and a host of government agencies, which as part of the Safe Port Act signed by George Bush, the WARN act was enacted, tasking multiple agencies and major cell phone providers with figuring out a way to make an emergency alert system for cell phones a reality.
Their solution is Broadcast SMS, a new way of sending one message to many recipients without the delays that come from traditional point to point systems.
The Alerts
The alert starts with a government agency. This could come from a county or state government, National Weather Service, or one of several other vetted and certified government agencies. These messages will be similar to those you see on your local news alerts for blizzards, tornadoes and hurricanes. While weather alerts will likely be the most common use, there is the possibility that the alerts could come for other reasons.
The system shares three categories of alerts with the Emergency Broadcast System;
Imminent threat to life and properly
Amber alert
Presidential alert
The Message Starts
The certified agencies can send a message to FEMA, who will pass the message on to Verizon, Sprint, AT&T and T-Mobile. These agencies have been vetted by FEMA and are receiving training to avoid the car alarm syndrome that can come from sending alerts when they aren't really needed.
The Message Goes To Your Phone
Verizon and the other partner carriers pass the message on to your phone. The carriers simply deliver the message to you, they don't look at it and they don't report back to the government if it was received.
When the message arrives, your phone will make a special alert noise. This may vary by phone, but expect something high-pitched that will get your attention, just like those sounds you hear during the emergency broadcast system tests.
The notification will appear on-screen and in some inbox on your device.
How Does The System Know Who To Alert?
The cell phone emergency alert system can deliver alerts down to the county level, and will only alert those users who are in the area at the time. So, if you live in North Carolina, but you are on vacation in Ohio, you won't receive any Hurricane Irene notifications. However, if you are an Ohio resident on vacation in North Carolina, you will get alerts if your compatible cell phone is connected to a tower in a county or state that is affected.
This works by the location of the cell tower you are connected to, rather than the GPS your phone uses to provide turn by turn directions.
Compatible Phones
The system will only alert compatible phones. This means that your current phone may not be able to receive the alerts when they go live next year in a larger area.
Verizon didn't provide the names of existing phones that would work with the service, but said that when the system is live in store employees will be able to direct users to phones that work with the system.
Eventually we expect that the majority of phones will support this system.
When Will the Cell Phone Emergency Broadcast System Be Live?
The major cell phone providers have committed to launching in New York City before the end of the year, and have plans to cover a bulk of ht country by April 7th, 2012. This may not be nationwide, but it will be pretty close.
Emergency Image Via Flickr Chris.Violette, Cell Tower Image Via Flickr Abdulla Al Muhairi