YouTube Music Key Service Delivers New Features
We've been hearing reports of Google launching some sort of subscription service on YouTube since last year, and new rumors have emerged this week suggesting that it may finally be coming soon. It's called YouTube Music Key and will be bundled with, if not replacing their current Google Play Music All Access.
Play Music All Access was announced back in May of last year as a $9.99 per month unlimited music streaming service ($7.99 back then) for all Android devices, which eventually arrived for iOS and other platforms. Allowing users to access millions of tracks and albums anywhere, anytime, with unlimited ad-free streaming. That's on top of their own playlists and music uploaded to the Google Music Manager.
Read: How to Change YouTube Quality on Android
It's a great service, one that many argue is better than Spotify, Pandora, or the loads of other options. However, adding YouTube into the mix could potentially open an entirely new window of options for users to enjoy content. The rumor suggests that YouTube Music Key (awful name aside) is not only coming soon, but will finally deliver a few of the biggest YouTube feature requests many users have been waiting years for.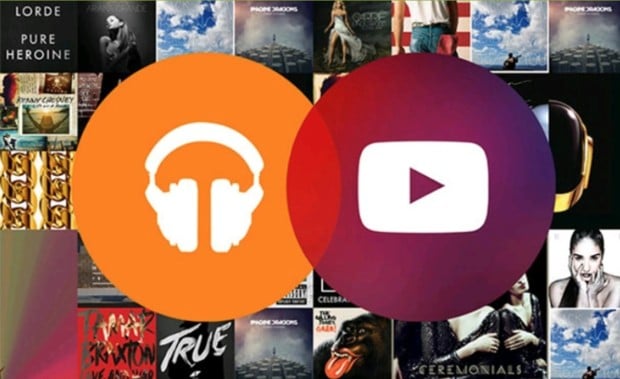 Android Police received the details from anonymous sources, and considering nothing has yet to be confirmed, this is all just a rumor for now. However, they've been accurate and reliable in the past, but we'll have to wait and see what Google has planned, and if they ever release it to the public.
According to the leak Google Play Music "All Access" will be rebranded to Music Key. Meaning users can enjoy Google Play Music for free, but for unlimited ad-free access, you'll need to buy a music key. Not only that, but the same service will extend to YouTube in some fashion, which will also be called YouTube Music Key.
We're not yet sure if these will be two options priced different, but if you pay for the YouTube Music Key, Google Play Music Key comes free. So there may be two options, at two different price points. It's all quite confusing, but hopefully Google makes it official and sheds more light on the situation soon.
Read: Google Music All Access Free for Chromecast Users
So, what is YouTube Music Key? The leaked screenshots below suggest users will be able to stream ad-free music to their smartphones, tablets, laptops, TVs and more, as well as an audio-only mode for video playback. Meaning if you just want to hear it, you can stream a video from YouTube, close the app and get audio while doing other things on your device. Including a screen-off playback mode.
Above we mentioned this update will deliver two major features. The first is the audio-only mode we just talked about, the second will include offline playback support. Finally. You can now close YouTube yet still stream audio and video, and even download full songs (and music videos) for offline playback. These will be stored temporarily on your device. It's about time!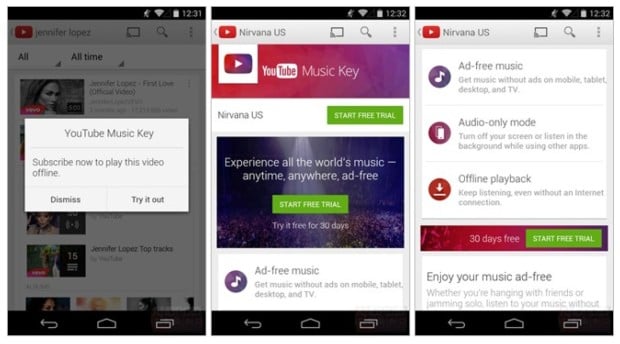 YouTube Music Key will offer ad-free streaming of concerts, covers, and remixes, full albums and tons of exclusive songs, and even let you make playlists from one of the worlds largest collections of music and video on the entire web, and deliver it right to your device. Essentially this is blending Google Play Music and YouTube into one service.
As we said above, it sounds like users will get a free 30-day trial, and then be charged $9.99 per month. And that includes access to Google Play Music Key. We're not sure why there needs to be two, but Music Key by itself may end up being a low-cost alternative, we're not sure.
YouTube has endless content, tons of creation and discovery tools, and will continue to improve and learn what you enjoy as you use the service. Last year we heard talks of YouTube and Google working with the NFL to offer subscription packages, and while that's likely not included here, this could open the door for tons of other subscription-based options on YouTube and Android in the near future.

As an Amazon Associate I earn from qualifying purchases.