Zact: MVNO With Truly Personalized Plans and Integrated Parental Controls
Zact is an MVNO that's leveraging Sprint's mobile network, but the startup will be differentiating its offerings from competitors with truly personalized calling and data plans as well as deeply integrated parental controls to help keep kids safe on the mobile Internet. Though the personalized calling plans are great–and are designed to save consumers some money if they aren't data hogs, what truly impressed me about Zact was the parental controls as it's really baked into the phone and offers parents control over many aspects of the phone.
Personalized Calling Plans
With Zact, users log onto their account to precisely choose how many minutes and how large of a data bucket they need each month. Additionally, you can add additional lines and share the minutes and data, not unlike AT&T's and Verizon's share plans. What sets Zact apart from other offerings is that there is finer control on how much voice or data you need and want to buy.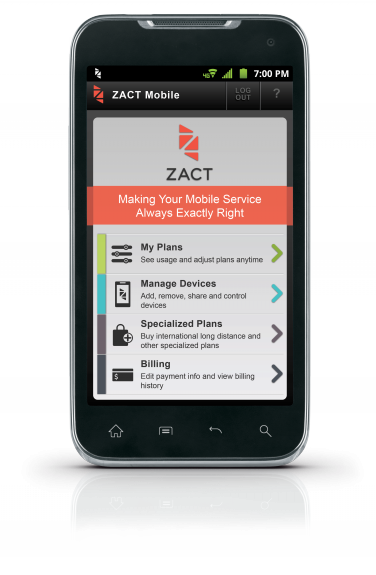 The second interesting thing about the plans is that rather than a traditional data plan, the phone–through deeply integrated software–is smart enough to recognize the type of data you use. If you're only using data for maps, Zact can offer you an unlimited navigation package that will work with Google Maps and any number of data-based mapping applications. If you're not a web surfer and prefer to just use all your data for email, Zact can offer you an email plan that blocks other forms of data but will allow you to access email through the Gmail app, the bundled email app, or any other email app or services.
This opens the door for what Zact calls sponsored data. With social games on the rise, a game developer can sponsor the data portion for that game, or offer a steep subsidy for data consumed as a result of game play, so users who may not want a data plan can get a taste. If you're a Word with Friends junkie, the developer can offer you free data specific for that app. Want to play Scrabble? EA can sponsor a $0.99 unlimited Scrabble plan.
This mix and match approach really helps to differentiate Zact's plans and add value to consumers who may not find themselves using too much data. And with sponsored data, users can get a taste of a data plan without being overwhelmed if they don't find themselves needing to connect to the network. Users can always opt to connect to WiFi to save on data charges as well.
Parental Controls
Unlike other devices that may restrict select apps, parental controls on Zact is more deeply integrated. Parents can set time restrictions for when their children can and cannot make phone calls, send and receive texts, or access the Internet, for example. Parents can also set a white list for children to be able to call in an emergency, even if their phone privileges are blocked. For example, in school, parents can block phone access during class time, but allow their children to still be able to call mom, dad, and grandparents in case of an emergency. Parents can also restrict access to apps as well.
Cost Savings
In the long-term, if you're frequently on WiFi and aren't using too much network data, Zact's plans offer a great value proposition. App-specific data plans, sponsored data, and other promotions will be beneficial to those who use data for few special tasks. However, for users who do consume a lot of data, offerings from rivals such as Republic Wireless may offer better value. Still, it's hard to ignore some of the benefits of Zact, including personalized plans–if it fits your usage scenario–and parental controls.