Zagg Already Selling Invisible Shield Protectors for iPad Mini
Ahead of Apple's much anticipated and widely rumored iPad Mini tablet for this month, Zagg, makers of the Invisible Shield, has already begun to sell screen protectors for Apple's 7.85-inch tablet. The iPad Mini will mark the first time that Apple has deviated from its traditional 9.7-inch form factor for the iPad and the effort may help Apple compete against lower cost Android tablets, like the Amazon Kindle Fire HD and Google's Nexus 7, both priced at $200.
CNET reports that on the Zagg website, the company is now listing the iPad Mini screen protector for just $24.99 and is listing that the product is 'coming soon.'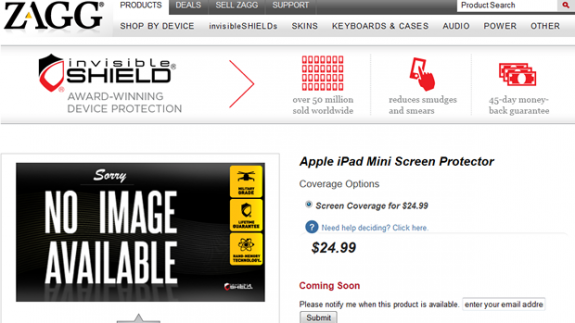 While previous cases and accessories have come from China, the significance here is that Zagg is a prominent American company that has in the past offered Apple-compatible products. This definitely will add fuel to rumors that Apple is indeed close to releasing the iPad Mini.
The iPad Mini is expected to be based off of specs for the iPad 2, with the same resolution as Apple's iPad 1 and 2 but with a smaller 7.85-inch display.
Apple is rumored to announce the tablet this month and sales will start at the end of the month. If this is true, the iPad Mini's launch may compete with Microsoft's Windows RT and Windows 8 launches this month. Microsoft will have its own tablet hardware in the form of the Surface, though that device will compete more in the same space as the iPad 2 and third-generation iPad as they all have larger displays.