Zagg Folio Bluetooth Keyboard for iPad Mini Review: Compact and Useful
The Zagg Folio Bluetooth Keyboard for iPad Mini is a strong, solid case that provides protection to both the screen and the back case of the iPad Mini. In addition to that protection, it offers laptop-like keyboard keys and a solid hinge that lets you create a sub-notebook styled device out of your iPad Mini that fits into an inner coat pocket, purse or small bag. That makes it a perfect case for someone using the iPad Mini on the go.
The case itself is made of a heavy duty rubberized plastic with a dense, textured rubber on most of the front and back. It looks somewhat leathery, which is pleasing in the black version of the keyboard case. It sits on tables nicely, and grips other surfaces slightly. There are cut outs for the camera, power button, volume buttons, orientation lock and speakers. The case doesn't get in the way of plugging the charging and sync cable in, either. It feels solid and well-made when you grip it. As a case, it's sturdy. Not the most interesting or aesthetic case, but certainly not ugly.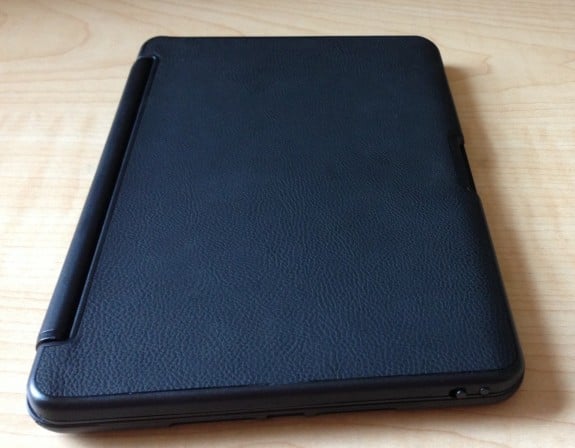 It certainly offers protection. While testing the keyboard out during a trip to Rhode Island, the iPad Mini it was being tested on was accidentally dropped off the roof of a minivan to the ground. After bouncing across ten feet of road the plastic on the upper left corner was scraped and the seam between the plastic and rubber slightly cracked, but the iPad untouched in what should have been a screen-killing drop.
The hinge is strong and keeps the iPad up at any angle you choose, much like a laptop. And opening the case up reveals the section that is most of interest to users of a keyboard case: the keyboard itself. All keyboards designed for the iPad Mini feature compromises to work in the tiny space they have to work within, and Zagg is not immune from that. However, you won't find any strange key combinations. Punctuation keys are where you expect them, they're just half-sized in order to fit around the rest of the alpha-numerics. There are number keys at the top, and special function keys just above them that are half-sized keys.
Keys click with a satisfying scissor-action, and are not mushy, as on some of the cheap keyboard cases. In fact, although the keys are small, the island style spaces between them allow a touch typist to feel their way around despite the cramped conditions, making the keyboard usable. It's not as comfortable as the normal iPad keyboard cases that Zagg provides, which are near-laptop in their feel, but it's likely as close as anyone will ever get on an iPad Mini.
Since getting this unit in for review, Zagg has upgraded the case to include backlit keys, making it even more of a value. A $300 iPad Mini plus a $99 keyboard gives some people a laptop replacement for under $400. A laptop with a 10+ hour battery life. It's a compelling backup computer, college computer or travel computer combination.

As an Amazon Associate I earn from qualifying purchases.