Zagg Folio Keyboard Case for iPad Air Review
One of the great things about the modern age of Tablets and iPads is you can make them what you want them to be. If all you want is an eBook reader you are set. A gaming machine? Done. Video player? Easy. If you want to set it up as a work machine that's just as easy, and you have a wealth of choices to set things up just the way you want to. This is especially true with iPads because the third party accessory ecosystem is large and seemingly ever-growing.
Keyboards are one slice of that iPad accessory market. Depending on your needs and desires you have a range of options to choose from. There are stand alone keyboards, there are keyboard covers, and there are keyboard cases that essentially turn your iPad into what looks like an Ultrabook or small laptop. The Zagg Folio Keyboard Case for the iPad Air is in that latter class, and if you're looking for that kind of typing experience it is a winner.
Zagg has delivered a number of keyboard accessories for the iPad line and they all have proved popular. The new Zagg Folio for the iPad Air is going to continue that trend. Made of durable plastic the Zagg Folio will cover your iPad Air completely providing protection when you are moving about.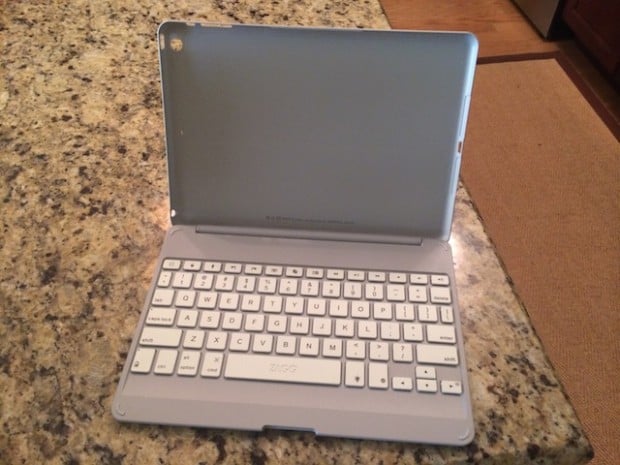 The overall concept is a simple one. You insert your iPad Air into the cover. The hinge allows you to adjust the viewing angle of the screen relative to the keyboard. You pair the keyboard to your iPad Air via Bluetooth and you type away.
The Zagg Folio is battery powered and the Zagg prediction is that it will last a couple of months if you're averaging two hours a day of typing. It can be recharged with a standard micro USB cable that is included. In my experience with keyboards from Zagg and others those claims hold up.
One of the concerns some have when considering a keyboard case like the Zagg Folio is how much bulk it will add to such a thin device as the iPad Air. Here are the dimensions of the case:
Length: 6.82 in (173.2 mm)
Width: 9.55 in (242.6 mm)
Depth: 0.697 in (17.7 mm) closed with iPad
Depth: 0.299 in (7.6 mm) keyboard only
Weight: 18.87 oz (535 grams)
So, you'll be adding some weight and size to your iPad Air, but no more than one should expect when adding this kind of dual purpose accessory. In the closed position the combo of Zagg Folio and iPad Air feel infinitely totable.
As to the typing action, the chiclet keys travel well with good action, so if you need to do some heavy duty typing you won't be disappointed. The keyboard is just shy of being full-sized. The keyboard is backlit and has controls to adjust both the brightness and the color of the backlight. I happen to like backlit keyboards and if you want to do a nice party trick you can cycle through the colors for your friends.
Keyboardists love the ability to manipulate everything with their fingertips on the keys and the Zagg Folio includes the requisite special keys that I find to be very necessary when working with an iPad in one of these type of keyboard/cases. Special keys include:
Home-Displays your iPad's home screen.
Lock-Turn iPad sleep on or off.
Mic-Activate Siri
Separate keys for Undo and Redo
Separate keys for Copy and Paste
Media control keys
A battery life indicator
Controls for backlight color and intensity.
The Zagg Folio case leaves the appropriate openings for your iPad Air's power buttons, volume switches and Lightning Connections. A channel to funnel sound from the iPad Air's dual speakers keep things sounding good with no muffling whatsoever.
If there were any nitpicks to be mentioned here I would say that the lid that holds the iPad Air feels slightly flimsy. When you reach up and touch your screen the iPad Air will respond to that touch by rocking back and forth slightly. It's not going to tip over, but the bounce can be disconcerting at times, especially if you're moving from one touch target to the next in quick succession.
The Zagg Folio Keyboard Case is available through [amazon_link id="B00EXPSEFQ" target="_blank" container="" container_class="" ]Amazon[/amazon_link] and most retailers for $99. It comes in black or white. The white version is trimmed in gray.