ZAGGfolio for New iPad Review: Keyboard Case with a Nice Typing Experience
I just picked up the ZAGGfolio keyboard case for my new iPad. I am typing this review on the keyboard using the iA Writer app.
I've used keyboard cases in the past with little success. Most of them had keyboards that no one would want to use for any length of time. They were either too cramped or uncomfortable.
(Read: Can an iPad Replace a Laptop?)
The ZAGGfolio case has a usable keyboard. Because of the size it's still a bit cramped, but the keys are at least comfortable enough for longer typing sessions. I didn't find myself wanting to throw the thing away after a few paragraphs.
Pros

Attractive case
Good Bluetooth connection
Decent keyboard
Long keyboard battery life
Compact for a keyboard case

Cons

Clasp hard to open
Lock key too close to delete
The new version of this case for the new iPad looks and functions exactly like the older version for the iPad 2. With the new iPad version I believe the only difference is the sticker on the box saying it works with the new model.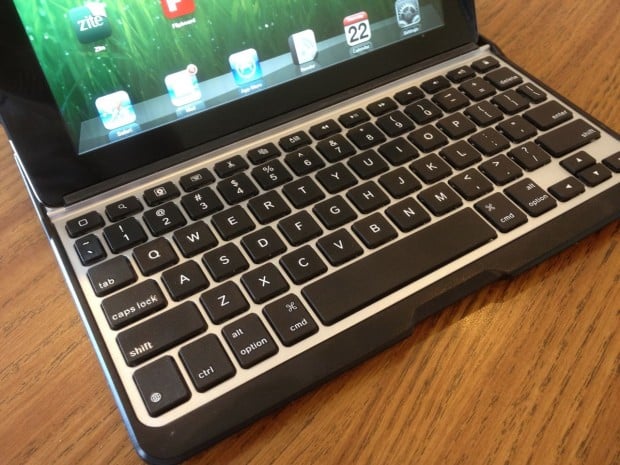 The Keyboard
The Bluetooth connection between the iPad and the keyboard pairs quickly and easily. Once paired, the next time you want to use it, just turn the keyboard on and it will connect with the iPad almost immediately. A couple of times I did have to turn it off and then back on again. That's a Bluetooth issue because I have to do that with headsets and mice.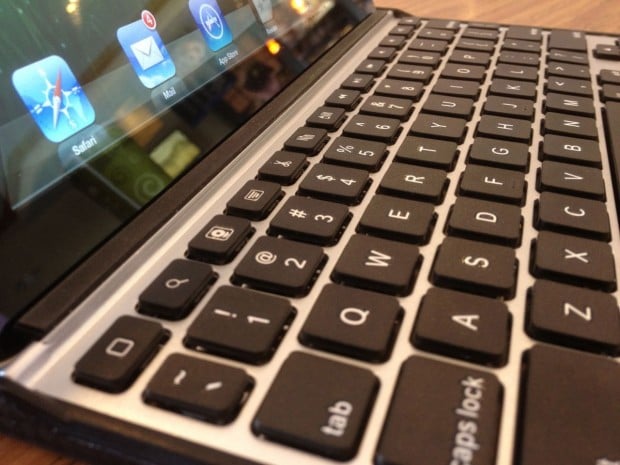 The keyboard has plenty of useful shortcut keys and works like a standard keyboard. You get your old friend QWERTY and his brothers that come with every keyboard. In addition, the row above the numbers have functions for the following:
Home works like your iPad Home button
Spotlight used to search your iPad
Slideshow button that starts a slideshow of your pictures
Keyboard button turns on the onscreen keyboard
Cut, copy and paste
Media controls for going back, forward and pausing or playing media
Volume buttons for lowering or increasing volume or muting
Lock button that turns on/off the screen
Speaking of the lock button, it's too close to the delete key. I find myself going for the delete key and often turning off the screen accidentally. On a keyboard this size you will have compromises like this. You have to get used to the size. Until you do, you may hit the wrong key occasionally.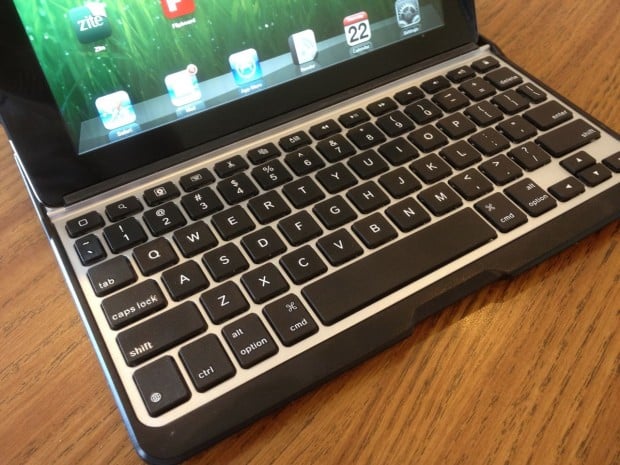 I like that you also get Mac keys like Command, Option and Control. The arrow keys on the lower right let you move around in a document. I miss these when I'm typing on the iPad onscreen keyboard.
The keys feel a bit mushy, but they're not as bad as some iPad keyboards I've tested. I got used to them quickly and began typing fast within a couple of minutes of use.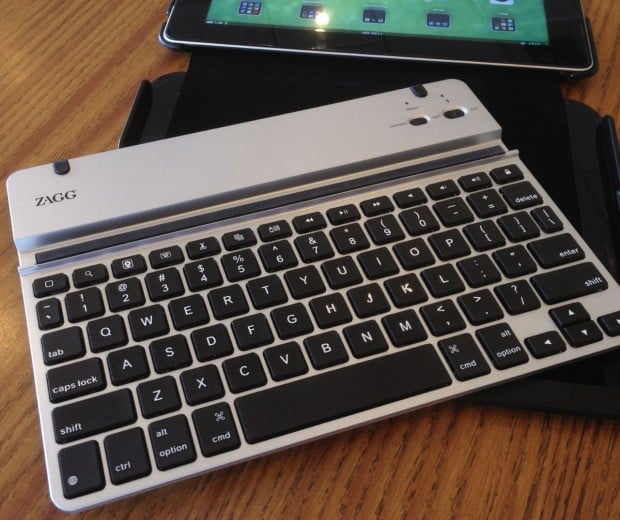 If you like, you could just remove the keyboard from the case and use it by itself. The keyboard holds the iPad in both portrait and landscape modes. I thought this would be unstable in portrait mode due to it being top-heavy, but I was surprised by how well it performed.
I bang the keys while I type. My iPad shook on occasion when I started banging away, but it never came close to falling out of the groove that holds the iPad in place. That's because of the rubber piece that holds the iPad in place inside that grove. It has good grip and grabs the smooth surfaces on the iPad bezel.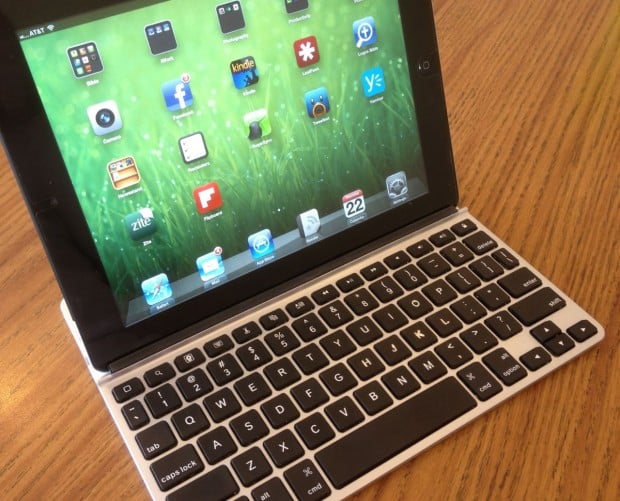 The Case
The case looks nice. The black carbon fiber cover has enough grip to help you hold on even if you have slippery fingers. The case also comes in six other polyurethane colors and three leather colors.
At first, the iPad 3 was difficult to insert and remove from the slide-in hard plastic shell. After a few times removing and inserting they iPad, the case loosens up just enough to make it easy to remove or insert. It's not too lose that it will fall out.
The case stand holds your iPad in landscape mode while in the case. You can remove your iPad from the case use it in portrait mode because of a channel on the keyboard that will hold it up. This makes typing a longer document easier.
While in the case you can access all the buttons and ports. The case closes and stays shut with a plastic clasp that isn't exactly easy to open. That's a good thing if you don't want it to flop open easily, but it becomes a problem when you're trying to quickly access they iPad to type a fast email.
Compared to other keyboard cases, this one isn't as bulky. It still adds weight and heft. Those who don't want to add even an ounce or millimeter will hate it. Most users will see the value and appreciate it for what it is.
Recommendation
If you plan to use your iPad for typing a lot, you need a good keyboard case. The ZAGGfolio has one of the best available. It does retail for $99.99, which is more than a regular Bluetooth keyboard. If you are a hardcore writer, you might want a wider Bluetooth keyboard like the Apple keyboard at $30 less and carry it around in a sleeve with your iPad like the iPad Wallet Case from WaterField Designs. They made it for holding the iPad and an Apple keyboard. Those who don't want all of that bulk will appreciate the ZAGGfolio. You won't be disappointed.
You can get the ZAGGfolio for $99.99 direct from ZAGG. I got mine at Best Buy for the same price, but I haven't seen the new iPad model at Amazon yet. Since I'm pretty sure its identical to the iPad 2 model, you can take a chance and save a few bucks by getting one at Amazon for about $95.

As an Amazon Associate I earn from qualifying purchases.