Zoho Announces Zoho Mobile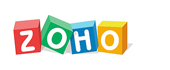 Zoho and its fleet of apps is popular with many a mobile warrior (I'm not a user myself) and now they've brought some of those apps together into a single interface for those on the go under the banner of Zoho Mobile. The Mail, Writer, Calendar, Sheet, Show and Creator apps can now all be accessed from a single user interface on your iPhone, Blackberry, Windows Mobile, Android, or S60 device.
From what I'm reading it is free.   Again, I'm not a Zoho user so if you are and would like to share your comments about Zoho Mobile sound off in the comments.
Via CenterNetworks