ZooGue iPad 2 Case Has Smart Cover Sleep Wake Function
As expected we are seeing a slew of iPad 2 cases, but few are like the ZooGue iPad 2 Case Genius Black Leather case because it has the built-in sleep wake function that the Apple Smart Cover employs. This feature uses magnets to automatically wakes the iPad 2 from sleep mode when the case is opened. It puts it to sleep when closed. We reviewed the iPad 1 model over at Notebooks.com and found it to be a very nice case.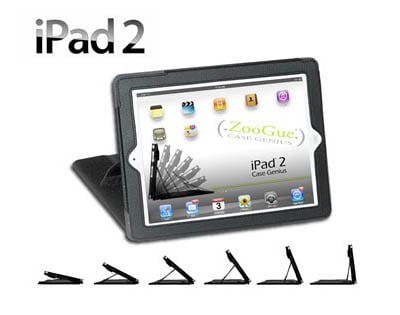 Aside from being a great black leather folio case for the iPad 2, it also has a nice stand capability. Thanks to the velcro strips on the back of the case, the stand can hold the iPad 2 in any angle from almost flat on the desk to an upright 90 degrees and anything in between. It also has straps so you can mount it to something like a head rest in a vehicle or handles on your cabinets in the kitchen. Add the ability to wake or sleep the iPad just by opening or closing the case and this might just be the most functional iPad 2 case around. Based on my own personal experience with the previous version, I can promise you that it is a high-quality case. Below is our video review of the previous version.
At $49.95, the case is ten dollars more than the iPad 2 Smart Cover. But it is twenty dollars less than the leather Smart Cover. It is a little cheaper than the original ZooGue case when it first launched. Add the sturdier stand and the straps to mount the iPad 2, and you have a better case with better leather at a cheaper price. We haven't used this one yet, but feel confident based on past experience in recommending this to those who don't mind adding a little bit of thickness to their iPad 2 in the name of protection and functionality. ZooGue says their quantity is limited, so if interested you may want to jump on it.
Here is a list of features from the ZooGue site:
Cover Sleep & Wake Function
Special Velcro Guards
Hand made with Genuine Leather
Access to all ports and buttons at all times
Access to both front and back cameras
Adjustable to any angle securely
Secure hand/wrist strap
Adjustable car headrest mount
1 Year Limited Warranty

As an Amazon Associate I earn from qualifying purchases.