ZooGue iPad 2 Earphone Wrap Organizes Wires Nicely
If you like your ZooGue iPad 2 Case Genius Leather case as much as we liked it, then you may want to check out an accessory the company released to go along with it. The ZooGue iPad 2 Earphone Wrap connects to the side of their leather case and keeps your earphone wires organized neatly. It also doubles nicely as a place to store your stylus, if you use one with the iPad.
The earphone wrap slides into the space between the iPad and the ZooGue case. The notch on one end grabs hold of the case so it won't slide out unless you pull it out yourself. The velcro wrap hugs the wires of the earphone to keep them neatly in place while not in use. After you wrap the wires around the leather wrap, it was a little difficult to pull the velcro fasteners out from between the wires, but you'll get used to it. I also noticed that I could slide my stylus down onto the wrap to keep it secure.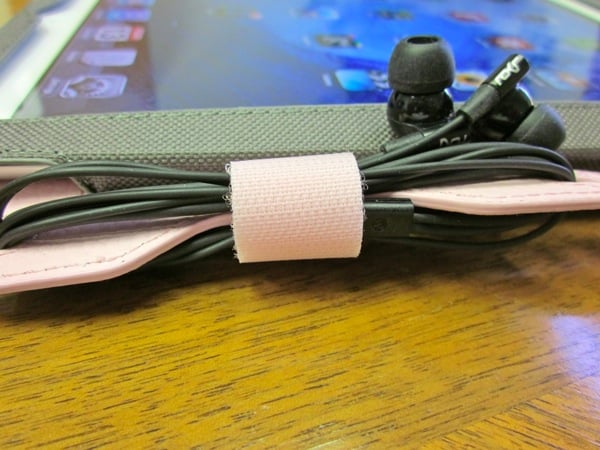 The wrap works with either the Case Genius Leather case or their new iPad 2 BinderPad Pouch, shown in the pictures here.
The product is simple and works. While I don't carry around earphones a lot, if you do this system will neatly keep them together. I did try to wrap the charging cable around the wrap and it didn't work too well. But it isn't designed for that, so I can't fault ZooGue.
The wrap comes in grey, black or pink to match your case. We got one of each and used the pink to show it off in pictures, but I prefer the black one. They are really cheap at only $5 each. If you go to their website and click on their Facebook like button at the bottom, you can get one for free! Who doesn't love free? These are a great value so if you use a ZooGue case, there is no reason not to get one especially for free!
Pros
Simple
Inexpensive – free if you click their Facebook like button
matches cases
dual use – wrap and stylus holder
Cons
Velcro awkward to warp around wires