ZoomNotes for iOS: A New Digital Inking Contender
As all Digital Inkers know the quest for the perfect Digital Ink note taking App for the iPad is an ongoing one, filled with adventure along many roads that often lead to disappointment. There are some workable solutions out there and thankfully developers keep trying and innovating. A new App has come across my path called ZoomNotes. ZoomNotes is not new. It's up to version 5, but it is the first time I've given it a try. It is certainly worth a look by Digital Inkers.
I always caveat reviews about Digital Inking by saying your success with a particular solution will depend on what your Digital Inking style and needs are. I'm a sloppy Digital Ink note taker. So, keep that in mind as you read further. Your style and needs might be different.
Many Digital Inking Apps for the iPad contain a list of features and tools that are almost a prerequisite. These include multiple pen types and ink colors, marking up PDF and other document files, inserting other assets like photos, recording audio, shapes and arrows, etc…. If you used Microsoft OneNote you'll find that many of these Apps aim to offer a lot of that functionality. Many of these Apps offer a veritable toolbox of functions that can seem overwhelming at first, but keep in mind that the developers are trying to appeal to a large range of users with different needs.
But each of the good digital note taking apps tries to distinguish itself from the pack with a feature or two. Some offer Palm Rejection or Wrist Protection and most are working with the various Bluetooth stylus makers to incorporate their SDKs so that you can use a specific brand of stylus.
ZoomNotes contains all of that, and as the name implies offers unlimited zoom into your document to allow you better control of your Inking. Other Apps offer zooming capabilities, but even though I don't use a zoom function in my Digital Inking, I'd say that ZoomNotes has useful approach. You can Ink in a small scrollable windows that you can position anywhere you want on a page. This allows those doing markup on a document the opportunity to create smaller margin like notes. Other Apps offer similar features, but this is the best implementation I have seen.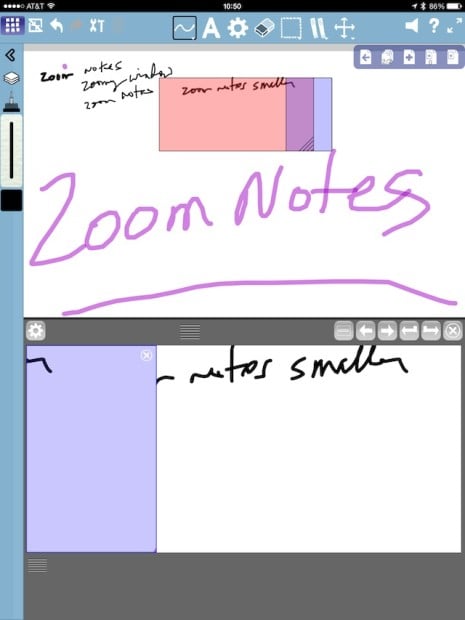 The other reason that ZoomNotes stands out for me is that its implementation with the Jot Script stylus and the Pogo Connect stylus is the best I've seen. I had some difficulty using the Adonit Jot Script stylus with the Digital Inking App Penultimate that it was designed specifically to work with. I have not had any of those difficulties with ZoomNotes. The Pogo Connect Stylus also performs quite well with ZoomNotes. ZoomNotes also works with the JaJa stylus but I no longer own a JaJa stylus to test.
If you're using a stylus that doesn't connect up via BlueTooth they also work quite well. In fact, I would say that ZoomNotes has the smoothest Inking experience using Palm Rejection/Wrist Protection that I've tried. The developers of ZoomNotes have done a good job so any stylus solution you prefer should probably work well. If fact switching between a Bamboo stylus which features a rubberized tip and an Aponyo stylus which features a wire mesh tip, I'd say I prefer these simpler solutions with ZoomNote than I do the more elaborate (and expensive) Bluetooth versions. Sometimes simpler is best.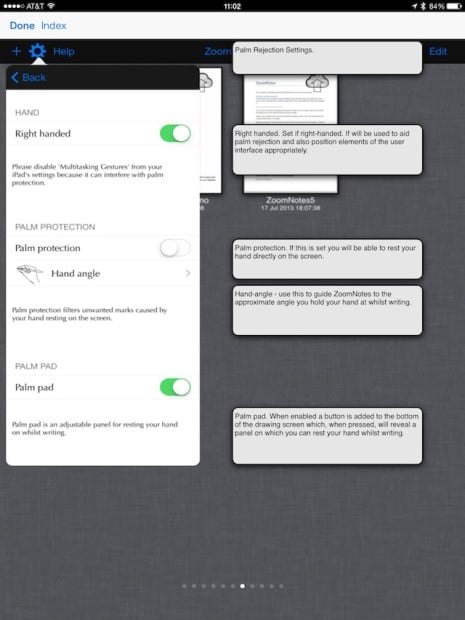 But again, this depends on what kind of Inking you are doing. I'm impressed enough with ZoomNotes that I'm going to use it on my next couple of note taking assignments to see if my initial impressions hold up.
ZoomNotes is not a silo and connects to Dropbox, Box, Google Drive and other sources that allow you to share and archive your creations.
ZoomNotes is a universal App that works with both the iPhone and the iPad. It costs $4.99 and there are a number of in-App purchases you can make for extra pens and tools. $4.99 in these days of free and $.99 apps sounds like a lot, but if you're a serious Digital Inker, I'd say it is worth the cost for ZoomNotes. Highly recommended. There is a ZoomNotes Lite version for free as well.