ZTE Announces Grand Memo Phablet To Compete With Galaxy Note 2
The new ZTE Grand Memo is an incredibly large phablet at 5.7-inches, and it's one of the first smartphones to feature the new Snapdragon 800 processor.
ZTE announced the Grand Memo at Mobile World Congress in Barcelona this week. The phone has a 720p display that's 0.2-inches larger than the display on the Samsung Galaxy Note 2. Despite the gigantic display, the ZTE Grand Memo doesn't have a stylus like the Galaxy Note 2, so users have to rely on their fingers on the huge device.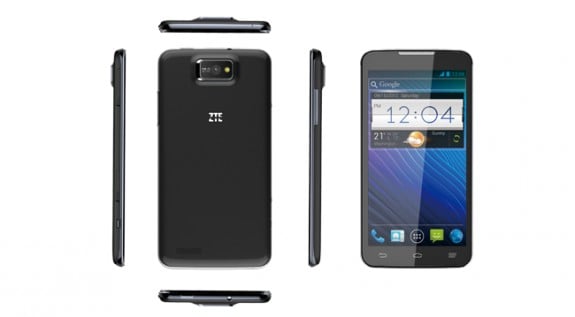 The ZTE Grand Memo uses a 1.7Ghz quad-core Snapdragon 800 processor, and is on of the first smartphones to use the new chip. The new System on Chip is Qualcomm's top-of-the-line processor, which has features that make devices charge more quickly than others. The Snapdragon 800 can also support always-on voice recognition, which would prove useful with such a large display.
Inside the ZTE Grand Memo has 16GB or storage space and 1GB of RAM. The 3200 mAh battery inside is only 100 mAh smaller than the battery in the DROID RAZR MAXX HD. The Grand Memo also has a 13MP rear-facing camera and 1MP front-facing camera.
The ZTE Grand Memo runs Android 4.1 Jelly Bean with an extensive skin laid over it with a custom launcher, message app, contacts app and dialer. The phone even has a unique unlocking method: either tap and hold on the display or use a pinch out gesture to open a menu with shortcuts.
ZTE's Grand Memo isn't the largest smartphone at Mobile World Congress, that honor belongs to the Samsung Galaxy Note 8.0. It is, however, one of the largest phablets that still runs Android phone apps instead of tablet apps.
ZTE will release the Grand Memo in China this March, and Europe sometime later this year. There is currently no mention of a U.S. release date.