ZTE Preps 3 New Windows Phone 8 Smartphones, 1 With 1080p Full HD Display
It looks like ZTE is prepping at least three new Windows Phone 8 smartphones to challenge Nokia, HTC, and Samsung in this space. The phones, scheduled for launch next year in 2013, will cover the gamut with a high-end, a mid-range, and an entry-level offering with a Windows Phone 7.8 operating system. The images posted on GSM Insider reveals the a few of the smartphones, though the pictures are blurry.
The high-end device will straddle the space between Windows Phone 8 and Microsoft's tablet-class Windows RT OS as it will have a large phablet-like display measuring 5.9-inch diagonally, which is even larger than the 5.5-inch 720p HD display found on Samsung's Galaxy Note II smartphone, a device that is already considered big for its class.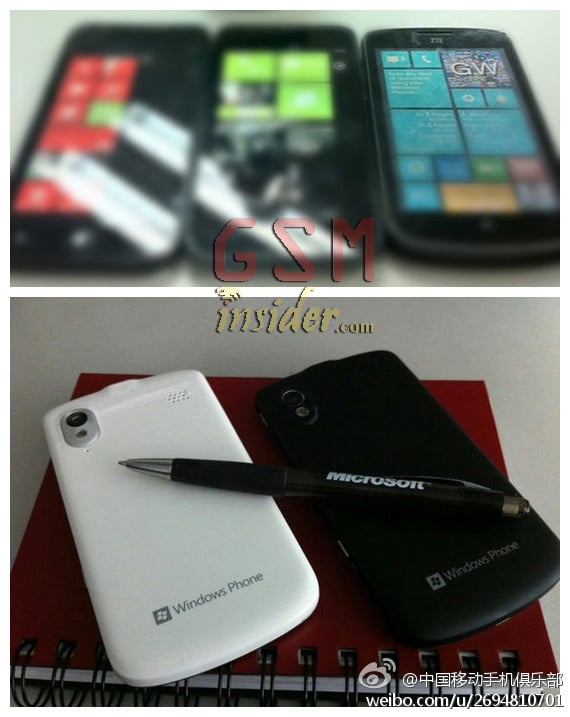 With a large display, the high-end Windows Phone 8 phablet is said to have a full 1080p HD resolution, which is the same resolution that HTC's much anticipated Droid DNA will sport on a 5-inch display with Google's rival Android operating system. The 1080p display from ZTE's Windows Phone device would be the first for Microsoft's mobile OS as high-end devices from Samsung, HTC, and Nokia have displays based around the 720p HD resolution.
The phablet concept is interesting as in the past, Microsoft had said that Windows Phone OS will be strictly reserved for phones, not for phablets, though with the launch of Windows 8 and Windows RT, the company is bridging that divide with a consistent Live Tiles user interface and similar kernels making it easy for developers to port apps between the three platforms.
Details surrounding the devices are relatively scarce at this time, but given ZTE's history, these feature-rich devices will probably come in with extremely competitive price tags.
With the launch of Windows Phone 8, Microsoft is making the platform more competitive when compared to competing mobile operating systems by adding support for HD displays and multi-core processors. It appears that ZTE is making the best out of these new capabilities supported at the OS level with compelling hardware.
The backside of the device shows that at least one of the devices from the range may support a unibody plastic construction with a non-removable battery, similar to the design of the HTC 8X and the Lumia 920. The rear shows that the phone will come with a camera and LED flash.
We'll probably hear more about these devices as the Consumer Electronics Show comes closer. It's still unclear if these devices will be headed to a U.S. carrier at this time.
Thanks to GottaBeMobile reader Liu Xiang for the news tip.