ZumoDrive Private Beta Invites Available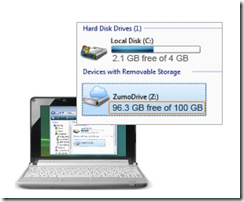 The highly anticipated ZumoDrive service might be in private beta, but don't worry — we've got you covered.
Update: as of this writing, about 60 invites are still available.  Head on over to    https://www.zumodrive.com/invite/gottabemobile    The code is gottabemobile. Once the invites run out, they are gone – so you better act quick.
The first 200 folks to respond with a comment to this article will get a private beta invitation. Be sure to include your email address so we can get back in touch with you. Head over to ZumoDrive.com to learn more about their upcoming storage solution targeted for folks with limited storage capabilities ( ie Netbook users), and their iPhone app which accesses all the files you've moved over to your ZumoDrive:
Link: https://www.zumodrive.com/invite/gottabemobile
With the ZumoDrive app on your iPhone, you get access to all your content. Play your entire music library directly over the air, go through all your photos without syncing, and have all your documents at your fingertips.

As an Amazon Associate I earn from qualifying purchases.