Zune – no Vista support? Hmmmm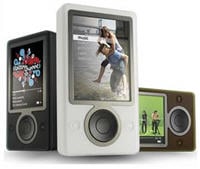 Okay, I know it is off a bit topic for GBM, but I have added a Zune (affectionately named "Zooney") to my mobile toolbox and wanted to talk about it a sec.
Love the device, don't like the software experience. First, I find it very interesting that it does not support Vista (yet). It also will not run at any resolution lower than 800×600, which I discovered when I tried to attach it to my Media Center machine (run at 856×480 for compatibility with my slightly older big screen HDTV).
I also find it interesting that it also has a totally separate application to run it with, called, guess what? ZUNE. Hmm, so now Microsoft has two media applications. Granted, they will share the smae library folders, but still, why complicate this and make me install more software? When I started a sync on the device with my tablet, CPU usage went to 96% — and stayed there for a long time during that initial sync. Ouch.
The device is very cool in itself. I like it. A lot. My Zen Vision:M is headed for eBay.
Signed,
Confused Software Installer.

As an Amazon Associate I earn from qualifying purchases.