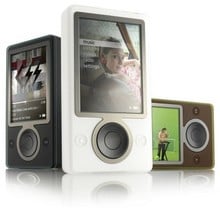 Tomorrow is the big day for Microsoft's Zune to hit the streets (there might be some other news somewhere else

) and already the boo birds are out. Gizmodo says the brown color looks like "swamp water jello" but that the software also plays nicely with iTunes. Engadget didn't have a good time with the install. I'm guessing we'll hear lots more in the next few days, but this was an interesting piece of news. Steve Ballmer is now saying that Zune will add video sharing and a phone model. No date yet, but interesting. So, any GBM readers going to be doing the Zune thing?

As an Amazon Associate I earn from qualifying purchases.