10 Best Gameloft Games for iOS & Android Devices
Many iOS and Android gamers have a love/hate relationship with developer Gameloft. Those on the hate side say the company is just ripping off popular console franchises, watering them down, and cashing in. Those on the love side insist that they're bringing console experiences to mobile devices when few others are.
We all enjoy the casual fun of Angry Birds, but our devices are advanced enough now that full console-level games are possible. Whatever your take on Gameloft is, those are the games they're trying to make. Though they do also release original licensed titles (Spiderman: Total Mayhem, Assassin's Creed: Altaïr's Chronicles…), we're going to focus on the 'copycats' – the console clones.
A search of Gameloft in the AppStore yields over 200 results for both iPhone and iPad. We've narrowed that down to the 10 best bets. Prices can vary depending on your platform and device, but they should all be under $10 (all are $7 or less in the AppStore).
10. Modern Combat: Sandstorm
Clone of Call of Duty: Modern Warfare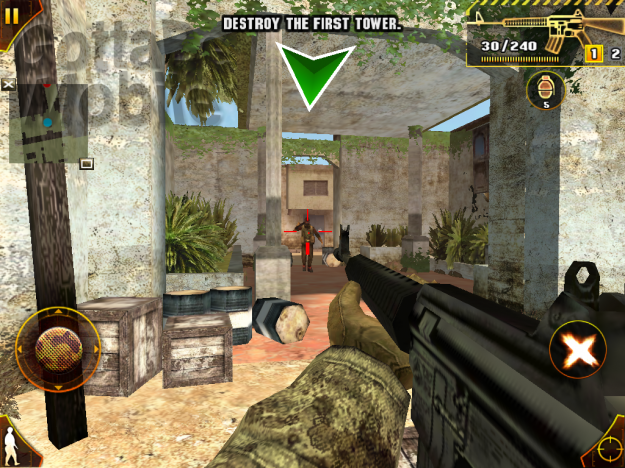 With Activision churning out blockbuster Call of Duty games every holiday season, it's no surprise that Gameloft has jumped at the chance to make their own version of the lucrative franchise. Modern Combat does just what you'd expect a war shooter to do.
As one of the French developer's earlier titles, it's likely only going to cost you $5 or so. Gameloft later improved on the formula that was established here (see below), but don't let that keep you away from this solid FPS.
Android ($4.99+)
iPhone/iPod touch ($4.99)
iPad ($4.99)
https://youtu.be/G7mLfdE6wfw
9. Gangstar: Miami Vindication
Clone of Grand Theft Auto: Vice City
This Grand Theft Auto clone puts you in the criminal underworld of South Beach. A vast improvement over the mediocre Gangstar: West Coast Hustle (itself a GTA: San Andreas replica), you'll be stealing cars, assaulting random civilians, and running from the cops – everything you'd expect out of a GTA game.
Though you miss the licensed music and irreplaceable creativity of Rockstar's endeavors, you still have the ability to roam free (and wreak havoc) in a virtual Miami that lives in your iDevice or Android phone. This is a solid buy for GTA fans.
Android ($4.99+)
iPhone/iPod touch ($6.99)
iPad ($6.99)
https://youtu.be/YT4-nbYTtqM
8. N.O.V.A. – Near Orbit Vanguard Alliance
Clone of H.A.L.O.
As one of the developer's most blatant xerox jobs, this is their tribute to Bungie's H.A.L.O. franchise. The get-up of N.O.V.A.'s protagonist could almost be grounds for a lawsuit, it bears such an uncanny resemblance to Master Chief.
Unapologetic imitation aside, Gameloft has given us a fun mobile shooter that is an improvement over any port of Doom or Quake. Its sequel (see below) turns it up a notch, but the first N.O.V.A. is one of Gameloft's classics and a trip worth taking.
Android ($4.99+)
iPhone/iPod touch ($4.99)
iPad ($4.99)
7. Eternal Legacy
Clone of Final Fantasy
Gameloft's entry into the realm of role-playing games takes a stab at copying Final Fantasy. You gather your band of warriors (including the obligatory spiky-haired teen) for an adventure of turn-based fighting with all the items, magic, and special attacks that you would expect from an RPG. The graphics are notable as some of the better from Gameloft, with vividly-presented characters.
Android ($4.99+)
iPhone/iPod touch ($4.99)
iPad ($4.99)
6. Shadow Guardian
Clone of Uncharted
Shadow Guardian is a beautiful Uncharted clone that incorporates all the climbing, 3rd-person shooting, and monumental set pieces that you'd expect from Naughty Dog's PS3 classics. The graphics are up there with Gameloft's best, and controls make transitioning between running, shooting, and climbing a breeze.
However, major technical bugs in the iPad version have been neglected by the developer, so we can't hold this up as high as we otherwise would. If Gameloft fixes the glitches, this cinematic cliffhanger could very well be their best game.
Android ($4.99+)
iPhone/iPod touch ($5.99)
iPad ($6.99)
https://youtu.be/azGxGRu_fXU
5. Sacred Odyssey: The Rise of Ayden
Clone of The Legend of Zelda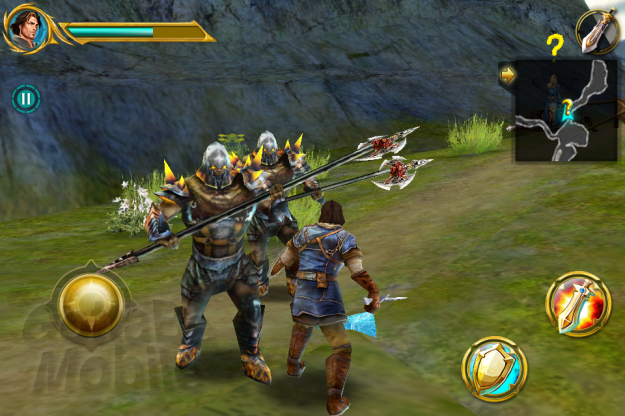 If you don't own a Nintendo system, you're out of luck when it comes to playing recent The Legend of Zelda titles. Sacred Odyssey: The Rise of Ayden attempts to remedy that with an action/adventure/RPG that was obviously inspired by the 3D Zelda games from the last 15 years.
Sacred Odyssey features top-notch graphics, surprisingly decent voice acting, and a fantastical story (even featuring a magical Princess) that would fit right in on any of Nintendo's classics.
Android ($4.99+)
iPhone/iPod touch ($6.99)
iPad (currently free)
4. Modern Combat 2: Black Pegasus
Clone of Call of Duty: Black Ops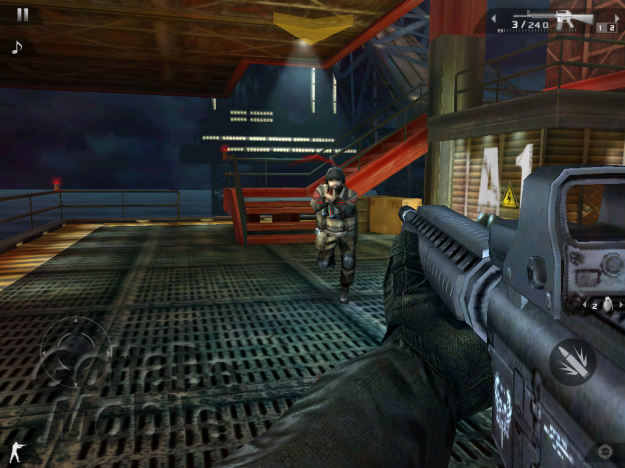 The sequel to Modern Combat, Black Pegasus provides top-notch graphics and the same rock-solid control scheme that makes all of Gameloft's first person shooters intuitive – despite being on a touchscreen.
In addition to a single-player campaign that's worth the price of admission alone, Modern Combat 2 features online multiplayer so you can gang up with your buddies or find matches with strangers. For under $10, it's hard to do better than that.
Android ($6.99)
iPhone/iPod touch ($6.99)
iPad ($6.99)
3. Dungeon Hunter 2
Clone of Diablo
You'll have to go all the way back to 1996 and 2000 for the Diablo games that inspired Dungeon Hunter 2. If you missed them, this is the best introduction you can get on your mobile device. This action role-playing game gives you a birds' eye view of your character as you collect loot, battle creatures of every ilk, and level up your character through underground lairs.
As with many of the Gameloft titles from the last eight months or so, the graphics are a real treat. The original Dungeon Hunter is a solid buy as well, but this sequel ups the ante.
Android ($4.99+)
iPhone/iPod touch ($6.99)
iPad ($6.99)
2. N.O.V.A. 2
Clone of H.A.L.O.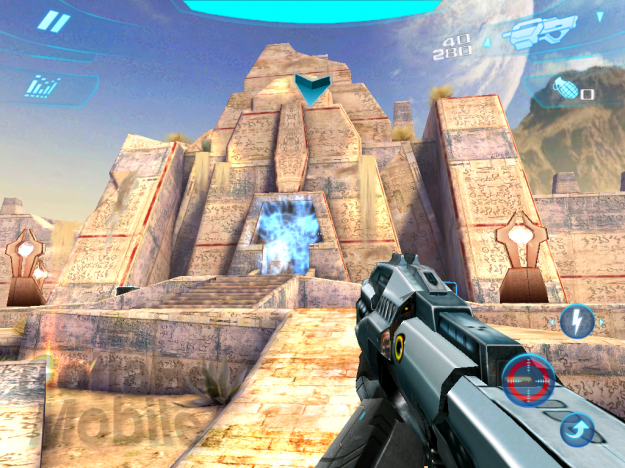 In Gameloft's second stab at H.A.L.O., the graphics are improved over the original N.O.V.A., the story is solid enough to keep you engaged, and you'll find yourself in environments ranging from lush green jungles to dark, cavernous spaceship corridors.
N.O.V.A. 2 also delivers a unique soundtrack that enhances the experience. This is one of the best first person shooters you can find outside of a dedicated console or PC.
Android ($6.99)
iPhone/iPod touch ($6.99)
iPad ($6.99)
1. Backstab
Clone of Assassin's Creed
In Backstab, Gameloft's most recent title, you take the role of Henry Blake, an English officer who's been betrayed by his own government. Blake escapes from slavery, goes underground, and become a rebel/mercenary/pirate – bent on revenge and redemption. It's a worthy story and the graphics are a major step forward for Gameloft. The range of fully-detailed environments is simply astounding for a mobile game.
The dialogue and voice acting can be weak in places, and the combat could be more varied. But the game is still strong enough to grab our number one spot.
Android ($6.99)
iPhone/iPad/iPod touch ($6.99)
https://youtu.be/UszahFTY6fM
Honorable Mention
Hero of Sparta 2 is a strong God of War clone that would have been on this list, but it's currently only on iOS.   iPad   iPhone/iPod touch
Order & Chaos Online is a World of Warcraft clone, but it eventually requires a monthly subscription and we limited our list to single-purchase games.   Android   iPhone/iPod touch/iPad