10-Inch Kindle Fire Tablet Rumored for Q2 Launch
According to a Digitimes report, Amazon is prepping to launch a 10-inch version of its popular Kindle Fire tablet starting in Q2. The report suggests that Apple manufacturing partner Foxconn has won the manufacturing contract for the 10-inch Kindle Fire slate, beating out current Quanta and Inventec, which are responsible for producing the current 7-inch model.
The 10-inch Kindle Fire tablet, which was codenamed Hollywood, was rumored to be launched alongside the 7-inch model prior to Amazon's official announcement. However, Amazon has since only announced the7-inch Kindle Fire tablet, which utilizes a similar design to the BlackBerry Playbook tablet, for an affordable $200 price point that has gained the company market share in the Android slate category.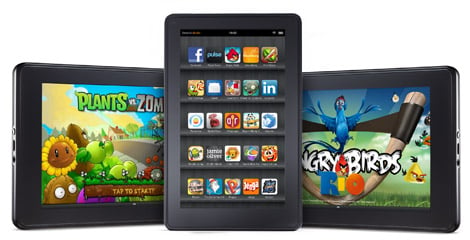 More recently, however, there were rumors that Amazon may be eyeing a tablet with an 8.9-inch screen size, rather than the 10-inch size. It's unclear if Amazon is working on that size as well. Critics of the 7-inch model right now, including Apple, highlight the 7-inch screen lending to a poor user experience.
No additional information is given from Digitimes' report, and it's unclear how low Amazon will price a 10-inch iPad competitor at this time.
With the 7-inch Kindle Fire, Amazon is said to be losing money on hardware sales to aggressively gain market share. The company's strategy is to earn back its losses through digital services and products that customers may buy, such as Amazon Prime memberships, Amazon App Store, Amazon MP3 purchases, Kindle ebooks and magazines, and Amazon's Instant Watch videos. In the past, it is speculated that Amazon may begin to source its own components and parts to lower its costs for the next Kindle. Currently, its manufacturing partner Quanta sources the parts.

This article may contain affiliate links. Click here for more details.