10 iPad Apps You can Gift to Dad for Father's Day
For kids who forget to buy Dad a gift for Father's Day, maybe a great app will soften the blow.
It's easy to gift dad an app through the iTunes App store.
Don't skimp, get him one that he'll really love.
From baseball to golf and grilling out, these 10 apps offer an easy way to give dad a gift he'll use all year.
Read: How to Gift an App in iTunes
To give this gift to dad, just click on gift this app and enter his email address.
MLB At Bat 12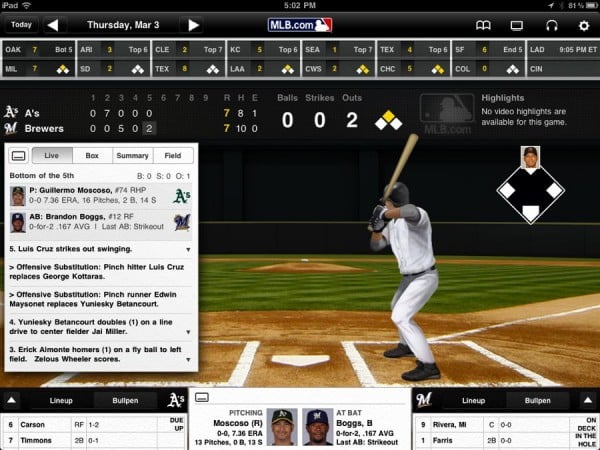 For baseball fan fathers, MLB At Bat makes a great gift. Buy them the app and get a subscription so he can follow his favorite teams and players from his iPad, iPhone, Android device and even on an Apple TV or Roku box at home.
The iPad version doesn't cost a dime for current subscribers who can listen to the audio content, view news and stats. Check standings and scores after the game is over. I love the in-game view that shows player locations and pitch placement during an at bat. It makes a great companion while watching a game on TV too. The subscription costs are as follows:
MLB.TV premium includes computer streaming, streaming via set-top boxes and mobile viewing of games – $124.99/year or $24.99/monthly
MLB.TV non-premium subscription doesn't include mobile streaming via apps – $109.99/year or $19.99/monthly
MLB At Bat Yearly subscription only includes mobile app streaming – $14.99/yearly or $2.99/monthly
Get more details at their site and see my previous post.
Weber's On the Grill for iPad
What dad doesn't love to grill out? I do! This $4.99 app will help him become the grill-meister in reality that he already believers he is in his own mind. The Weber app even includes how to barbecue meat loaf?
The app tells how to grill basic foods, like steak, burgers, fish, chicken and more. It gives recipes for simple and complex meals alike. It also offers grill safety guides and how to properly clean the grill. The app store offers other grilling apps, but this one beats them all.
Golfshot: Golf GPS
A lot of dads love to play golf, and this app will help them know their course. The app works on both iPhone and iPad. Golfers can measure distances by touching the screen and it shows the length to the tee or the middle of that dogleg left. The app costs $29.99 and works on both iPad and iPhone. Learn more at the app's site.
Apple highlighted this app in their iPhone 3GS ad a couple of years ago.
Here's the app's demo video:
Golfplan with Paul Azinger
From the same company that makes Golfshot, this app offers golfers tips and drills to become a better golfer. It records game stats and gives the user suggestions based on his experience. The videos will also help golfers improve their skills. The app costs $4.99 for both iPhone and iPad.
Home Improvement Calcs
Here's a great $1.99 app that helps with those home improvement jobs. The app calculates things like how much concrete renovators need to redo a walk way or the number of paving bricks to put in a new patio. It handles most home improvement calculations easily. It does conversions between amps, watts and volts. It figures geometry calculations like the angle needed to put a rafter to get the right pitch. it handles heating and air, lumber material calculations, area calculations for things like carpet or flooring, measurements and more. It saves measurements and can share them via email.
N.O.V.A. 3 – Near Orbit Vanguard Alliance
This first person shooter lets fathers enjoy some time off and get their frustrations out with incredible game play. NOVA 3 is one of the hottest games in the app store. "Fight for mankind's survival in the greatest space shooter on mobile devices!" Serious gamers enjoy this one. It's not for everyone, so make sure dad likes to play hard-core games on his iPad.
In this update to the franchise, humanity comes back to earth fighting to regain control of the planet after being exiled. Players can use bunch of weapons and play in one of 10 levels. For $6.99 it offers plenty of fun.
Ski Safari
This game is for the fathers who prefer casual games. It's easy to get stared but offers enough fun to keep him going for a while. The skier needs to outrun an avalanche that wakes him from his slumber. Slide down the mountain on skis and catch penguins who slide faster. Jump over boulders and off the roofs of mountain cabins. Pick up coins to earn extra points. Jump on the back of a Yeti who can handle more punishment. Grab an eagle and the game moves faster.
The app only costs $.99 so younger kids can afford to gift this one to their dad. Father and child can play taking turns and enjoy the fun of the game and one another's company.
Spotify
https://youtu.be/yXdD-2wJUac
The Spotify app is in the app store, but you can gift dad a monthly subscription. At only $9.99/month the app gives access to almost any song a father might want to hear. It works on the iPad and iPhone and he can also listen on his computer. The app lets users download songs so they don't use up their data plan streaming everything. The music access is only good for as long as he has a subscription.
Sign up for the premium subscription at the Spotify website. Don't get the cheaper version because it only works on a computer.
Snapseed
I recommend this app to everyone who wants excellent photo editing on the iPad. it uses a simple photo editing system. Load the picture and tap the various tools along the right. Then swipe up or down to pick the specific tool from that category of photo editing tools. For example, swipe up or down to pick from brightness, contrast or grain. Select grain and the swipe left or right to add or subtract grain. Other tools include color correction, Instagram style filters, straightening and cropping. When finished the app lets users export the picture to the camera roll or share it on Twitter, Facebook and Flickr. At $4.99 Snapseed is my go to app for photo editing on the iPad.
Grid Lens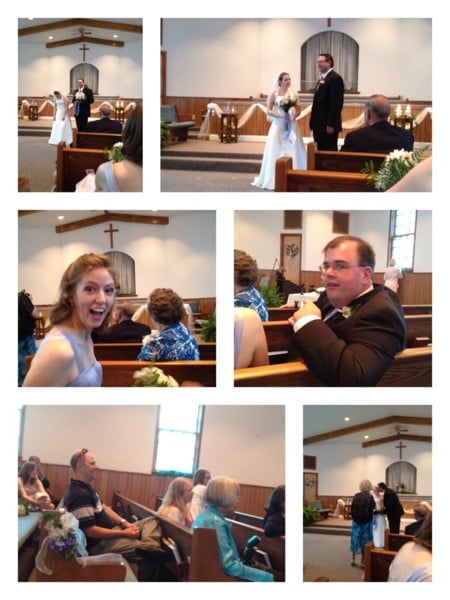 For dads who like to take pictures, Grid Lens offers a fun way to share photos. It arranges a collection of pictures in a nice layout. Users can take shots in rapid succession or more selectively. I took the above photos at a wedding I attended recently. The app arranges them on the grid and then lets users export them to various sharing sites. It offers different grid patters to choose from. The app only costs $.99 in the app store and works on both iPad and iPhone.

As an Amazon Associate I earn from qualifying purchases.