10 Things You Didn't Know Your Android Smartphone Could Do
Smartphones are extremely powerful computers or tools that can do a lot more than just your average apps, games, calls or features. You'll be surprised to learn that your Android smartphone can actually do a lot of things you didn't think were possible.
Taking videos in slow motion, scanning barcodes, or even learning the name of a song with apps like Soundhound are all neat tricks, but below and in less than five minutes we'll show you 10 things you probably didn't know your Android smartphone could do.
You won't need to buy some crazy expensive accessories or hack the phone to do most of these fancy tricks, and instead they're just neat things most owners don't know about.
Almost everyone you know probably has a smartphone and uses things like the camera flash as a flashlight, voice search to ask questions and get navigation directs hands-free, and an array of other things. However, it's the fun and more advanced stuff below that will surprise you.
Mobile Payments
Paying for gas, coffee, or fast food was made popular by Apple Pay, but this feature has actually been around for years with Google Wallet, and will get even better later this year with Android Pay. Using Google Wallet and NFC (the same system for all Apple Pay locations) you can use your Android smartphone to pay for goods.
Anywhere that wireless payments are allowed, or Apple Pay is accepted, you can use Google Wallet. Gas stations, hotels, Starbucks, grocery stores, fast food drive-up windows and more. Anywhere with an Apple Pay logo or the little mobile payments wave icon will work.
Users will need to download Google Wallet from the Google Play Store, then add a bank account or a credit card. You can also add gift cards, loyalty cards or points and more to Google Wallet. Then simply open Google wallet with a secure pincode and tap the payment terminal with your phone to instantly pay for millions of items across the United States.
Become a Mobile Hotspot for WiFi
One feature that millions of users still don't know about is using a phone as a WiFi hotspot, or sharing the connection from your phone to nearby devices. This is called tethering. Basically sharing the data connection with other devices, similar to how you use the WiFi at hotels or a nearby Starbucks. Essentially you can use that fast AT&T or Verizon 4G LTE network to act as the internet connection on your Laptop, home PC or tablet. This allows you to have internet on a non-connected device while out and about.
Read: How to Use the Galaxy Note 4 as a Personal Hotspot
If you head to Settings > Tethering & Hotspot  (or settings > more) on almost any Android smartphone and enable the hotspot feature, your phone will share its connection with nearby devices. As a reminder many carriers charge extra for this, so double check before you start streaming movies to your laptop.
Charge Super Fast
If you're in a pinch or short on time there are two ways to charge an Android smartphone fast. For one, most newer devices like the Samsung Galaxy S5, Galaxy S6, Note 4, LG G4, HTC One M9 and many other devices have a feature called turbo charging. The actual name is Qualcomm Quick Charge 2.0, but it essentially allows you to get up to 8 hours of battery after 30 minutes on the charger.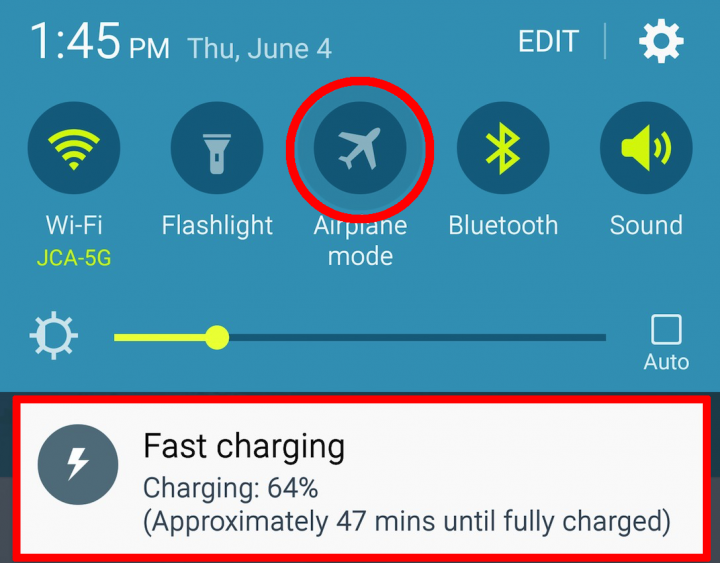 Using a dedicated Turbo or Quick Charger wall plug, your device will rapidly charge up to 60% faster than devices from a few years ago, and get to 50% typically in less than 30 minutes. This is enough to last you the rest of a night out, or a busy evening at work.
However, a second thing that many don't know about is Airplane mode. Turning on airplane mode on an Android smartphone basically turns off everything. No WiFi, no cellular connectivity, no internet, messages, nothing. It kills all the radios inside the phone. If you turn on Airplane mode while you charge, your smartphone will get full much quicker as the device isn't using any battery while it's being charged. It's a simple trick that average people don't know about, and my older family members and Uncle was amazed when he tried it himself.
Start Your Car
Home automation is a growing trend lately, and LG's new G4 even has an app that can control select Samsung and LG air conditioning units. Nest comes to mind. Smartphones are also getting integrated into our cars and stereos, and can even start your car. Owners can even lock or unlock the doors from hundreds of miles away. Not to mention open the trunk or check vehicle status information.
Viper SmartStart is one of many that do this, but other car and alarm companies are also starting to offer this technology, not to mention car manufacturers themselves. Viper was one of the first, but now you can choose from multiple different alarm systems from popular manufacturers.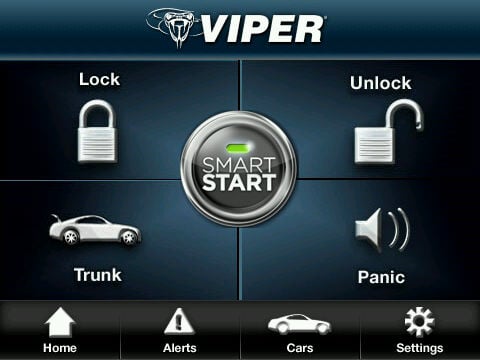 For more details or to check it out yourself head to the Google Play Store.
Use Your Phone as a Remote Control
Many different Android smartphone makers have started adding infrared sensors to the top of the device. This turns your phone into a remote that can control the TV, cable box, home theater volume and more. These work with apps like Peel remote, and LG has its own QRemote app. Most new Samsung Galaxy phones, the LG G3, LG G4, HTC One M9 and many more all have this capability.
Once you open the app it does everything for you. Samsung's Peel app, LG's QRemote and others have all the device codes stored already. Just hit power and if it works, tap yes, and the app saves the information and you're done.
Read: How to Use the LG G4 Remote Control App
Taking five minutes to go through setup and hitting power, volume, and other buttons will teach it all the codes and let you control every aspect of the living room.
Control Your Macbook on Android
Speaking of remote controls, you can use your Android smartphone or tablet to control your Macbook or even most Windows computers. The guide below is about controlling your Mac with an Android smartphone. I start movies, control the volume, open programs and more with it.
Read: How to Control Your MacBook with Android
There are also multiple apps on the Google Play Store that will let you remotely control programs on a computer over WiFi with your smartphone. Everything from playing Steam Games on NVIDIA Shield, starting torrent downloads with uTorrent from remote locations, use Cox or cable company apps to set DVR's to record and watch TV. The options are nearly endless and more arrive every week.
Check Your Heart Rate, Pulse and Blood Pressure
Depending on the smartphone some Android owners can do crazy advanced things like check your heart rate, pulse, or even view your blood pressure and stress levels. The Samsung Galaxy S5, Note 4, and the new Galaxy S6 all have a sensor on the back that can read these levels.
The S-Health app will tell you to put your finger on the sensor like you do at the doctor, and it reads all these levels. It can also track how many steps you take, help owners count and track calories to lose weight and more. Here's some great weight loss apps for Android.
Tape Measure or Bubble Level
Have you ever needed to measure something while on the go and only had a smartphone? Or want to quickly level a picture frame to hang on the wall? Well we have that covered too. The Smart Tools app has a measuring tool, or you can get the free measure tool app as well.
Bubble level apps are all over the Google Play Store, but getting one with multiple angles, level locks, and alerts once you're level are the ones you want. My favorite one is called Bubble Level, or try out iHandy Level Free. These are a few simple apps you can use for lots of different projects.
Measure Speed & Distance
If you want to measure the distance on a golf shot, measure the speed of your sons baseball pitch and more, you can do that too. Smart Tools is a group of Android apps that can measure the distance between two objects, and they even have an app to measure the speed of moving objects. Smart Distance will measure the distance, then, once you know how far things are, the Speed Gun app will give you the speed of any moving object.
Pretty neat right?
Board Flights, Track Packages & More with Google Now
Last but certainly not least (and making our list more than 10) is Google Now and other apps from the search giant like Google Goggles. With Google Now you can instantly search for almost anything using your voice, and Google Now actually does a lot of different things. If enabled Google Now will search your Gmail for upcoming flights and give you alerts, driving times and estimated time of arrivals, pull up nearby hotels, and even let you board your flight with a barcode instead of printing a boarding pass.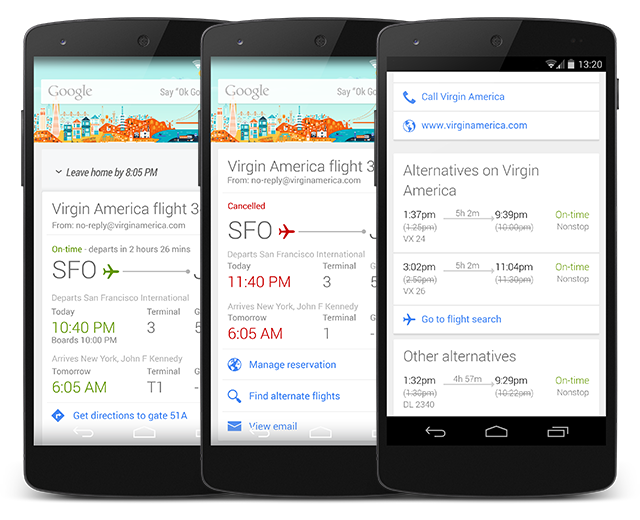 Google Now will search through Gmail and find shipment tracking numbers and track them for you, show when they've been delivered, and an array of other things. Check out these Fun Google Now tips & tricks. You can even find your parked car with Google Now.
Everyone should download something called Google Goggles. It's an old app but one that many don't know about. Goggles will use your smartphone camera to scan millions of objects and do a Google search with the image. Find out about a bottle of wine, its rating, price and where to buy. Get information about the Eiffel Tower, or even scan a painting in an art gallery and give you information about it in seconds.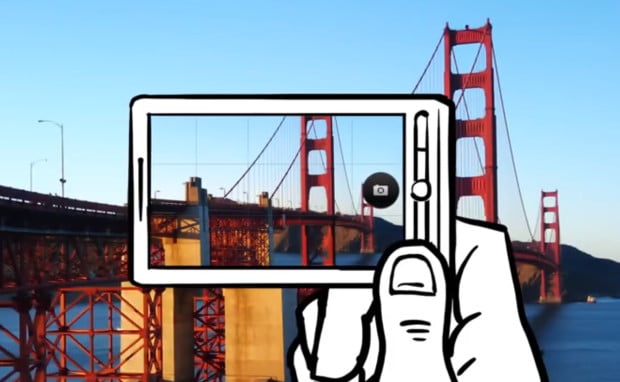 Google Goggles also doubles as a barcode and QR code scanner, not to mention can translate text from one language to another, which is extremely helpful if you're traveling. Books, paintings, CDs, business cards and more can all be scanned, recognized, and saved for later. It's quite powerful and useful all at the same time. Get it from the Google Play Store.
These are just a few of the many amazing things our Android smartphones can do these days. If you have any other great ideas, tips, or tricks you know about, drop us a comment below.