11 Things to Know About the Fallout 4 Vault-Tec Workshop DLC
We continue our look at Bethesda's Fallout 4 DLC with a look at the Fallout 4 Vault-Tec Workshop DLC for PS4, Xbox One and PC.
Bethesda was extremely busy at E3 2016. While Fallout 4 wasn't the focus of the event this year, the company still managed to make some key announcements.
On stage, the company confirmed new Fallout 4 DLC for PlayStation 4, Xbox One and PS4. Three new add-ons are confirmed for 2016. The first, Contraptions Workshop, arrived on June 21st for all three platforms.
The fifth Fallout 4 DLC release, second of the final batch, is a brand new Workshop DLC. Vault-Tec Workshop is an extremely interesting expansion, particularly if you like Fallout's vaults.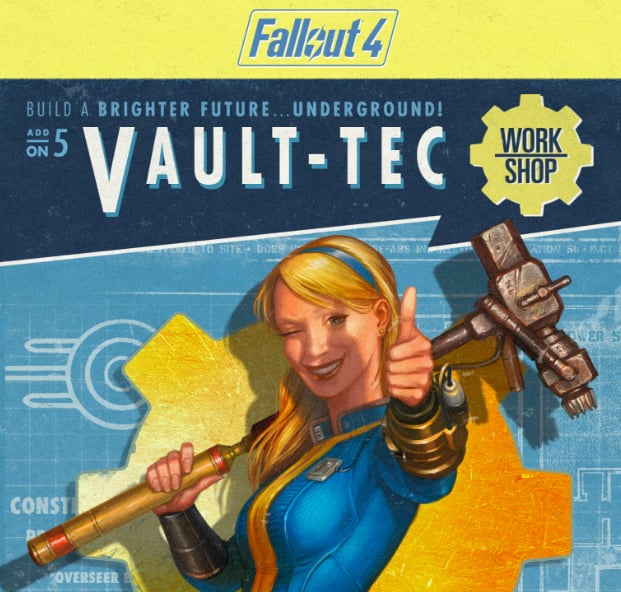 Now that the Vault-Tec Workshop release date has come and gone, we want to fill you in on the the most important things you should know about Bethesda's fifth piece of Fallout 4 DLC.
This roundup includes details about Vault-Tec Workshop deals, ongoing Vault-Tec problems, details about the DLC's requirements, and a whole lot more.
Here's what Vault-Tec Workshop owners and prospective buyers need to know about the Vault-Tec Workshop DLC right now.
We will continue to update this with new details as they become available so check back for regular updates.
Fallout 4 Vault-Tec Workshop Problems & Update
The Vault-Tec Workshop DLC is getting solid reviews but those playing the new content have run into problems.
While the Vault-Tec Workshop beta wiped out many of the problems plaguing the new DLC, issues slipped through the cracks.
Some gamers are simply having problems downloading the Vault-Tec Workshop DLC. If you own it and you can't get it to work, close Fallout 4 and re-open it. We also recommend a hard reset of your system.
We're also hearing about the usual array of texture problems, performance issues, random crashes, and various other bugs impacting the DLC and its features.
Bethesda's outlined a few solutions for Vault-Tec Workshop problems and the company's rolled out a brand new Vault-Tec Workshop update to address lingering bugs.
The update is now available for Xbox One, PC and the PlayStation 4. It's 400MB+ in size and it brings several key fixes to the table.
The update keeps the game at its current version. Here is the full list of fixes available for Xbox One, PC and PlayStation 4:
- Vault Exterior Door no longer has a missing texture if Wasteland Workshop is not installed
- NPCs will no longer incorrectly sit at the Vault Security Desk
- Vault-Tec Water Pump and starting generator now auto repair when entering workshop mode
- Player can no longer assign companions or Overseer Barstow using the population management system to prevent this from breaking them
- Vault-Tec population management system will no longer say jobs are available when is no one valid for job assignment available
- Vault Experiments can be scrapped in workshop mode
- Fixed issue with Overseer Barstow's audio cutting out after Clem's interview
- Interviewing the second settler candidate will not reset after the dialogue option take a break
If you are using an Xbox One or PC, the update will install automatically when you log online. If you're using Vault-Tec on a PS4, here's how to get the update.
This update wipes out many Vault-Tec Workshop issues but it doesn't tackle them all. While we wait for the next major Fallout 4 bug fix update for PS4, Xbox One and PC, please take a look at our list of fixes for common Fallout 4 problems and Bethesda's support forums for assistance.
You'll also want to report any bugs you see as you play the DLC. To do that, head here to submit a Vault-Tec Workshop bug via Bethesda's website.

This article may contain affiliate links. Click here for more details.