13 Exciting Samsung Galaxy Note 5 Cases
There are a lot of new Samsung Galaxy Note 5 cases available and coming soon to match the fast Galaxy Note 5 release date. We're still waiting to go hands on to find the best Galaxy Note 5 cases, but these are the top picks and essential cases and covers that Note 5 owners should check out.
All these exciting Galaxy Note 5 cases come from companies that make great products and impressed Gotta Be Mobile in the past. We will be reviewing Galaxy Note 5 cases in the coming weeks to fine the best Note 5 cases you can buy. Until we are able to go hands on with more of them, these are the options you need to consider to protect your new Note 5, add more battery life and add a new look to your device.
All these Galaxy Note 5 cases fit the new Galaxy Note, and the company may also make a version for the Galaxy S6 Edge Plus, but you will need to buy a specific case since they are different devices.
[contextly_sidebar id="xtE6aS1qThyC9resx5JIztWfnm2zTEip"]For users who are upgrading to a Galaxy Note 5 from a smaller phone this is an important choice, as a bulky case can make a big smartphone unwieldy in your pocket and in your hands. The Samsung Galaxy Note 5 is not a slippery as the iPhone 6 or HTC One M8, so you may not need a case to add grip, but it will protect your screen and the glass and metal design if you drop the phone.
These awesome Samsung Galaxy Note 5 cases include options under $10 and more expensive models that offer added protection, a battery boost or high-end name brand designs. You can buy many of these Galaxy Note 5 cases now, but some will not ship for a short time as the companies test the fit and finish.
Although Samsung sells a Galaxy Note 5 keyboard case, we are not including it on this list due to early reports that it does not help users type faster or more accurately.
You can buy these Galaxy Note 5 cases at Amazon, Best Buy and carrier locations as part of the Samsung Galaxy Note 5 release.
13 Exciting Samsung Galaxy Note 5 Cases
Samsung Galaxy Note 5 Clear View Case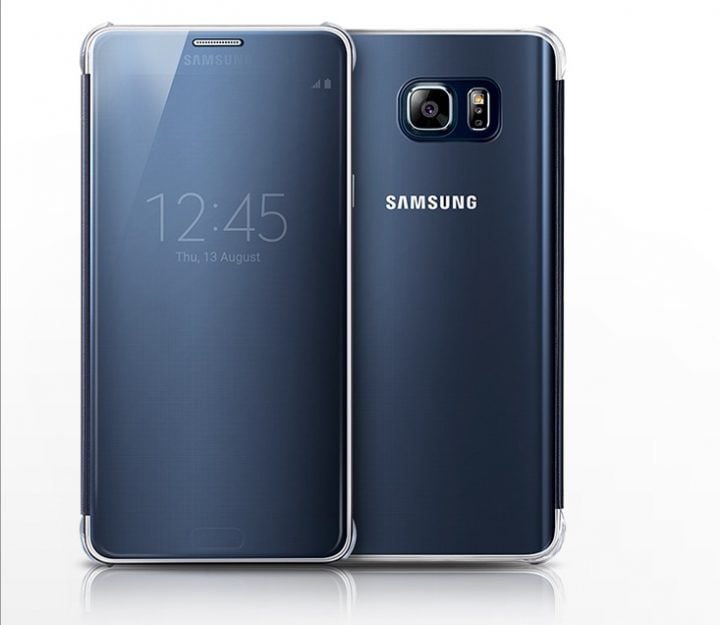 The Samsung Galaxy Note 5 Clear View cover is a folio style case that protects the front and back of the Note 5, but still lets you use the phone screen when the case is closed.
With the cover over the display you will still see notifications and alerts and can interact without taking the cover off for simple tasks and for taking a phone call. You can still use wireless charging with this case on the Note 5.
We're still waiting for the exact price of this official Galaxy Note 5 case, but you can count on a premium price to go with the wrap-around design.

As an Amazon Associate I earn from qualifying purchases.