14 Quick Tips for Windows 10
Microsoft's Windows 10 operating was built to be fast, intuitive and not make everyday users as mad as they were with Windows 8. Seriously, if Windows 8 was about making a touch-screen Windows experience palatable at the price of frustrating users that prefer older input methods, Windows 10 is about addressing those wrongs.
To achieve that goal, the operating system has tons of new features. Continuum lets Windows 2-in-1s and tablets switch between a touch-friendly experience and a mouse and keyboard design that comes complete with a Start Menu and Desktop. The refreshed Windows Store now has apps and games that run in both modes, fullscreen or windowed.
If you've just purchased a new Windows 10 PC or upgraded your older system, Gotta Be Mobile has some quick tips to get you going with Microsoft's latest operating system. All of these tips are applicable to notebooks, desktops tablets and convertibles that adapt based on your needs.
Get the Latest Windows 10 Updates
Your journey with Windows 10 starts with getting the latest updates to the operating system. Since releasing Windows 10 in late July, Microsoft has provided a ton of fixes and one major new round of features. During setup, your device will automatically check Microsoft's servers for the latest updates, but some may still be left over after your setup is complete.
Tap on the Windows button in the Taskbar or on the Windows key on your keyboard to get the Start Screen/Start Menu. Now look for the Update & Security option. The button for manually checking for updates is in the center.
Add an Email Account to Windows 10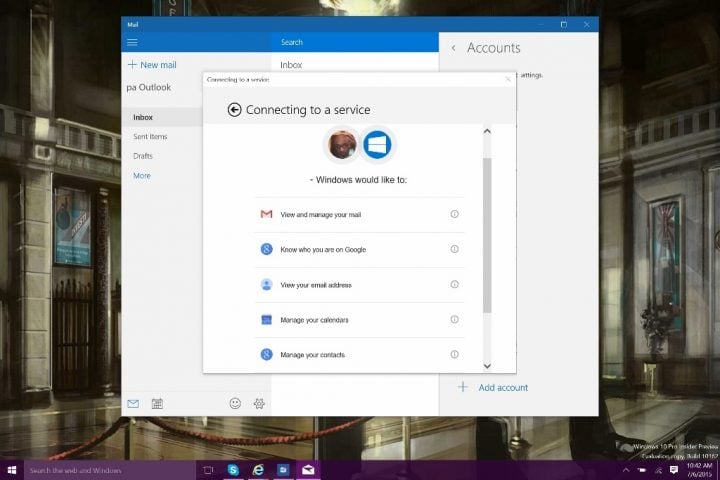 Microsoft's new Outlook Mail and Outlook Calendar apps support tons of email accounts, not just its own. You can add your Gmail, Yahoo and corporate email accounts from the app's Settings area.
Read: How to Add Email Accounts to Windows 10
Play Xbox On Your PC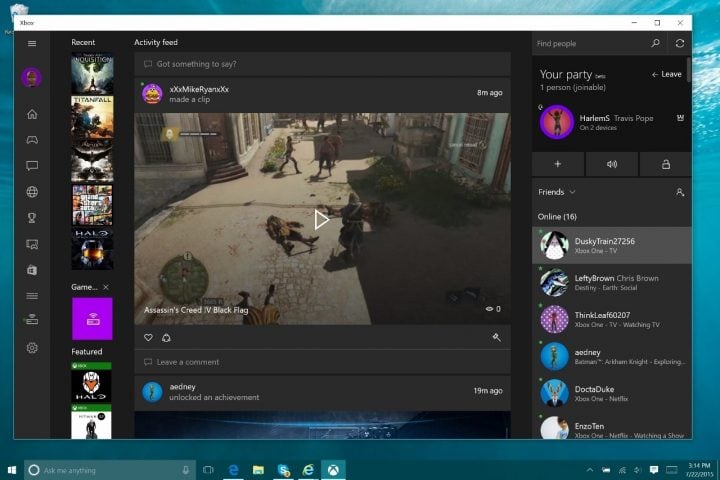 Windows 10 comes preloaded with some Microsoft experiences to get you started. One of these is Xbox, which acts as a companion for an Xbox One and an Xbox gaming client in its own right. It can record video clips and take screenshots from any game. It also lets you setup voice parties and chat with other gamers over Xbox Live.
Open it to begin the setup process. If you used the same Microsoft Account on your Xbox One that you did on Windows, this setup process should be pretty light.
Read: How to Use Xbox on Windows 10
How to Close Apps
Closing an app in Windows 10 with a mouse hasn't changed. Tablet Mode users should place their finger on the top of their display and drag it downward to close any app that they have open.
Read: How to Close Apps in Windows 10
Stop Notifications
The Action Center lets apps that you've installed update you periodically with messages. If these messages are bothering you, simply turn off notifications for that particular app in the Settings area.
Read: How to Get Notifications in Windows 10
Get The Most Battery Life Possible
Often devices just don't deliver on the battery life promises their makers advertise. There are some things in Windows 10 to help with that. Settings that can drain battery life have toggles in the Action Center instead of just Settings. Also, there's a Battery Saver Mode to get the most time possible with your device.
Access the Action Center by tapping or click on the message bubble on the right of your Taskbar beside the clock. Touch users can simply swipe from the right edge of their display to the left.
Read: How To Get Better Windows 10 Battery Life
Connect to Displays
Have a notebook or tablet that you want to connect to a display? Make all the wire connections, then press the Windows key and P on your keyboard. Windows 10 also supports wireless display adapters, but those need to be configured from the Connect button in the Action Center.
Access the Action Center by tapping or click on the message bubble on the right of your Taskbar beside the clock. Touch users can simply swipe from the right edge of their display to the left.
Read: How to Cast & Stream From Windows 10
How to Use Tablet Mode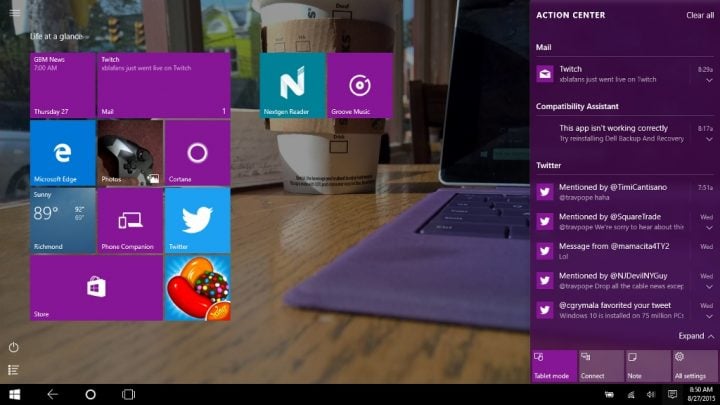 From the Action Center you can also enable Tablet Mode. Tablet Mode makes every app on your device full-screen by default and brings back the Start Menu. It's made specifically for use with fingers and styluses. Depending on what type of device you have, you can manually mange Tablet Mode or have Windows mange it for you.
Read: How to Use Tablet Mode in Windows 10
Create Multiple Desktops to Organize Your Stuff
For years, Mac users have been able to create different Desktops for different tasks. Now Windows users can too. Windows 10 includes built-in support for creating Desktops. The feature is available from the Task View.
Press the Windows key and Tab to open Task View. Create new Desktops along the bottom of your display, then drag the apps you have open to each Desktop. Note that multiple Desktops isn't available in Tablet Mode.
Watching YouTube Videos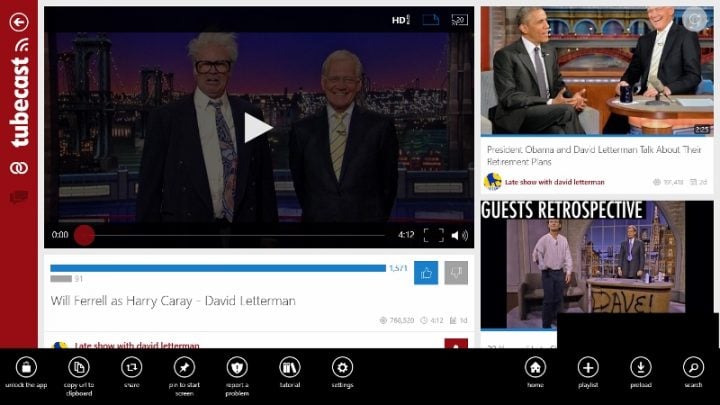 Want to watch a YouTube video but can't find the YouTube app in the Windows Store? That's because Google has yet to release one for any of Microsoft's platforms. Instead, download a third-party YouTube client for free. There's also the Movies & TV app for other kinds of content.
Read: How to Watch Videos, YouTube & More in Windows 10
Use Your Face to Login With Windows Hello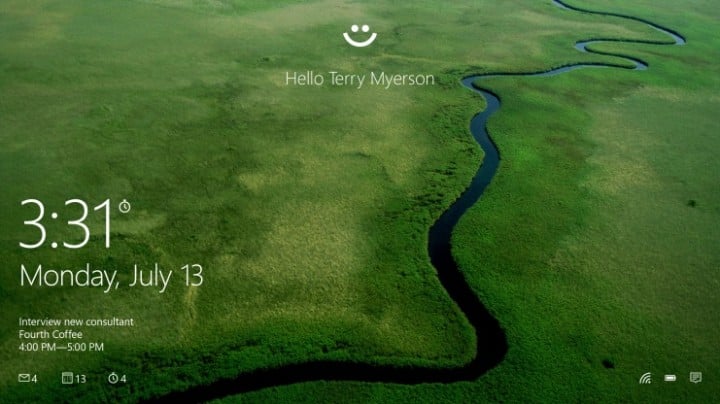 Windows 10 lets users with certain hardware add-ons login without using a password or a Pin Code. This feature is called Windows Hello and fingerprint readers and some camera sensors support it. Here's how to set up the facial recognition portion of the feature on your Windows 10 device, if it has the necessary hardware.
Read: How to Login With Windows Hello in Windows 10
Change To Google Search in Microsoft Edge
Microsoft's new Edge web browser has some cool things going for it. Cortana is integrated directly into it, automatically adding coupons and other extras. It also has built-in note taking features. Many won't be happy that it defaults to Microsoft's own Bing search engine.
From the Settings area, you can switch Microsoft Edge's default search engine to Google.
Read: How to Change the Search Engine in Windows 10 to Google
How to Scan for Viruses in Windows 10
Don't bother installing those sometimes horrific security suites. Instead, use Windows 10's built-in Windows Defender utility to keep your device safe. It's free and integrates seamlessly with Windows Update.
Find A lost or Stolen Windows 10 Device
Before you get too far into its setup, be sure to configure Microsoft's option for finding your device if it's lost or stolen. The option can be a big help if someone swipes your device, but doesn't have the password they need to completely clear it.
Read: How to Find a Lost or Stolen Windows 10 Device
Good luck with your new Windows 10 notebook, desktop or tablet.