15 Hidden Moto X Features
Motorola has been through a lot of changes lately, and more are coming now that the company was just sold by Google to Lenovo, but they still have an excellent smartphone in the Moto X.
Launched back in August of 2013 the Moto X has been available for about five months. With prices dropping and customization features available on all major US carriers, we figured a few helpful hints and tips sharing hidden features was in order for eager buyers or those who've purchased the Moto X. Many of these are stock Android tweaks, then Motorola's filled this phone with additional features not offered by any other smartphone manufacturer.
Read: Moto X vs. Moto G: 6 Important Details for Buyers
Most of these won't be new to advanced users, but if you've just bought the Moto X, are new to Android, or just haven't explored your new device there's tons of goodies packed inside the X. From touchless controls, audio equalizer settings, camera shortcuts, and auto-unlock for trusted devices nearby. Read on for our list of features you'll want to know about.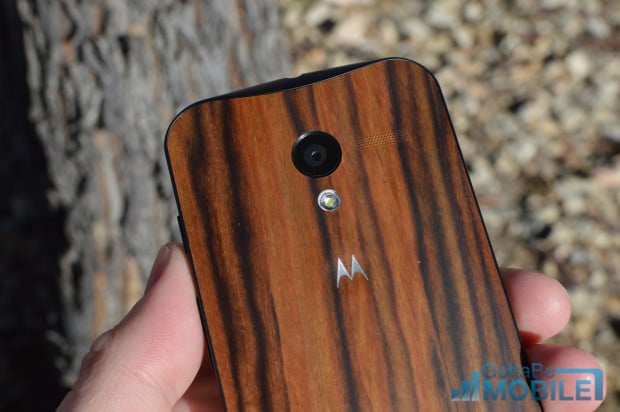 The Moto X runs a nearly stock version of Android 4.4 KitKat right from Google, and has the least amount of changes and interface skins available when compared to Samsung or HTC. We have a clean version as Google intended it, but then Motorola tossed in new and useful features like never before. Some of these are explained on first setup for buyers, others aren't, so check them all out below.
Camera Shortcuts
Since millions of smartphone owners snap photos daily with their devices, you'll be happy to know there's a few extremely quick and easy ways to instantly launch the camera and never miss a shot. Just like stock Android from the lockscreen when you first hit the power button a quick slide from the right edge to the left on your screen will instantly launch the camera. Alternatively, so you know this is available, there's a camera icon on the lower right you can slide to open the camera. This works instantly, without inserting a password or PIN, and you'll never miss that quick photo.
Then, Motorola took this a step further and made it so users don't even need to unlock or even turn on the display. Simple give a double flick of the wrist while holding your Moto X, and the camera instantly fires up and you can start snapping photos. Neat right?
Read: Moto X Review
HDR Camera
While we're talking about the camera there's one thing you all should use from time to time, and that's the HDR camera mode. A slide of the finger from the left side of the screen while using the camera opens settings. The top HDR option should be enabled if you're not taking action shots. Any still object will benefit from this.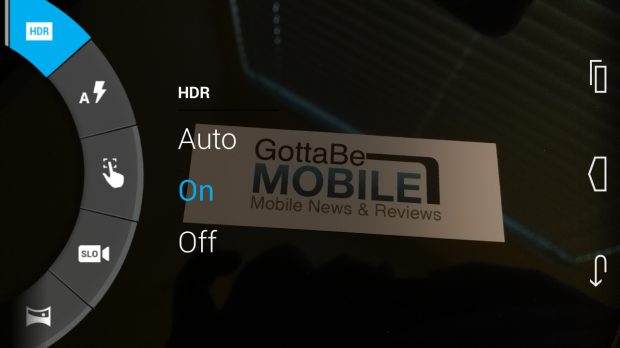 HDR mode (High Dynamic Range) takes both a high and low exposure photo to get the best of the lights, as well as the darks and shadows and combines two photos into one. Giving the user the optimal photo no matter the setting, but especially during low light.
Burst Mode
As a reminder, a tap of the screen will instantly focus and take a photo all in one swift motion. However, if you tap and hold the screen the phone will focus and then snap as many photos as you'd like while you're holding down. Burst mode is great for action shots, when you're not using the HDR explained above.
Then we have one last photography tip. While shooting video a tap on the screen will capture a photo at the same time, so you'll never miss a great photo while recording video on the 10 Megapixel "clearpixel" camera.
Lockscreen Widgets & Controls
Next is the lockscreen, which has tons of features and controls that aren't new to Android but many users don't know about. Simply head into settings, select security, and tap "Enable widgets" or lockscreen widgets. This will allow users to put Gmail, Twitter and Facebook widgets, weather and more all on the lockscreen. Giving you easier and quicker access to all your information.
This is disabled by default as a security concern so people can't see a users information without unlocking a device, but once enabled there's tons of widgets you can add by swiping to the right on the lockscreen. Not to mention apps like Dashclock from the Google Play Store which will add a host of new features.
Then on Android 4.4 KitKat we have fullscreen album artwork while using Google Music, and a long press on the pause button will bring up a slide bar for seeking. That's a neat little trick most don't know about.
Read: Moto X in Walnut Wood Hands-On
Touchless Controls
The touchless controls feature is one of the biggest selling points for the Moto X, and it's awesome. You're prompted multiple times on first setup to do this, so it shouldn't be new. However if you missed it, head into settings (gear-shaped icon) and select Touchless controls to configure.
Touchless controls lets you instantly send a text, make a call, or search Google with your voice, even when the phones display is off. It's extremely powerful, and you've probably seen it before but above is a quick look and we show you how to enable it
Shown above during our hands-on video review is one other feature that you'll want to use, which is highly customizable, called active notifications.
Active Notifications
Active notifications shown above is another neat addition to the Moto X and DROID Ultra lineup that most users love once they set it up. Allowing the phone to illuminate small portions of the screen in a low-power battery saving state with quick and active notifications. A circle will dimly light up showing you have a missed call, incoming text, Twitter mention, and more. Then the screen goes back to sleep as shown in the video above. However, tap the circle and the Moto X gives you more details with the top half of the screen, which again, is a battery saving feature.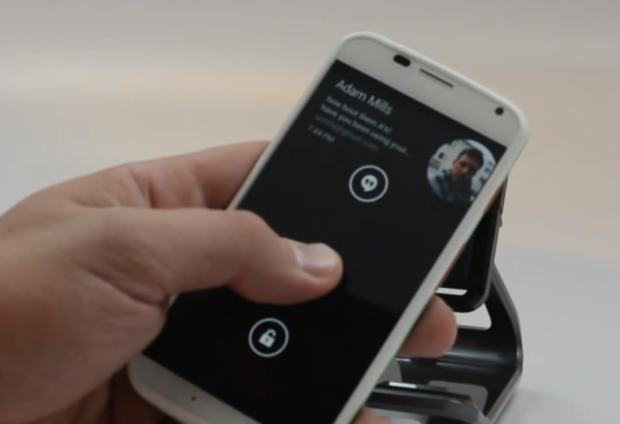 Slide up and you'll unlock right into that notification and app whether it be the dialer for a missed call, Google Hangouts, Gmail, Twitter, or even a text message. It's super simple and easy, yet no one's done it in such a smooth way as we have here with the Moto X.
Screenshots
Taking a screenshot of what's on a smartphone display is an easy way to share a funny message, crop a Facebook comment to share or view later, or screengrab an important email. People use screenshots for all types of things, and its very easy even though some users don't know how to do it.
That's it. Simply long press power and the volume-down button at the same time and you have a screen grab. Another hidden feature is also shown in the video above. Expandable notifications. They're nothing new to Android, just like screenshots, but many users don't know you can pinch to expand a notification.
I went from seeing the screenshot in a small box, to getting a large preview and the "share" button to send it to friends. You can do this with two fingers, or one as shown in the video. Long press and then slide to expand or close notifications of all types in the Moto X notification pulldown bar.
Moto Assist
This section has more than two hidden features, so lets get started. Moto Assist is an app built-in to the Moto X which will help assist and automate your life. Have a work meeting every Friday at 3 PM? Assist will learn that once set, and always silence your phone at 3PM on Fridays. All automatically once it learns. It's a nice touch Motorola.
Moto Assist helps with hands-free driving and touchless controls to respond to a message or get directions, and will even read a message aloud to a user while driving. The same area will automatically have the phone go to speakerphone if it detects the owner is driving, to keep your hands safely on the wheel.
Everything from driving, messages, meetings, stop disturbances while sleeping, VIP caller lists and more. Check it out in the app tray to learn more. It's all extremely self explanatory and there's how-to guides right on the phone.
Supercharge the Keyboard
You can count this as one hidden feature or trick, but below is a video showing you five tips to type faster on Android using the stock Google Keyboard found on the Moto X. Things like gesture typing, next-word suggestions, and even text expansion support all can make you faster when it comes to typing on a smartphone.
We're using the Galaxy S4 there, but the same features are all on the stock keyboard, which is used on the Moto X. Just head into settings to do all the same things shown in the video above. There's plenty of little things hidden in the keyboard, you just need to know where to look. While we're talking about the keyboard, here's how you can swear on Android.
Read: How to Cut, Copy & Paste on Android
Improve Battery Life
There's tons of battery-saving features built into Android, and the Moto X, but here we'll detail a few other small ones. Since we're on nearly the same stock Android 4.4 KitKat as the Nexus 5, most of these battery saving tips apply to the Moto X.
Everything from screen brightness and sleep times, WiFi and Bluetooth, Location services and GPS, and much more is all explained in the link above. Setting what uses location services will play a major role in the Moto X battery life, and another thing is you can enable ART. This is for advanced users, and you can learn more on ART here.
Moto Connect
This is another app that comes pre-installed, but it's actually useful unlike most bloatware carriers install on a new phone. Moto Connect lets you pair the phone to your PC or laptop, which will then allow a user to send and receive calls and texts on a computer using the Moto Connect Chrome Browser extension. Send texts from your PC through the Moto X.
Just find the Moto Connect app on your smartphone and it has a step-by-step guide to get up and running in about 4-5 minutes. Give it a try and improve your daily experience on the Moto X.
Equalizer
Most smartphones don't have an equalizer option to customize and tweak audio settings, but Motorola delivers that. The Moto X has fairly good speakers, and sounds great with headphones, so head into settings > sound > audio effects to improve your music.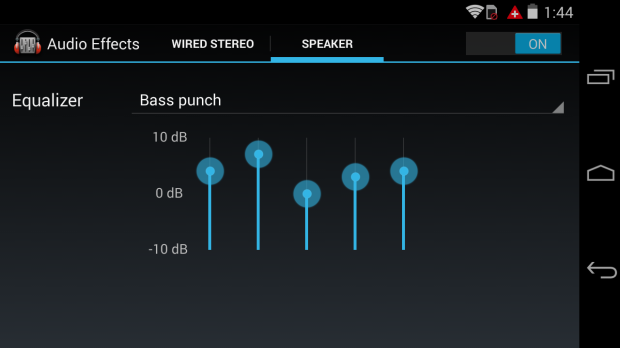 This can be set separate from the wired stereo, and from the speaker, for those needing different settings one each.
Trusted Devices
This feature is something you'll need to setup and control under the settings > security tab once you've setup a passcode, unlock PIN, or pattern. This essentially allows a user to set certain devices to be trusted, so once the phone is nearby you won't need to use an unlock pin.
Basically if you're home and it's connected to a speaker dock, there's no need for a security pin. However, once you leave the house and are no longer within range of the dock, or other trusted devices, the security pin is re-enabled and protects your device from prying eyes. This works for speakers, docks, accessories, and even NFC enabled devices.
Then of course nearly everything that's new with Android 4.4 KitKat is available on the Moto X, and you can find out what's new by clicking here.
We could go on and on regarding little features in Android, but surely a quick look through your settings users will find plenty of good tricks. Try pulling down with two fingers instead of one on the notification bar, and you'll instantly get into the Quick settings menu. Easy right? There's even a notification LED inside the speaker grill, only available to tweak if you root (Android's version of jailbreak) your device.
This was just a few of our favorite little shortcuts, tips and tricks, or hidden features of the Moto X we figured all users would enjoy.

As an Amazon Associate I earn from qualifying purchases.