15 Quick Tips for a Better Windows 10 Anniversary Update Experience
Microsoft's Windows 10 Anniversary Update is out this week. The biggest feature update to launch for Windows 10 by far, it's one of two upgrades that Microsoft has made to the operating system since it launched in the summer of 2015. Windows 10 is a chance for Microsoft to put Windows on a solid, modern foundation, a foundation that they can build new apps, services and experiences for competing with Apple, Google, Amazon and more.
Microsoft focused heavily on improving Pen and Cortana experiences with Windows 10. Those are the highlights of the upgrade anyway. However, there are dozens of tiny, changes scattered throughout the upgrade. Some of them fix niggles from the launch of Windows 10. Others are just really nice additions that make Windows 10 feel more cohesive.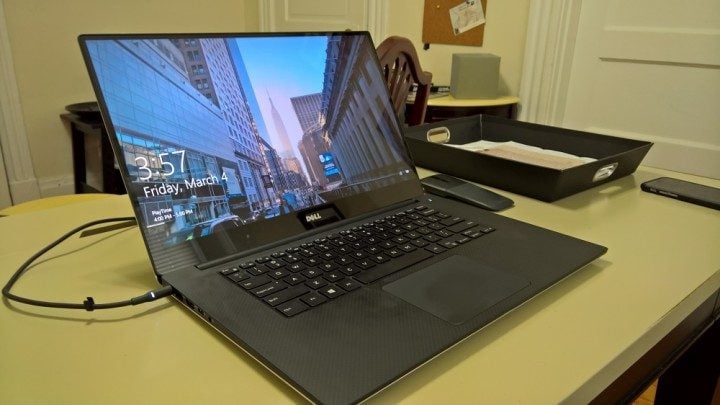 No matter how small the feature, Gotta Be Mobile has cataloged and collected them. Here are 15 quick tips for a better Windows 10 Anniversary Update experience. All of these tips are related to new features added with the Free Windows 10 Anniversary Update.
Read: Windows 10 Updates: Anniversary Updates & More
Turn on Always On Cortana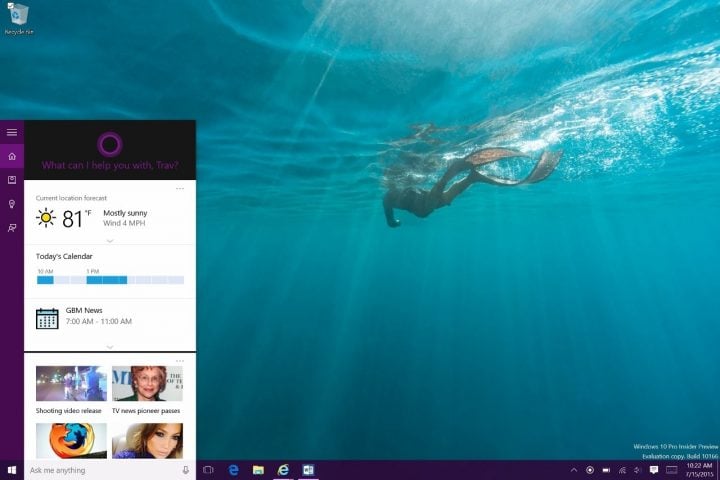 Windows 10 Anniversary Update lets users set Cortana to always listen so that they can give her commands when their PC is asleep. For example, you can order her to play your favorite artists from halfway across the room.
Click on the Ask Me Anything area in the Taskbar. Then select the Settings cog. From there, enable always listening. Anytime your PC is on, whether you're logged out or not, you can have her do most commands. Some will require you to be logged in.
Anniversary Update Tips: Check Windows Store Update History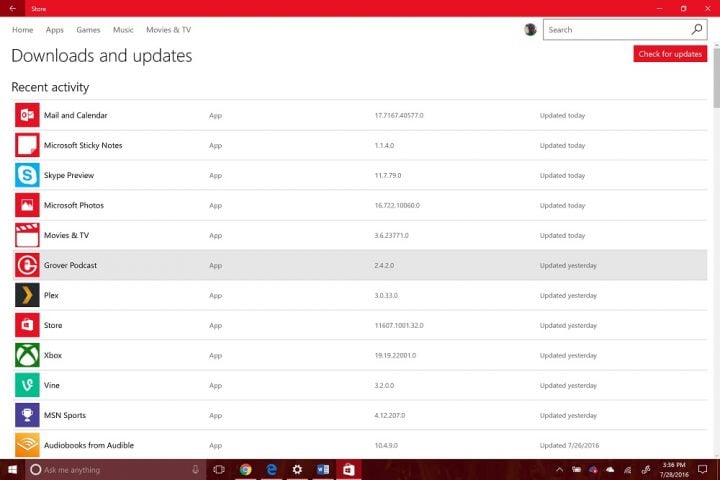 Windows Store apps still update in the background for Windows 10, but there's a history available in the Store app.
Open the Store, click on your avatar beside the search bar and select Downloads and Updates. The list details which apps were updated and when. You also have their version number in case something goes wrong with them.
Read: 17 Anniversary Windows 10 Update Features
Anniversary Update Tips: Access Folders from the Side of Start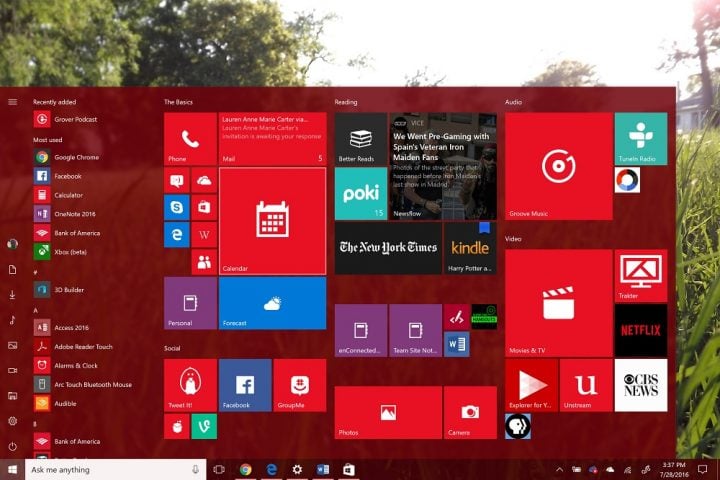 Microsoft added quick links for accessing the most-used folders directly from the Start experience. Go ahead and tap or click on the Start button. They're on the left edge of Start.
You can choose which folders appear on the Start from the Settings app under Personalization under Start. Click or tap on Choose Which Folders Appear on Start.
Anniversary Update Tips: Get Messages from Your Phone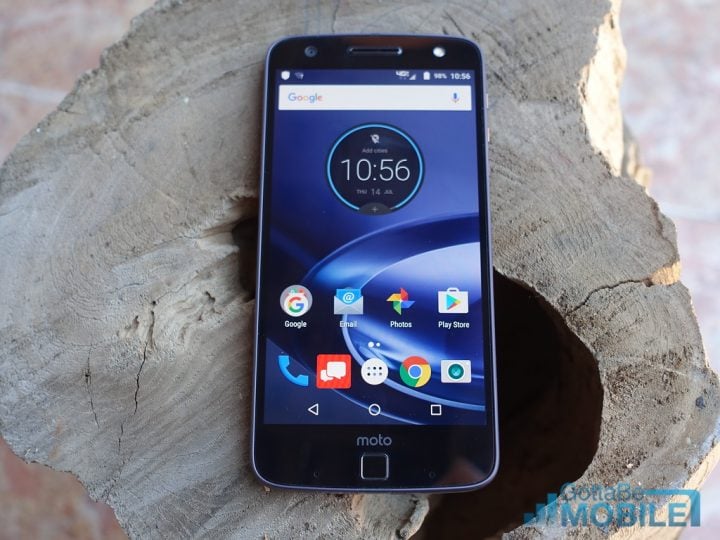 Install the Cortana app on your Android device from the Google Play Store to get battery alerts and notifications from your phone directly on your Windows PC.
Anniversary Update Tips: Ditch the Extra Lock Screen Photo
For some reason, Microsoft had two backgrounds for PCs before users could even log in. Now, there's just a single picture there, when you flip the right switch.
Go to Settings, Personalization, then click on Lock Screen. Flip the switch that enables the lock screen background on the login screen.
Anniversary Update Tips: Reset Broken Windows Store Apps
Don't bother uninstalling, then reinstalling Windows Store apps. Reset them from the Apps & Features menu instead.
Head to the Settings app, then select System. Next, tap and click on Apps & Features. Tap or click on the app that needs to be Reset and select Advanced Features.
Anniversary Update Tips: Turn Your PC into a Wireless Dongle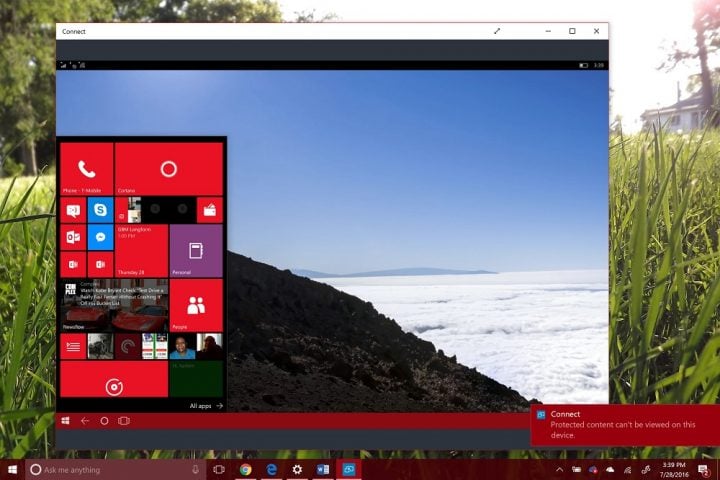 Tiny gadgets like the Google Chromecast allow you to display what's on your smartphone screen to an entire room. Windows 10 allows this too, thanks to the new Connect app. Look for Connect in your device's list of installed apps.
Anniversary Update Tips: Check Your Calendar from the Taskbar Clock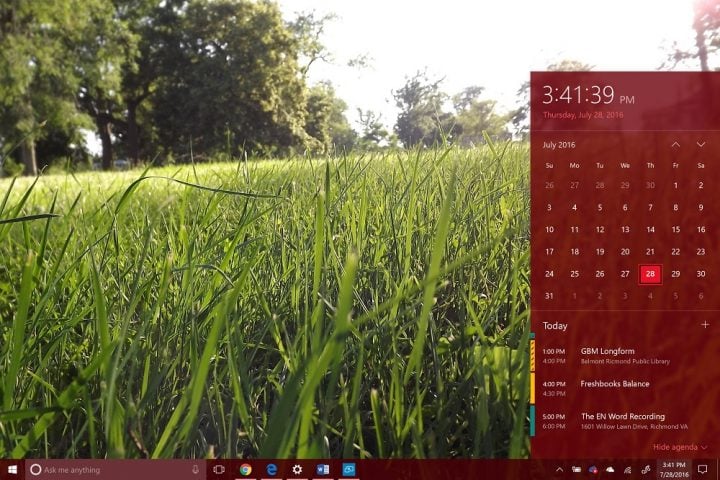 Any appointment that's in your Outlook Calendar app for the day will surface on the calendar clock on the Taskbar. Just click or tap on it to see your upcoming appointments.
Anniversary Update Tips: Pin Apps to the Taskbar for Notification Badges
If you pin apps downloaded from the Windows Store to the Taskbar, you'll get notifications for when there's something new in them. This feature is particularly useful for mail and messaging apps.
You can turn badges off from the Settings app, under Personalization and Taskbar.
Anniversary Update Tips: Hide the Taskbar in Tablet Mode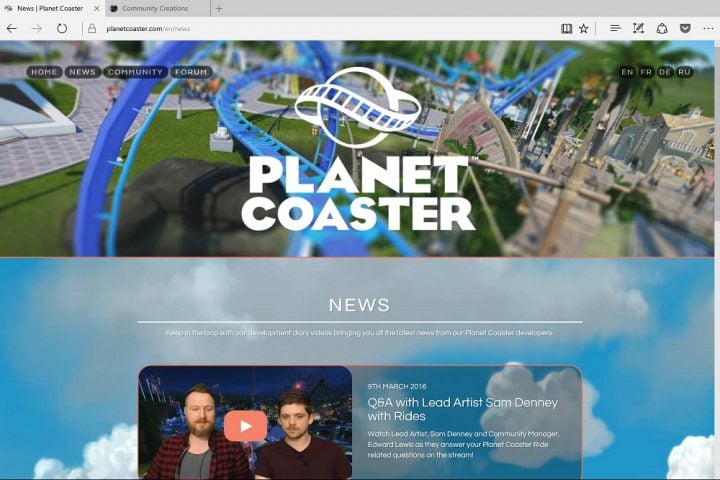 Windows 10 Anniversary Update takes some small steps to bridge the delta between Tablet Mode and the touch-heavy interface of Windows 8. Now you can have apps take over the entire screen in Tablet Mode automatically.
You can turn this feature on from the Settings app, under Personalization and Taskbar too.
Anniversary Update Tips: Respond to Messages Directly from Action Center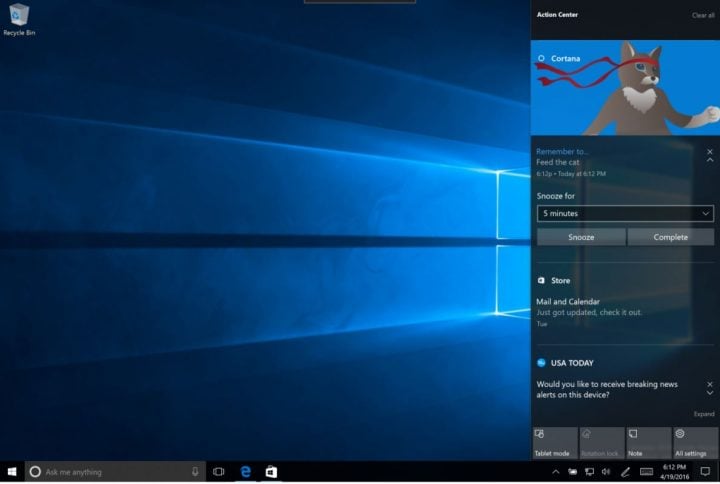 When a new message appears from Skype or Twitter, don't rush to reply inside the app. Instead, click the down arrow and reply directly from the Action Center.
Anniversary Update Tips: Add the Taskbar to all Monitors
Back in the Taskbar options under Personalization, there's an option to set the Taskbar to appear on a specific monitor or all monitors. Take advantage of this in your multiple monitor setups.
Anniversary Update Tips: Block Ads and Add Features to Microsoft Edge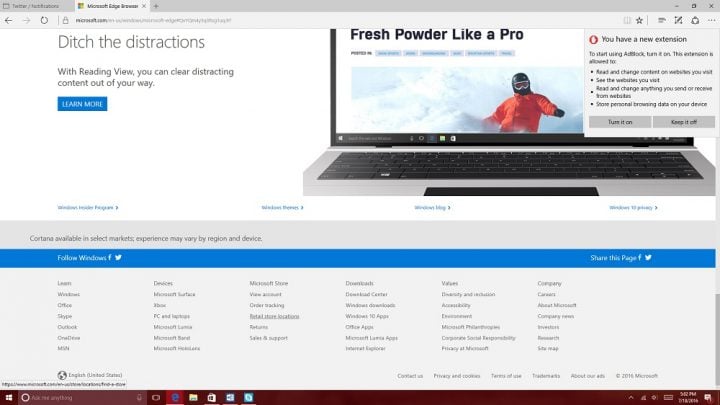 Microsoft Edge, like other popular browsers, finally supports Extensions. Through the Windows Store, you can use these extensions to add functionality to Edge that Microsoft hasn't gotten around to yet. Amazon and Pocket extensions are already available. AdBlock allows users to block troublesome advertisements.
Read: How to Block Ads in Microsoft Edge for Windows 10
Anniversary Update Tips: Look for App Icons in on the Action Center Button
Getting a notification, but don't want to open the Action Center? Every time you hear a notification sound, glance at the Action Center button on the far right of the Taskbar. The icon for that app will appear there.
Anniversary Update Tips: Only Buy What Your Device Can Run from the Windows Store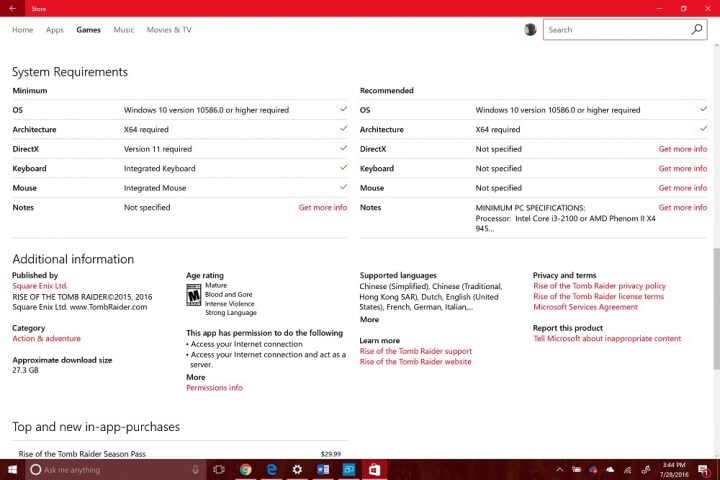 With more Xbox games coming to the Windows Store, Microsoft had to do a better job of letting users know when their PC could and couldn't handle a game they were about to purchase. The new Requirements area on every app and game page within the Windows Store does this. Look for the check marks next to requirements your device meets.

As an Amazon Associate I earn from qualifying purchases.