15 Samsung Galaxy S5 Predictions
Rumors suggest that Samsung will be coming out with a brand new Galaxy S smartphone, a device that is currently being dubbed Samsung Galaxy S5. While there are bits and pieces of information available, we don't expect to officially hear about the Galaxy S4 successor until 2014. With that in mind, we wanted to offer up our own predictions for the Galaxy S5, ahead of it's presumed launch.
The Samsung Galaxy S4 currently reigns as Samsung's flagship smartphone. However, like all flagship smartphones, the Galaxy S4 is bound to be replaced by something more technologically advanced. Samsung isn't talking about the what's next just yet but that doesn't mean that we haven't seen rumors flying around on a near daily basis.
Samsung Galaxy S5 rumors have been plentiful and relentless and have emerged almost daily, teasing prospective buyers with tales of a new screen, better camera, and a launch date that could emerge in the early part of the year. Samsung itself hasn't confirmed anything but there is certainly already fuel on the fire.
With 2013 coming to a close and a Samsung Galaxy S5 launch likely in 2014, we wanted to take a shot at predicting Samsung's next flagship smartphone. Here, we offer up 15 Samsung Galaxy S5 predictions ahead of the start of the new year.
Samsung Galaxy S5 Launch Event
Years ago, companies used to use trade shows and conventions like CES and Mobile World Congress to debut their flagship smartphones. In recent years though, companies like HTC and Samsung have opted to announce their new flagship models at separate events, away from these bigger events. They've never said why but we do know that these separate events ensure tons of publicity and that the devices don't get lost in the shuffle of these huge events.
Rumor has it, Samsung will be showing off the first QHD smartphone at Mobile World Congress in 2014. The Galaxy S5 is rumored to have a high-resolution display on board, leading many to believe that Samsung will launch the Galaxy S5 at Mobile World Congress. It's a possibility, sure, but we feel like it's something that isn't going to happen.
Samsung's launch events have taken place in strategic locations. The Galaxy S3 event was held in London, the Galaxy S4 launch event was in New York City. The UK and U.S. are key markets for Samsung as it looks to push its devices west. No disrespect to Spain and Barcelona but we feel like they won't offer the exposure that Samsung needs.
The Galaxy S5 is way too big for an event like MWC. It's like the iPhone. It needs its own event and Samsung would be wise to give it one. It'd be great to see Samsung move to Los Angeles or San Francisco but we wouldn't be shocked to see it launch in New York City once again.
Samsung Galaxy S5 Launch Date
So if we don't think the Galaxy S5 launch date is going to take place at MWC 2014, when do we think it's going to take place? We think that it will be launched in March. January is way too early for a Galaxy S5 launch. March is far enough away from the devices that arrive at MWC but it's early enough that the Galaxy S5 event will still be far away from Apple's WWDC.
This also gives the company plenty of time to production down, something that could be crucial if Samsung shifts away from a plastic design and adopts a metal one. We think Samsung will take its time but won't take too much time to launch and to us, that sounds a lot like a March launch.
Galaxy S5 Release Date
Industry veteran Eldur Murtazin believes that, despite what Korean media is saying about the Galaxy S5 release date, the device will arrive in April like the Galaxy S4 did. We're inclined to believe him.
It's clear that the Galaxy S5 is going to come early in 2014 as every single report that we've seen suggests that very thing. We doubt that everyone is wrong. And while we could certainly see it earlier than usual, April makes a lot of sense to us. Not only does it give Samsung a ton of time to ensure that its supply can meet demand but the release comes soon enough that it doesn't conflict with a potential summer iPhone 6 launch and a probable iOS 8 debut. Samsung would be wise to get this phone out before summer arrives and the talk of the iPhone 6 is the talk of the town.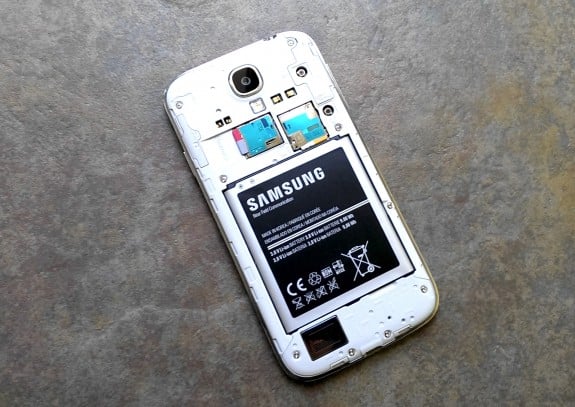 Samsung usually releases devices about a month after announcing them which also means that April fits in well with our March launch date prediction. A specific date is extremely difficult to predict but we imagine that we'll see carriers in the United States release the device within a few days of each other. We would expect Verizon to be among the first, and not the last, as well. It was one of the first to the Galaxy Note 3.
Swift Release After Launch
We expect a swift release after the Galaxy S5 launch. One thing that Samsung hasn't been able to nail down is the Apple-style launch and release. Apple usually gets its iPhone out two weeks after its launch date. Samsung usually takes a month, something that has bothered consumers in the past. We wouldn't be surprised if Samsung tries to shrink the time between launch and release with the Galaxy S5.
At the most, we would expect a release a month after the Galaxy S5 first hits the stage. At the very least, we expect Samsung to take two weeks from launch to release. It would be shocking, given how much competition there is, and will be, if Samsung failed to deliver the Galaxy S5 in a swift manner.
Better Display, Similar Size
Unlike Apple, Samsung loves to put the latest and greatest technology on its smartphones, almost immediately. For instance, Samsung was one of the first to apply a 1080p display to a smartphone. We also saw the company offer the first "octo-core" processor in the Exynos 5. It's continually at the forefront of technological advancements.
There are rumors that suggest that the Galaxy S5 will have a 2K display with 2560 x 1440 resolution. A benchmark appeared pointing to that type of resolution and a new report has even suggested that these displays are already under production ahead of launch. If this were Apple, we would have a hard time believing the rumor. But this is Samsung.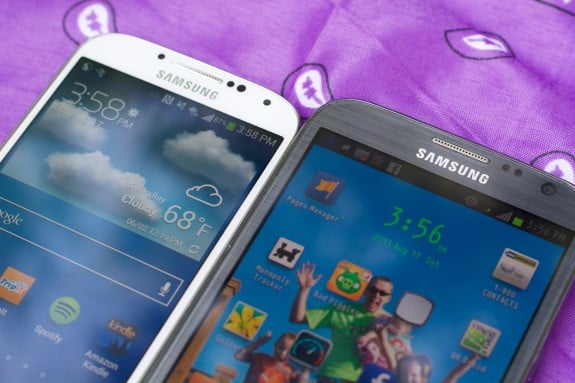 Further, this could definitely be the year that the iPhone display finally makes the jump in size, and quality, and we can't see Samsung leaving last year's display on this year's smartphone. It needs to muster as many advantages as possible to separate the Galaxy S5 from an iPhone 6 and we feel like display quality will be one of them.
Better Camera
Same goes for the camera. Camera technology has been aggressively advancing and now, virtually every smartphone comes with the ability to shoot high-resolution images and video. This has left companies searching for ways to set their devices apart and in our estimation, forces companies to abandon the old policy of upgrading a camera once every couple of years. With how quickly tech is moving, it now has to be an every year improvement.
So, we suspect that rumors of a 16MP camera sensor on the Galaxy S5 are true. We expect there to be a heavy focus on the Galaxy S5's camera though it's hard to think that the camera will shoot the Galaxy S5 to the top of the pile. We think it will be an incremental upgrade, like the iPhone 5s' camera is to the iPhone 5 camera.
At Least Two Galaxy S5 Models
There is a ton of talk about the Samsung Galaxy S5 design. Some reports claim that it will be made of metal. Other claim that it will come in plastic. And others claim that it will come in both. Samsung does a fantastic job of keeping its designs under wraps so it's extremely difficult to predict exactly what the Galaxy S5 will look like.
Given the trend of technology, it's safe to say that it will be slim and lightweight. Flagships are no longer bulky and impossible to use with one hand.
We expect to see several Samsung Galaxy S5 variants emerge. There will more than likely be a premium Galaxy S5 model that is advertised as the company's true flagship. We wouldn't be surprised if there was a cheaper variant as well to compete with the likes of the iPhone 5c, Apple's new plastic $99 iPhone model. And knowing Samsung, there will be other Galaxy S5 smartphones as well.
Multiple Storage Options
The Samsung Galaxy Note 3 moved to 32GB and 32GB only. The device offers a microSD card slot for expanded storage though there are no other options for buyers. Expanded storage is great but as we have learned, there are limitations that plague the microSD card in Android, namely, users can't move some file types to the card.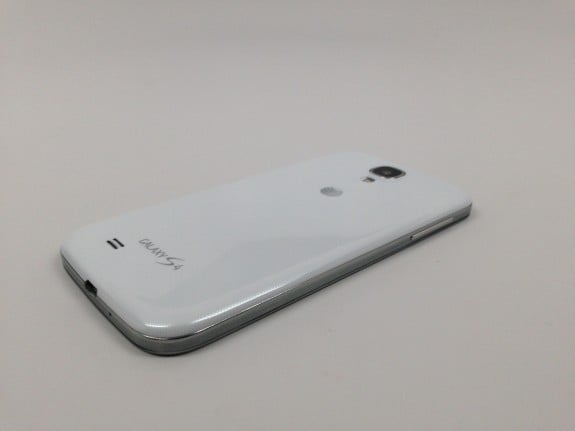 The limited options work for a device like the Galaxy Note 3 but with a popular device like the Galaxy S5, we'd be shocked to see Samsung confine users to one storage option. If it's a plastic smartphone, we still think it will come in at least two different storage variants and if it's metal, we expect to see multiple storage options as well.
Android 4.4 KitKat
Android 4.4 KitKat will be running on the Galaxy S5, mark these words. Samsung always outfits its flagships with the latest software and given that Android 4.4 KitKat will be months old by the time the Galaxy S5 comes out, its presence is a no-brainer. We've already seen rumors suggest Android 4.4 KitKat as the operating system and we expect those rumors to pan out.
Expansion of Samsung Apps Catalog
Look for Samsung to continue expanding its application catalog. One application in particular that we can see Samsung focusing on is S Voice Drive. The app, which arrived with the Galaxy S4, allows users to use voice commands in the car. We like it, but there is always room for improvements, room for some tweaks for better polish.
With iOS 7.1 set to bring iOS in the Car to iPhone users, we feel like this is a space that Samsung will be focused on with the Galaxy S5. At least we hope it does given that this feature is extremely useful and isn't as gimmicky as some of the other features that Samsung has placed on board its flagship smartphones.
Similar Price
The Samsung Galaxy S5 price will more than likely remain a mystery until Samsung launches the phone and carriers throw their weight behind it. This year, we saw carriers remain mum on the price in the beginning, only to reveal them much later in the process. We also saw AT&T temporarily shift to a $250 starting point only to drop it down after the reaction from consumers.
We see the Galaxy S5 staying at a similar $199.99 price point, or, $100 less than the Galaxy Note 3. The only change that we could potentially see could from a Galaxy S5 with a metal design. Samsung and its carriers might bump that up to $250 but only if the base storage is 32GB rather than 16GB. Then, the company could market it as $50 cheaper than the $300 32GB iPhone 5s and give the company a nice selling point. That's the only scenario in which we can envision a price change.
Tons of Carriers
No doubt about it, there will be a ton of carriers that offer the Samsung Galaxy S5. AT&T, Sprint, T-Mobile, U.S. Cellular and Verizon will all be in the mix and we should see a number of smaller carriers play host to the Galaxy S5 as well. It's how Samsung has launched its Galaxy S for years and we don't see it taking a step back next year.
Galaxy S5 Accessories
Those who love accessories should see Samsung introduce a ton of Galaxy S5 accessories, continuing a trend that started with the Samsung Galaxy S3 and Galaxy S4. This year, we saw Samsung introduce a ton of official accessories for the Galaxy S4 and the company did the same with the Galaxy Note 3, showing off several on stage at the launch event. We should see the same with the Galaxy S5.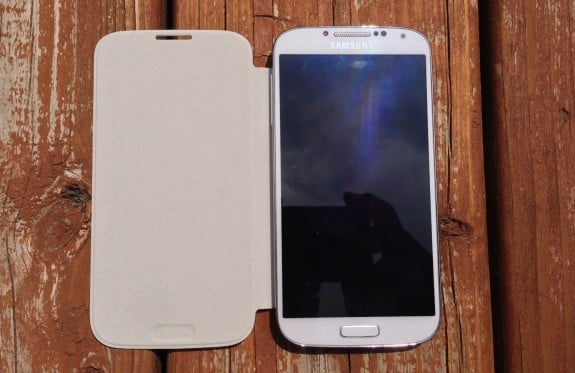 We should also see a lot of the same. An S View Case, a flip cover, and some of the health-related accessories that we've seen Samsung put into the spotlight in the past year.
Immediate Discounts
While we could see some massive changes, and improvements to Samsung's Galaxy S line, we doubt that those changes will keep the price of the Samsung Galaxy S5 static like the iPhone price. Retailers like Wirefly and Amazon should immediately knock the Galaxy S5 price down in an effort to lure in consumers. Carriers typically don't offer any deals at the start.
The big discounts won't arrive for a few weeks, possibly even months, but we're pretty sure that we'll see $20 to $30 off of the Galaxy S5 price, as soon as the release date arrives.
Huge Sales
The Samsung Galaxy S5 is going to sell well if it's plastic, if it's metal, if it's both. Samsung has done a fantastic job of marketing its Galaxy line over the years and the brand, in our opinion, is on the same pedestal as the iPhone. Brand awareness is huge and it has helped to build Samsung a solid reputation in the United States and elsewhere.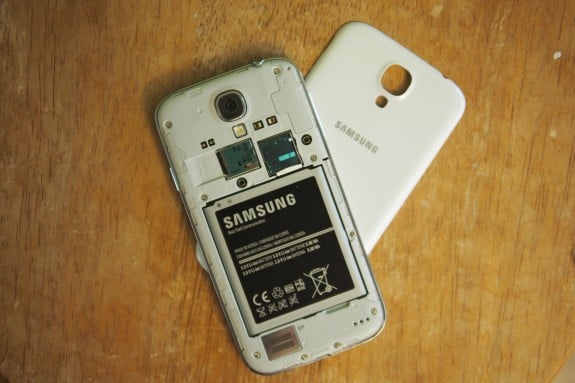 The Galaxy S series has become to the go to Android smartphones for consumers and we don't see that changing in 2014. This is going to be a phone that sells millions and millions of times, worldwide, and if Samsung adopts a premium metal design, it has the potential to become one of the best selling smartphones of all time.