20 Must Have Apps for the Kindle Fire
The Amazon Kindle Fire flew off store shelves and Amazon's warehouses since its launch last month, and should be one hot gift this holiday season. If you got a Fire or hope to be getting one for Christmas, then be sure to download these apps after you tear open the box.
Our staff came up with their favorite apps and then we checked to be sure they would work on the Kindle. The apps below include entertainment, social networking, games, reading productivity and utility apps. Many of these apps will not cost you a dime, one of them will cost you exactly a dime, and some will set you back a few bucks. They're worth it. We think these are the best apps for the Amazon Kinde Fire right now.
Entertainment Apps
The built-in entertainment apps for watching Amazon Instant videos and listing to music in your cloud drive only go so far. These other entertainment apps fill in the gaps.
Pandora – Free
Listen to free streaming music on your Fire.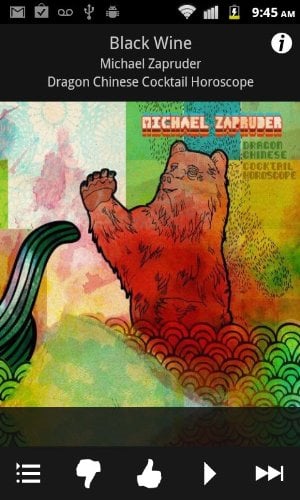 With Pandora you can stream free Internet music to your Kindle Fire, freeing up much-needed space, which is an important consideration thanks to the anemic 8GB of storage Amazon included. I like that I can create my own station of music based on my tastes. That way I get variety but still only the songs I want to hear. You can also upgrade to a paid service with no ads for $36/year.
Watch recently aired TV shows and some movies.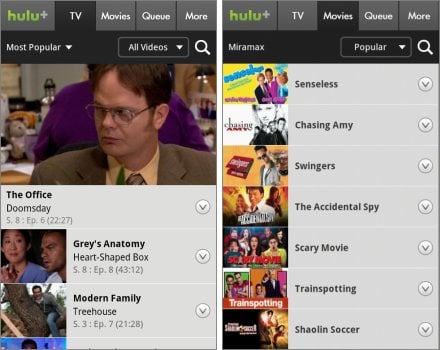 Even though Hulu PLUS is a bit limited, I love the ability to catch up on an episode of The Office that you missed because you weren't home, or your cable went out last Thursday. If only the other networks would get off their 20th century butts and either join the hulu party, or make an app like it.
With Hulu PLUS you don't get some great shows that can be streamed via a computer, like The Simpsons. You do get enough to make it worth $8/month. You might even find a movie worth watching, but I doubt it. Still it's a must have app if you're a subscriber.
Watch movies and TV shows from the large Netflix library of Instant Queue videos.
I've found some great shows that I never would have watched if it weren't for Netflix, including Downton Abbey and Mad Men. Having access on the Fire means I'm not tied to a TV and don't have to even turn on the set with only 14 snowy cable channels in the cheap hotel we stay at while visiting the in-laws. Plus you can discover something in the app and add it to your queue for later watching on the TV at home.
AllRecipes.com Dinner Spinner – Free
Keep track of recipes and discover new cooking adventures.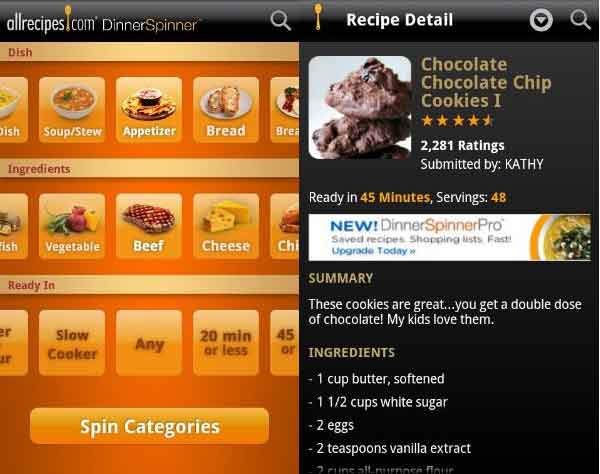 Like most recipe apps, this one keeps all of your recipes and offers you some new ones to try. You can search by ingredients and cooking time. You can share them with others via Facebook, Twitter and email. One of the cool things is the discovery feature, which shows you a new recipe by shaking your Fire. Random ingredients will fall into place giving you an interesting way to find new combinations for meals.
Reading Apps
You could just settle for reading Kindle books or periodicals with the built-in reader, but then you'd be missing out on some great content with nice features.
Comixology – Free with in app comic book purchases
Read comic books on your Fire.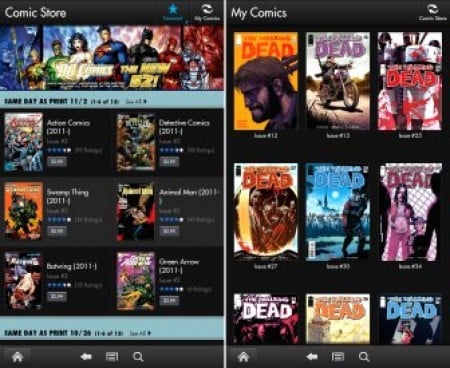 You can read many of your favorite comic books right on your Kindle Fire. The app handles the advancement from frame to frame really well. You can get 500+ free comic books or purchase others within the app. Publishers include Marvel, DC, Image, BOOM Studios and more.
Zinio – Free with subscriptions to magazines through the service
Access to hundreds of magazine subscriptions through the Zinio service.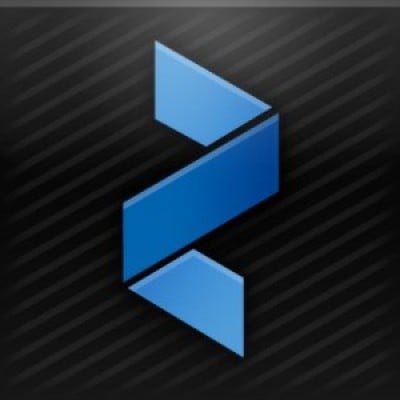 Zinio had a bad start on the iPad. I really hated it and couldn't wait till I could shed my reliance on the horrible app for magazine reading on the device. Since then the company improved it, making it faster, more stable and easier to pick up in your magazines where you last stopped reading. The Fire app works as well as the iPad app finally does. You can get a large selection of magazines through the Zinio app on your Fire.
ezPDF Reader – $2.99
Read and hear your PDFs in a more powerful app than what's built into the Fire.
ezPDF Reader handles PDF files better than anything from Adobe. The organization screen is useful and the app looks nice. You get some cool additional features like the ability to play embedded multimedia content – video and audio – from within the app. If you want the app to read to you, you can save time by getting your reading done as you drive to work. For those documents that don't really fit on the 7″ screen use the re-flow feature to reformat the PDF so it fits better.
Read the best selling book of all time along with friends.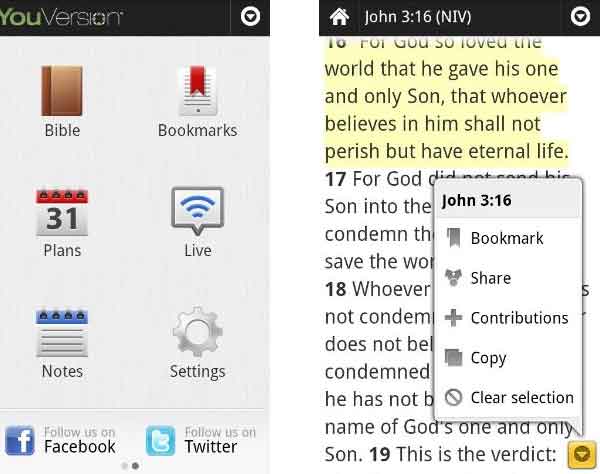 This piece of software offers not only the Bible but a social component as well. Read along with friends or even strangers. Record your thoughts and read theirs. Share verses on Facebook and Twitter and keep track of your reading progress using one of the dozens of simple reading plans.
Utilities
A tool like the Kindle sometimes needs some hand holding to work fluidly. These utilities will make your experience better.
Access your exchanger server email, contacts and calendar.
With this app you can access your exchange server content – email, contacts and calendar. The free version works for 30 days, after which you have to buy the Key (which you purchase in the App store as if it was a second app). Install it after installing the free version. With the app you can not only access email, contacts and calendar, but also remotely wipe the content if you every lose your Fire. It doesn't work with POP3 or IMAP email, but you can use Google servers in exchange form.
Keep track of running tasks and in order to keep the Fire running well.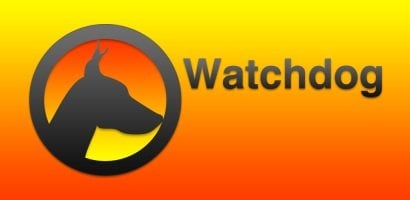 Watchdog monitors the running tasks on your Fire. If things start to slow down, fire it up and see what's eating up all of your memory and kill that app for a while. You don't really need to just shut down everything unless a particular app is problematic. That's why this task manager works better than the other task killers that just shut down everything.
ES File Explorer – Free
See what files are on your Fire and move them around to where you want them.
For most people the Fire handles your files well, but on occasion you want more control over things. Maybe you want to side load an app not in the app store or you want to better organize some images or music. ES File Manager lets you do all of that with ease. As you'd expect you can cut, copy and paste files. You can rename files and folders. You can also install APK files from within the app. The background can be skinned to show an image, just like the nice holiday picture in the screenshot above.
Calengoo – $2.99
Add a nice Google Calendar capable app for your Fire.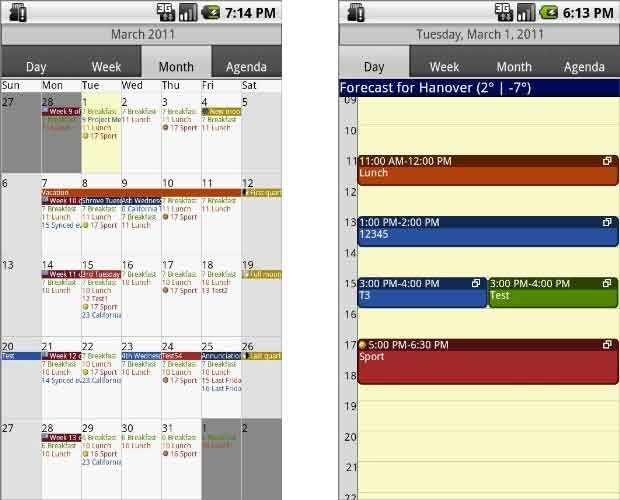 Calengoo gives you two things that Amazon won't: a calendar app for the Fire and access to Google Calendar. You don't have to use Google Calendar, but that's kind of the main idea here. It has day, week and month view. You can color code calendars if you have more than one. Adding and managing appointments is pretty easy.
Games
Angry Birds – $4.99
Crush those horrible pigs by flinging angry birds at their fortresses, wasting hours with fun.
Just in case you've been hiding out on a deserted island for the last two years, the Angry Birds game involves using a sling shot to hurl these different birds at strange structures with pigs in them. The goal: knock down the structures popping those fat piggies. It's loads of fun and one of the most addictive games you can buy for the Fire or any mobile device. Rovio, the app creator, made a killing and keeps releasing various themed versions of the app, including this one designed for the Fire.
Random Mahjongg – $1.99
Match Japanese themed tiles in  a timed game.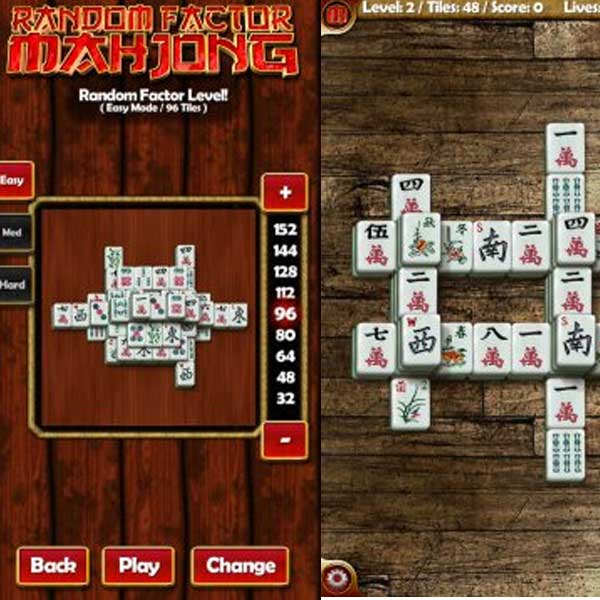 This version of Mahjongg is beautiful and soothing with some peaceful sounding music. You match the tiles which are stacked in various random patterns. Once finished you move on to another random pattern until you can't clear any more tiles. You get some do-overs each game and a chance to shuffle the tiles if you get stuck but want to keep going. You can also play a version where you just go till you can't match anymore revealed tiles and time yourself.
Cut the Rope – $.99
Slice through a rope holding candy so that it can drop into the mouth of your cute monster.
The story: a box shows up on your doorstop with a lovable little green monster named Om Nom.  Your job is to feed him, but all he wants is candy. The game: On each screen you have a piece of candy attached to ropes. You slice the ropes by swiping with your finger. At first it's so easy you wonder why anyone would bother, but soon the obstacles and timing get harder and eventually you're addicted.
Fruit Ninja – $.10
Slice fruit as fast as you can without cutting the bombs which blow you up.
A slew of fruit starts bouncing across the screen and your job as a ninja is to slice them before the fall off the screen. You get more points for slicing more than one fruit at a time. Simple enough, until the bombs start showing up. Cut one of those and you're done for. You can play one of three fun modes: arcade, which is fast paced; classic, where precision is more important than speed; and Zen which is for those who want to calm down instead of getting all fired up.
Productivity
The Fire may not be the best tool for getting work done. If you have it with you, it might be useful to quickly change a few words in a document before you fire it off to your boss. You might need to keep track of your schedule or keep some quick notes. For these kinds of short tasks, the fire can be useful and these apps will help make you produce things in a quick instant.
QuickOffice Pro – $9.99
Quick edits of Office files on the go.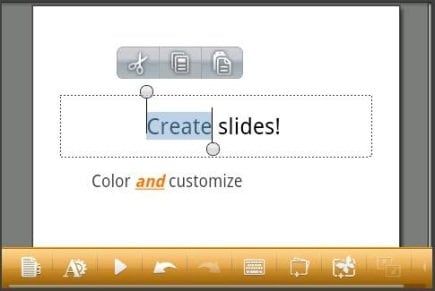 With QuickOffice Pro HD you can work with Microsoft Office 2010 files and save them to Evernote, Catch or share them online via Facebook, Twitter, or Scribd. Import documents from one of may file sharing/syncing services like DropBox and SugarSync. You can create or edit files. You can work with text or format some slides and spreadsheets. I've used a few different such apps on Android but this is by far the best.
Evernote – Free
Access your notes and create new ones which sync to the cloud and other devices.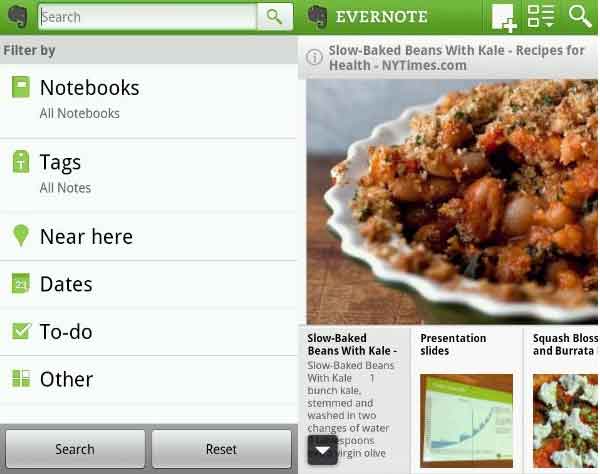 For those of us who use Evernote extensively, it becomes an extension of our brains. I store all kinds of data in my Evernote account which I can access from my smartphone, my computer, and now my Fire. You can create and edit notes. You can access things you've done on other devices like snapshots of documents or audio recordings. Evernote has rich text formatting so you could use it to work with simple documents as well. All of your notes are organized into notebooks with tags for easy searching.
Social Networking
If you're a social kind of person you can use your Fire. The tablet comes with Facebook built-in if you can call an icon that links to the Facebook website being built into a device. Here are a couple of other useful social networking apps.
TweetCaster Pro – $4.99
Tweet and read tweets with this useful and attractive Twitter client.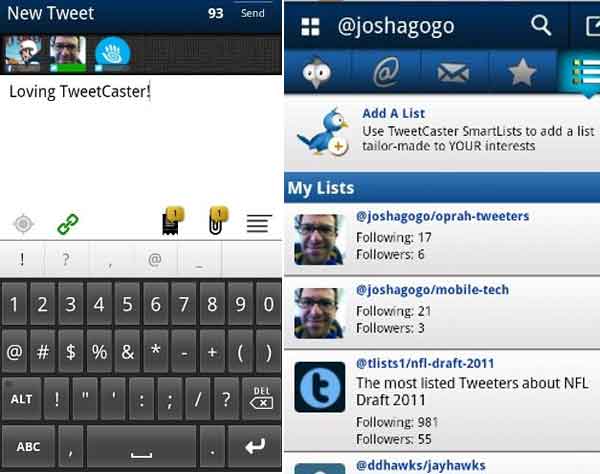 A bunch of Twitter clients populate the Amazon App Store, but I like Tweetcaster the best. It has all the basic features including automatically loading your feed and letting you retweet, reply, follow, block and report tweets or users. You can temporarily hide verbose tweeters, like you might want to do with me while I'm watching the Packers or NASCAR. You can color code your own tweets and replies to easily find them in the feed. Plus it handles not only Twitter but Facebook as well, letting you cross-post your updates to each service or just one of them.
FriendCaster Pro for Facebook – $4.99
Facebook for the Kindle Fire.
Since the built-in Facebook "app" really just takes you to the Facebook website, here's an app that handles some of the most useful Facebook features within the app. Read your friends and refresh it by pulling down. In the pro version you won't see ads and has Gmail integration. You can track messages, list of friends, check ins, events, pages and groups.