2015 Moto 360 Smartwatch: What We Know So Far
Back in July Motorola took to the stage and announced three brand new smartphones for 2015. However, missing from the event was a 2nd generation smartwatch, the Moto 360. For months we've been hearing small rumors of a new Moto 360 but this week key information has emerged along with leaked photos of the device.
Last year Google debuted Android Wear, a version of Android built for wearable devices like a smartwatch, and it was shown off on the Moto 360. It took nearly six months for it to be released in September, and many expected a new Moto 360 along with the 2015 Moto X. The company hasn't announced it yet, but the new watch should be coming soon.
Read: Android Wear Update Takes Aim at Apple Watch
In March a huge leak surfaced showing a box full of accessories and hardware for what could be a new Moto 360, then last week Motorola was teasing the unannounced device on Instagram, but quickly removed the post. Now though, the watch has been seen out and in the wild, and here's what we know so far.
At this point we're not completely sure what Motorola has planned for its upcoming smartwatch, but if it wants to take on the new Samsung Gear watches, or the Apple Watch, it needs to be special. However, from the various photos that leaked this week, it appears to be very similar to last year, still have the same flat-tire look for a light sensor, but will be a much improved and more customizable watch.
While a smartwatch is obviously a gadget, it's a watch first, and Motorola appears to be focusing on that. This year it appears that we'll get something very similar to last years watch but with a few small design changes, multiple color options, and a huge selection of accessories in terms of the size, bands, textures and more. Meaning stainless steel, gold, leather, plastic and other forms of straps to wear the watch with.
Read: Moto 360 Review
The photos above are all reportedly the new 2015 Moto 360 smartwatch. This week multiple images surfaced on Reddit and Google+ of the device being worn out and in the wild in Chicago, where Motorola headquarters are, suggesting that it's nearing the final stages and could be released soon.
Design
From all the leaks we've seen thus far, along with the new photos this week, it's pretty safe to say the new Moto 360 will look very similar to last year, but have a few big design changes. Users are still getting a round smartwatch that's about the same size, but this time the power button is at the 2 o'clock mark, rather centered on the right side.
This will make it easier to tap the button, but that's about all we know so far. It doesn't appear to have a rotating dial on the bezel, or a rotating button for navigation like the upcoming Samsung Gear watch, or Apple's watch creation. Meaning it will be very similar to last year.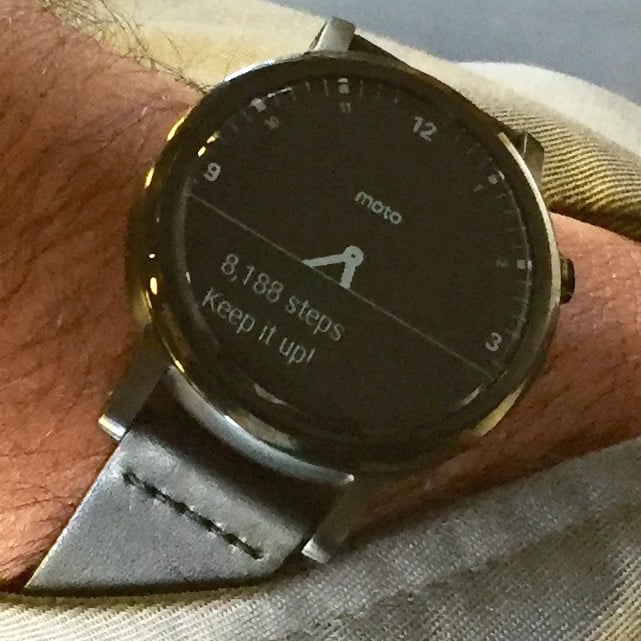 Most likely the new Moto 360 (2015) will still have the famed "flat-tire" look, meaning it will not be completely round. This however, is due to the company putting an ambient light sensor on the device so the display adjusts the brightness automatically. This is one of the best features that other watches don't have, which saves battery life and automatically turns up the brightness when it needs to be. Making wearing the watch simple, and the user will spend less time changing the brightness multiple times a day based on their needs.
There are no concrete details regarding the specs, but we're assuming this device should have a better processor, slightly higher resolution display, and a bigger battery for all-day usage. It also should last longer due to improvements to Android Wear, and the processor will be more efficient.
Lugs for Straps
Absent from the first Moto 360 but shown in all these leaks and the Instagram photo, are lugs for the straps. Or arm extending off the circle where uses attach straps. This makes the Moto 360 look more like a traditional watch, and swapping out straps will be much easier. The first model was just a round face with the straps attaching to the inside bottom of the round face. They were hard to remove and replace. This time around it will look more like a regular watch, and be easier to work with.
Button
As we stated above, but bottom isn't at 3 0'clock anymore, and is now positioned slightly higher around the 2. This should make it a bit easier to tap, but that's where the details stop. We don't know if this will be crown that can be turned like the Apple Watch, or if it will just serve the same basic purposes as the original. Like selecting things, turning the display on/off, and essentially just be the power button.
Customization
Slowly over the past year Motorola introduced more colors and addition watch straps for the first Moto 360, and eventually put it on Motomaker.com so buyers could choose every aspect of the watch. Color, strap, material and more.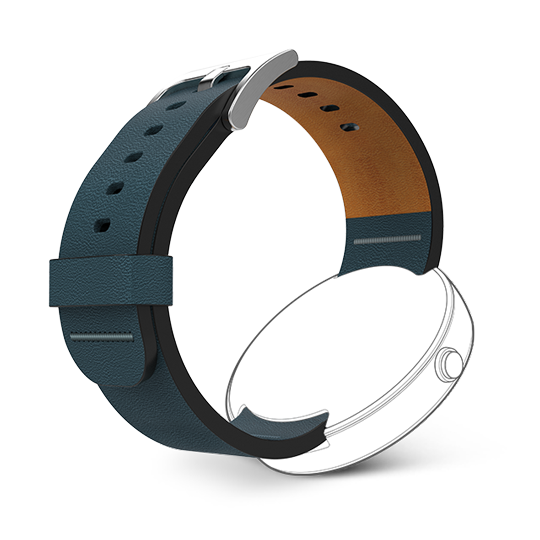 In 2015 the new Moto 360 should have more of the same. We're expecting silver, black, gold, maybe even rose gold, and other color variations, but the biggest aspect will be the straps. The leak shows a black watch with a black leather strap. Or it could be a dark Gunmetal grey color, a popular color in the watch community.
The second leak however, shows a Rose Gold Moto 360 (2015) or 2nd Gen, and a smaller strap for those that don't want a big strap. It's also a reddish Cognac-colored leather strap. Currently Motorola offers metal, leather, DODO leather, and silicon straps. We're expecting even more options, colors and sizes this year, but will have to wait and see.
Release Date
Earlier this year Motorola confirmed the company looks to stick to a similar annual release date cycle on all products, including the Moto 360 and Moto X. When they announced the Moto X Pure Edition smartphone in July we all thought it was coming early, but currently rumor has it the release date is set for September 3rd.
The original Moto 360 and the 2nd Gen Moto X were both released in September of 2014, and we're expecting the same thing this year. While we have no details yet, most likely Motorola will be making some formal announcements soon, and release the new Moto 360 alongside or shortly after the 2015 Moto X Pure Edition.
Now that we're seeing what is likely employees of Motorola, walking around Chicago with the 2nd Gen Moto 360 for 2015 already, we have a feeling an announcement and release is coming very soon. Stay tuned for more details, and Motorola should be sharing more info any day now.