2015 Moto X & DROID Release Details Leak
As the expected August release date nears more and more information is slowly starting to surface regarding the new 2015 Moto X 3rd Gen smartphone. At the same time some new details have emerged revealing the next Verizon Motorola DROID device that could replace the popular DROID Turbo.
Unlike HTC and a few other manufacturers, Motorola does a rather excellent job keeping its devices a secret or mystery until they are ready to make some announcements, but over the past few years we've continued to receive a few small details ahead of the release date.
Read: Moto X 2015 Concept Teases a Design Users Want
We've seen rumors of the specs, release date and more, and even a small press photo has leaked, not to mention rumors of two devices coming this summer from Motorola, not one. Below is some new information about both incoming Android smartphones.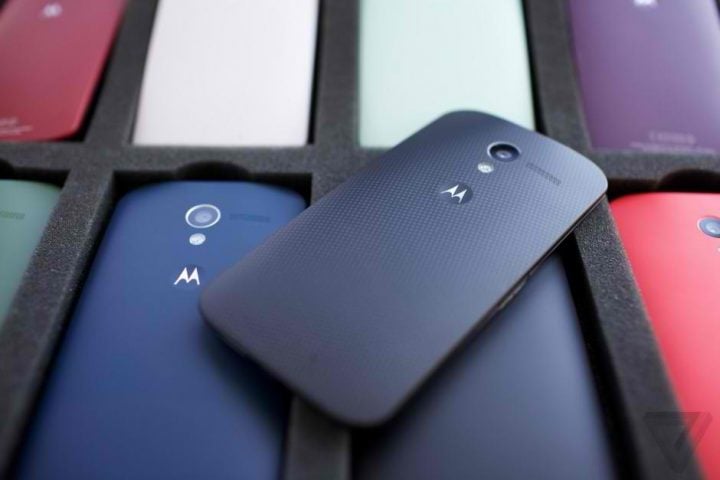 This week a brand new flagship Android smartphone aimed at taking on the Galaxy S6, iPhone 6, LG G4 and more surfaced in some benchmarks and rumor mills, made by Motorola. Most likely this is at least one of the company's smartphones for Verizon, but it's hard to guess so early, and with limited information.
So far it's hard to tell what's coming, due to the little bit of information currently available to the public. That said, last week a rumor suggested Motorola won't release one Moto X this year, but two. Similar to the Galaxy S and Galaxy Note approach by Samsung. One being a smaller device with the same 5.2-inch screen as last year, and another bigger flagship phone to complete with the Galaxy Note 5, LG G4, and other larger "phablets".
Today's leak could be about both new Moto X variants, or one could be the Moto X while the other is the next Verizon DROID smartphone. According to Droid-Life the device is codenamed the Moto "Kinzie" and comes with a big 5.5-inch 2560 x 1440 Quad-HD display, an 8-core Snapdragon 810 processor with 3GB of RAM, 32GB of storage, a 20 megapixel rear and 4.8 front camera setup, and will be running the latest Android 5.1.1 Lollipop release.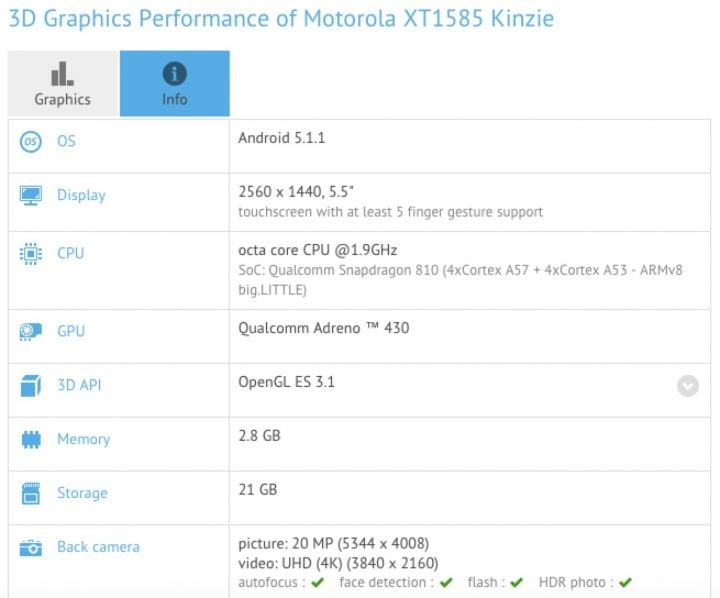 The leakster claims this is a Verizon device, but that doesn't necessarily mean it's the DROID, and could be Motorola's new bigger smartphone set to hit all carriers, just like the Moto X.
Secondly, the leakster also confirmed the codename for the new Moto X 3rd Gen for 2015, and it's being called the Moto "Clark". However, his information suggests it will come with a 6-core Snapdragon 808 processor, while all other leaks thus far have reported an 8-core processor.
Read: Moto X 2015 Rumors & Leaks Emerge
For now the rumor mill suggests the Moto Clark will be the new 2015 Moto X 3rd Gen, while the Kinzie will be the next DROID smartphone for Verizon Wireless. That said, it's too early to tell and we'll need additional information and leaks before we know for sure.
The latest rumors and comments from Motorola themselves suggest an announcement is coming in late August, with the release date being in early September, similar to 2014. We'll keep an eye out for more details and update the moment we know more. The new Moto X and DROID for 2015 are shaping up to be excellent smartphones as the year moves forward.

As an Amazon Associate I earn from qualifying purchases.