2016 MacBook Release: 5 Things to Know
The 2016 MacBook release is here with updated 2016 MacBook specs, a new color option and better battery life. This is what you need to know about the 2016 MacBook update.
The new MacBook arrived without an update to the 2016 MacBook Pro. Instead Apple focuses on the 12-inch MacBook that is quickly becoming a flagship device for the company.
With a new pink MacBook coming to stores this week, this is what you need to know before you buy a 2016 MacBook.
Apple did not announce the product at a special event, instead the company put the 2016 MacBook up on the website with a press release and is putting the notebook into stores on April 20th.
2016 MacBook Release Date
The 2016 MacBook release date is today, but you will be able to find the new MacBook in stores starting tomorrow.
Right after Apple announced the 2016 MacBook the option to buy the new device online was still not available. We expect to see this change as the company brings the full website back online.
If you want the new MacBook faster the company shares that the 2016 MacBook release date in stores starts on April 20th at Apple Stores and select Apple Authorized Resellers.
2016 MacBook Specs
Apple upgrades the 2016 MacBook specs with more RAM standard, faster storage, new Intel processors, better graphics and better battery life. Here is a look at the 2016 MacBook specs that really matter.
| | |
| --- | --- |
| Display | 12-inch Retina Display, 2304 x 1440 resolution, 16:10 Aspect Ratio |
| Processor | 1.1GHz dual‑core Intel Core m3, 1.2GHz dual‑core Intel Core m5, or 1.3GHz dual‑core Intel Core m7 processor Turbo Boost up to 3.1GHz |
| Graphics | Intel HD Graphics 515 |
| Storage | 256GB and 512GB SSD |
| RAM | 8GB RAM Standard |
| Camera | 480P FaceTime Camera |
| Battery | Up to 10 Hours Wireless Web 41.4 watt-hour lithium polymer battery |
| Software | OS X El Capitan, Photos, iMovie, GarageBand, Pages, Numbers, Keynote |
| Design | 0.14 to 0.52 inch x 7.74 inches deep x 11.04 inches wide, weighs 2.03 pounds |
| Connections | Headphone Jack, 1 USB Type C |
| Extras | Adapters sold seperarately to enable video out, USB, Lightining |
Of course you can choose to upgrade the MacBook and configure options that you need. This new MacBook is more capable than the 2015 model, but it is still not going to replace the 2016 Macbook Pro that many users are waiting for.
2016 MacBook Design & Color
Apple finally delivers a pink MacBook. Technically it is a Rose Gold MacBook, but it still fits the bill and brings the MacBook color options in line with the iPad Pro and iPhone 6s.
Overall the 2016 MacBook looks a lot like the 2015 MacBook. Both of these devices only include a single USB Type C port and a headphone jack for connectivity. There is no fan and no moving parts.
The size and weight of the 2016 MacBook is the same as the 2015 MacBook, so if you've been longing for the older model, you already know the size and shape.
The MacBook is just over 2 pounds and is 13.1mm thick with a full size keyboard and a 12-inch Retina Display.
This still uses the same keyboard as the 2015 MacBook, which means you get a full size keyboard, but there is not a lot of travel. It also uses a ForceTouch trackpad.
2016 MacBook Price
The 2016 MacBook price starts at $1,299 for the base model with a 1.1 GHz dual-core Intel Core m3 processor with Turbo Boost speeds up to 2.2 GHz, 8GB of memory and 256GB of flash storage.
The other ready to buy option is $1,599 for a 1.2 GHz dual-core Intel Core m5 processor with Turbo Boost speeds up to 2.7 GHz, 8GB of memory and 512GB of flash storage.
Users can also choose to upgrade the processor to a 1.3 GHz dual-core Intel Core m7 processor with Turbo Boost speeds up to 3.1 GHz through a custom order that will not likely be in every store.
The 2016 MacBook price is the same as the starting price of the current MacBook Pro.
2015 MacBook Price Cut
There is no official 2015 MacBook Price cut since the company is no longer making that model.
Users looking for a deal should check out the refurbished MacBook deals at Apple that cut the price to $929 for an entry-level model. The higher end 2015 MacBook models may not be worth the savings considering all the upgrades that the 2016 MacBook brings to the table.
Best Buy offers $300 off the 2015 MacBook, dropping the price to $999 for the model with 256GB of storage and 8GB RAM.
8 Best MacBook Cases, Skins and Covers
Moshi Muse for MacBook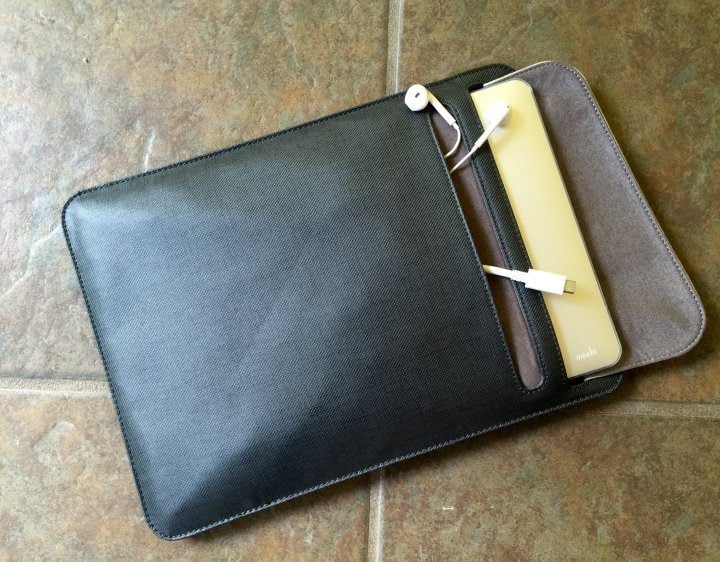 When you need a small 2016 MacBook sleeve to hold your new MacBook and the collection of adapters that you need to get work done the Moshi Muse for MacBook is an excellent option.

Read: Moshi Muse Review
This case features a stay tight design that keeps your MacBook in the sleeve without velcro or zippers and the microfiber interior protects the finish of your notebook while also wiping fingerprints off the finish. An outer pocket allows users to slide in a few small adapters so you have what you need to get work done.
$44.95 at Moshi and available at the Apple Store.

As an Amazon Associate I earn from qualifying purchases.