2018 Nissan Leaf: 5 Things You Need to Know
The 2018 Nissan Leaf is an all new version of the popular electric vehicle from Nissan. The 2018 Leaf adds more range, better performance, a modern look, one pedal driving and new self driving features. This is what buyers need to know about the new Nissan Leaf including one reason you might want to wait for the 2019 Nissan Leaf.
Described as an electric vehicle with a "cool tech attitude" the Leaf includes enough range for many users, smartphone connectivity, Apple CarPlay and Android Auto and other smart features. Two of the biggest changes are an increased focus on one pedal driving and the new ProPILOT Assist technology to help make driving safer and less stressful.
This is what you need to know about the 2018 Nissan Leaf range, price, power, tech and safety as you plan for your next car purchase.
2018 Nissan Leaf Range
The 2018 Nissan Leaf offers a 150 mile estimate range, a jump from the 107 mile 2017 Leaf range. This is less range than the Chevy Bolt and the Tesla Model 3, but it is also a more affordable car. With fast 240V Fast Charging you can expect 22 miles of range in an hour or with 50KW charging you can expect up to 88 miles of range in 30 minutes.
While it is not the electric vehicle with the most range, Nissan sees a special place in the U.S. for this EV. "We believe the new LEAF will be another game changer for Nissan in the U.S., just as the redesigned Rogue has been in the last year and a half, hitting the 'sweet spot' in the growing EV segment," said Muñoz. "It takes everything we've learned from our loyal first-generation LEAF owners to the next level."
The new powertrain delivers 147 horsepower, which is a boost of 38% over the older Leaf. Torque is up 26% to 236 lb-ft., which translates into faster acceleration.
2018 Nissan Leaf Price
The 2018 Nissan Leaf price starts at $29,990. That's $690 less than the 2017 Leaf MSRP and well below the price of the Model 3. You'll need to factor in an additional $885 destination fee. This does not include any state or federal tax credits and promotions. There are three 2018 Nissan Leaf trim levels listed below;
2018 Nissan Leaf S – $29,990
2018 Nissan Leaf SV – $32,490
2018 Nissan Leaf SL – $36,200
You can reserve the 2018 Leaf and you will lock in a free gift of a Google Home with a Nest thermostat, Apple Watch or Go Pro with purchase or lease of the 2018 Nissan Leaf. There is no commitment to purchase, so if you are thinking about buying a 2018 Nissan Leaf, but are on the fence you can still register and be eligible for the gift if you buy one.
2018 Nissan Leaf Self Driving Features
The 2018 Nissan Leaf includes ProPilot Assist, which is a driver convenience and safety feature that you use while on the highway. This single-land driving assistant technology can help keep you at a set distance from the car in front of you and it can help steer. The system will help keep the car centered in your lane and if the vehicle in front of you stops, the Leaf will apply brakes, even takin the vehicle to a full stop without the driver pressing the brake. This is not a fully autonomous system, but it can reduce stress and fatigue while driving.
Additionally the Leaf includes Intelligent Lane Intervention, Lane Departure Warning, Intelligent Emergency Braking, Blind Spot Warning, Rear Cross Traffic Alert and Intelligent Around View Monitor with moving object detection.
2018 Nissan Leaf One Pedal Driving
We hear a lot about one pedal driving with electric vehicles and the 2018 Nissan Leaf includes e-Pedal as a standard feature across all trim levels. This allows you to accelerate, decelerate and stop all using the accelerator.
When driving you press on the accelerator to go. If you release it, the leaf will come to a "smooth and complete stop" without you needing to press the brake pedal. There is a brake that you can press if you need to slow down faster, but Nissan states that you can use the single pedal for more than 90% of driving needs.
2018 Nissan Leaf Technology
The 2018 Nissan Leaf includes support for Apple CarPlay and Android Auto right out of the gate. This includes USB connectivity to see your iPhone or Android apps on the screen. Nissan also includes Bluetooth technology to stream music and make calls.
You can also use the NissanConnect EV app to charge the Leaf on a timer, start the climate control before you need to unplug and hit the road and to check your Leaf range. You can also use the app to plan a route, find a charger, lock or unlock your doors and get roadside assistance.
2019 Nissan Leaf Promises More Range
The 2019 Nissan Leaf is still off in the distance, but Nissan did confirm that it will feature a longer range at a higher price. Nissan includes a short statement saying, "For those who want more excitement and performance, Nissan will also offer a new higher power, longer range version at a higher price for the 2019 model year."
Expect to see this 2019 Leaf debuted in late 2018 and go on sale in Japan around that time and in the U.S. a short while later.






































You Need These 10 Must Have Car Features: Find Out Why
Smart Cruise Control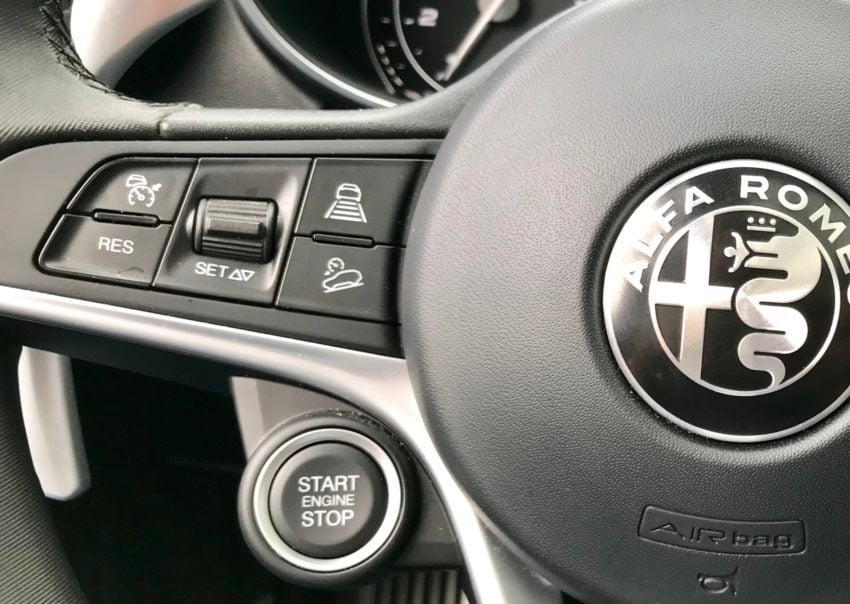 Do you hate constantly adjusting your cruise control, or giving up on cruise control because of traffic or due to a driver in front of you who keeps changing speed? You need a smart cruise control system.
Smart cruise control goes by many different names. You may see it listed as Radar Cruise, Adaptive Cruise or Intelligent Cruise control. Whatever it is called, it will allow you to set your cruise control and then stay with the flow of slower traffic.
Here's why we love it and why you need it. You get on the highway and set the cruise at 76 miles per hour. You also set the distance you want kept between you and the car in front of you. There are typically three or four settings so you can be close or keep a lot of space. Now you simply steer and your car will go 76 mile per hour when traffic allows it or there is no one in front of you. When someone is in front of you going 73 mph, the car automatically slows down to keep you the distance you choose from that car. This is indispensable in traffic and on long road trips.
Not all smart cruise control systems are the same. Some of work at all speeds, while others only work above a specific limit. Some systems can bring you to a complete stop in traffic and then restart without you needing to touch a pedal.
You can find adaptive cruise control on cars as cheap as $18,500 like the Toyota Corolla, and as an option on many cars below $30,000. Even on pricier cars you may need a higher trim level or special package to get this feature.

As an Amazon Associate I earn from qualifying purchases.