2019 iPod Touch: 5 Things Buyers Need to Know
After a long wait there is a new iPod Touch that can finally keep up with the latest iPhone and iOS features. The 2019 iPod Touch is the first model that supports Group FaceTime and Augmented Reality, which makes it a perfect entry level device for kids that aren't ready for a full on iPhone. With a starting price of $199, it's also much more affordable than an iPhone.
The 2019 iPod Touch still looks the same as the older model, but this is a major spec update and the first real change since 2015. If you've been holding out, it looks like a good time to upgrade to the new iPod Touch. This is what you need to know about the iPod Touch 7th generation.
2019 iPod Touch Price
The new iPod Touch starts at $199 and you can now get it with up to 256GB of storage. Apple offers three storage sizes this time around priced as follows;
The higher storage amounts make room for bigger AR apps as well as for downloading lots of movies, apps and TV shows for use offline. It might be the best small device for Amazon Freetime Unlimited.
New iPod Touch Features
The biggest new iPod Touch features are standard fare for iPhone users on iOS 12, but this marks the first time that some of these features are available on the iPod Touch. Apple specifically calls out AR experiences and Group FaceTime.
With Group Facetime you can use the iPod Touch to join a group video call with up to 32 other people at the same time. This is handy if you want to let your kid do group video chats with family or friends.
Many of the biggest games of the year are focused on Augmented Reality and some of the best educational apps are adding in support for AR. This lets you look through the iPod Touch and see things overlaid on the real world. It's a cool experience and now it is available starting at just $199.
What's Missing From The New iPod Touch?
While Apple did upgrade the iPod Touch with some much needed new features there is still one thing that is missing that everyone will definitely miss. There is no Touch ID or Face ID on the new iPod touch.
Apple did not change the design it introduced nearly seven years ago, and that means you still need to enter a passcode like you would on a device from seven years ago. While this is seemingly forgivable at this price, it would be nice to allow kids and parents to easily unlock the iPhone with a fingerprint.
The other thing missing is a modern processor. Apple's choice of the A10 processor lets you get AR and Group FaceTime, but it's going to limit future features sooner than if Apple had put an A11 chip in like the one found on the iPhone 8.
2019 iPod Touch Specs
The new iPod Touch 7th gen specs are close to what Apple offers on the iPhone 7, but it uses a smaller 4-inch display. Here's a look at the rest of the new iPod touch specs in case you want to know all the details.
4-inch display with 1136-by-640 resolution
A10 Fusion Chip
32/128/256GB Storage
8MP Camera with ƒ/2.4 aperture 1080P Video Recording
1.2MP FaceTime HD Camera
Wifi & Bluetooth
Headphone Jack
Lightning Connector
Specs aren't everything on Apple gear, but as we mentioned, the processor may come back to bite users down the road.
2019 iPod Touch Deals
There aren't any real 2019 iPod Touch deals yet. If you want to save on the new model, you will need to wait until Amazon and Best Buy start stocking the newest models. Amazon typically sells the iPod Touch for about $17 off and Best Buy often runs promotions that include gift cards or discounts of $10 to $20. That was the case for the older model anyway.
While the new iPod Touch is on sale today, it hasn't yet reached third party retailers, so make sure you are buying the newest model if you are trying to buy one right now.
4 Reasons To Buy the 2019 iPod Touch & 3 Reasons Not To
Buy for AR and Group FaceTime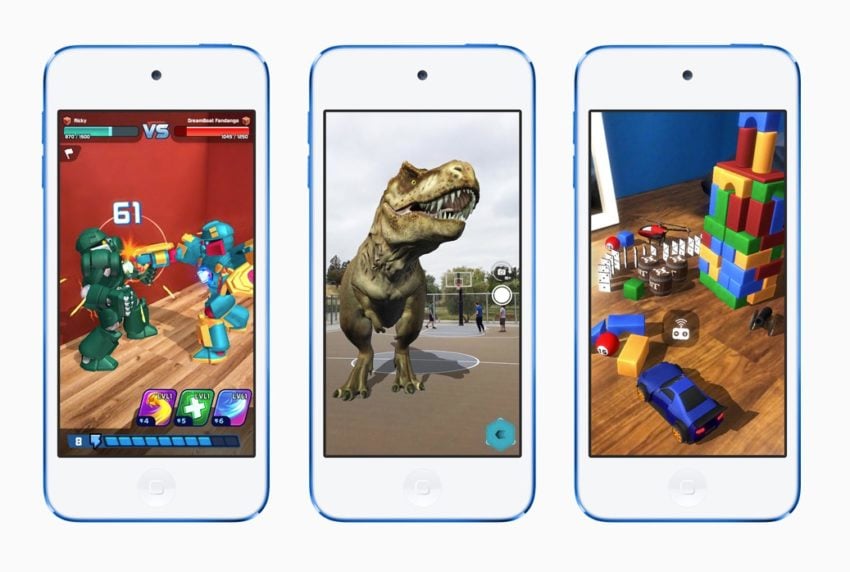 The new A10 processor and upgrades unlock some features for the first time on an iPod Touch. These include AR experiences and Group FaceTime.
If you or your child is interested in Augmented Reality games or learning apps, this is a great reason to buy the new iPod touch. It is the cheapest and most portable way to play AR games and use other augmented reality apps.
With Augmented Reality you look at the iPhone screen as it puts virtual items on the real world around you. It's a fun and cool way to use technology and there are a lot of interesting options.
Group FaceTime is a way you can group video chat with up to 32 people and it is available on the iPod Touch for the first time. You or your kid can use this to chat with friends and family members.
While you can do this on other iOS devices like the 9.7-inch iPad and most recent iPhones, you cannot do either of these on the older iPod Touch.