28% of Tablet Users Use Device as Main Computer
Twenty-eight percent of all tablet users do not use a desktop or laptop as their main computer. They use the tablet instead. This is according to a survey by AdMob posted at Beta News.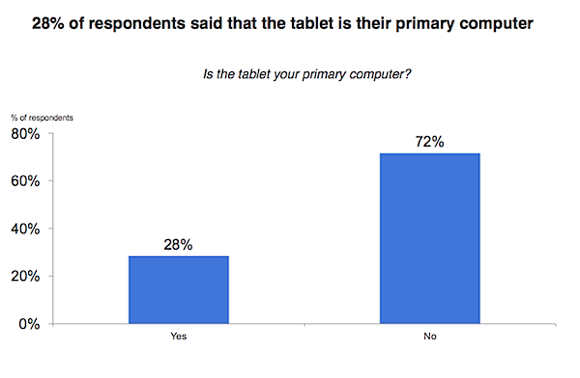 The survey included 1,430 tablet owners. Seventy-seven percent said they used their desktop or notebook computer less than they did before getting the tablet.
Considering what the majority of users do with their computers, this is not as surprising when you really think about it. A tablet is perfectly useful for reading email, looking at web pages, and reading news. Facebook and Twitter work fine on a tablet. And reading books, magazines, web pages and watching video is actually more enjoyable on a tablet so long as the chosen tablet has a decent touchscreen and long enough battery life.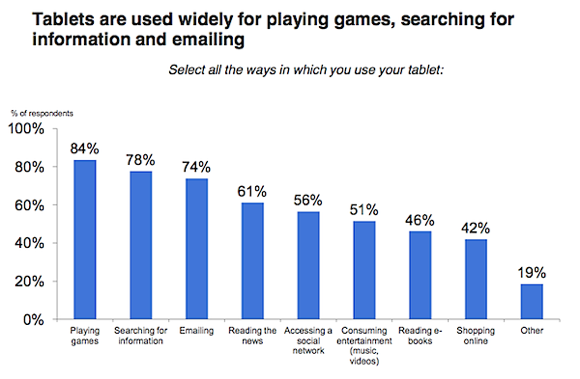 When asked what they use their tablets for, the responds said the following (percentages included):
Gaming – 84%
Searching for info – 78%
Email – 74%
Reading news 61%
Social media – 56%
Music/video – 51%
Books – 46%
Shopping – 42%
Other 19%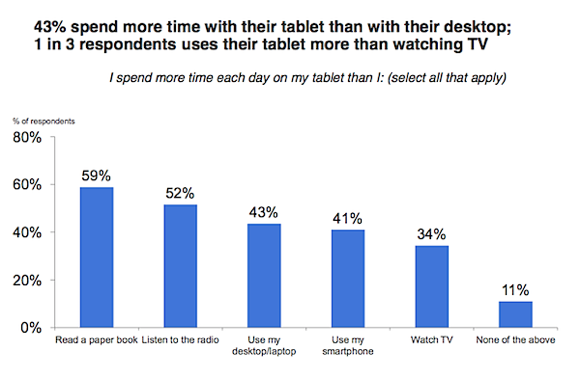 The shocking thing to us on this list is TV. But when you think more about it, you realize that people often use their tablets while watching TV in addition to using it away from the TV. As a result total time spent on the tablet is more.
Beta News was surprised about eBook reading. But I seldom read paper books now that I have an iPad. In fact this began with a Kindle months before the iPad was released. When friends recommend books, I will sometimes decide to read it only if I can get an eBook version.
One thing conspicuously missing is anything related to content creation like:
Document editing/creation
Editing video or photos
Blogging
Drawing
Programming
While these are things that can be done with an iPad or other tablets, slate tablets are often not as good as a computer for content creation. Limited document editing, drawing and photo/video editing can be done. But if I had to do any of these things full-time on my iPad, I would pull the little hair I have left out completely. Unless something changes soon, there will still be a need for a PC, especially since you cannot activate or backup an iPad without one yet.
The one question they didn't ask that, would be interesting to learn is which tablets were included. The results would be understandable if the vast majority of the tablets were the iPad style touch-centric tablets. Tablet PCs are actually a different bread and can be used for more content creation tasks than iPad style tablets.

As an Amazon Associate I earn from qualifying purchases.