3 Apps That Beat High Text Message Rates
Text messaging is getting expensive again as AT&T "streamlines" the company's text message plans. This change removes the $10 plan for new customers, leaving the expensive $20 a month unlimited plan and a no plan, pay per text option which will charge 20 cents per text and 30 cents per picture message.
Current customers can keep their current plan, but anyone who wants to switch to AT&T for the iPhone 5 or an upcoming Android smartphone will need to make an expensive choice when it comes to text messages.
If you have a smartphone, you can avoid this issue by using one of these free texting apps. With these options, you can send text messages without overpaying.
How to Beat High Text Message Rates
Pinger Textfree

Pinger allows you to talk and text free from your iPhone, iPad, iPod Touch and Android devices.
The Pinger app includes a free phone number, for the current time being, so you can text back and forth with friends no matter if they are on the service or not.
I also like that this app includes online access to send texts from your Pinger number while you are at your computer.
Google Voice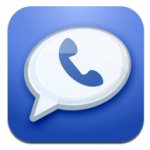 Another top pick is Google Voice. This free service from Google allows you to send text messages from the Google Voice app on your iPhone or Android device. These messages go over data so you don't need to pay per text.
Google Voice also allows you to ring multiple numbers and access your voicemail online and in a visual form on your smartphone. That's just the beginning, Google Voice offers a full suite of awesome services for your phone.
For more on Google Voice, check out our starters guide, Google Voice University.
Facebook Messenger
If you are frequently texting your Facebook friends, and can convince them all to install the Facebook Messenger app, this is a good solution to cut down on your texting.
Unfortunately, this app doesn't allow you to send messages to your friends' phones if they don't have the app installed. At least not easily. If they confirm their phone number and subscribe to text updates, they should be able to reply, but that seems like a lot of work.
All of these apps work on the iPhone and on Android devices so you don't need to pick and choose which friends you keep in touch with.
Because you will need to give friends a new number to make the most of these services, I suggest picking Google Voice. There are just too many benefits to making Google Voice your new forever number, to look elsewhere.