3 iPhone Accessories for Amazing Sound This Summer
If you want to get better iPhone sound this summer here is a collection of three affordable iPhone accessories that will deliver louder, better sound for under $50. In this roundup is a iPhone 5 and iPhone 5s case that amplifies the iPhone speaker without using any battery life and two small and portable Bluetooth speakers that will work with any iPhone or Android smartphone.
The iPhone is the center of my musical world with a few songs stored locally and millions more streaming from Pandora and Spotify. When I am in the backyard, working from the park or hanging out with friends music is a key part of my summer.
Unfortunately the iPhone 5s speaker isn't loud enough to be the only speaker I use while I am outside. It's too quiet and limited to satisfy my needs. This is why I was excited to find a trio of iPhone accessories that deliver better sound starting at just $19.99.
Read: 50 Amazing iPhone 5 Cases
The Speck CandyShell Amped case attaches to the iPhone 5 or iPhone 5s to protect the device, but the inside also features a channel; that amplifies the sound and directs it to the left side of the device instead of the bottom. The iFrogz tadpole is a small Bluetooth speaker that connects to my keychain or a belt loop and delivers impressively loud and clear audio for such a small package. Finally, the HMDX JAM Classic delivers rich sound in a portable package that is just $25 on Amazon.
I've been using these accessories for a few weeks and in the short list below you'll learn why I like each of these and get a quick review of the iPhone speaker case that uses engineering instead of speakers, an incredibly small Bluetooth speaker and an affordable perfectly sized speaker for the backyard.
Speck CandyShell Amped Review for iPhone 5s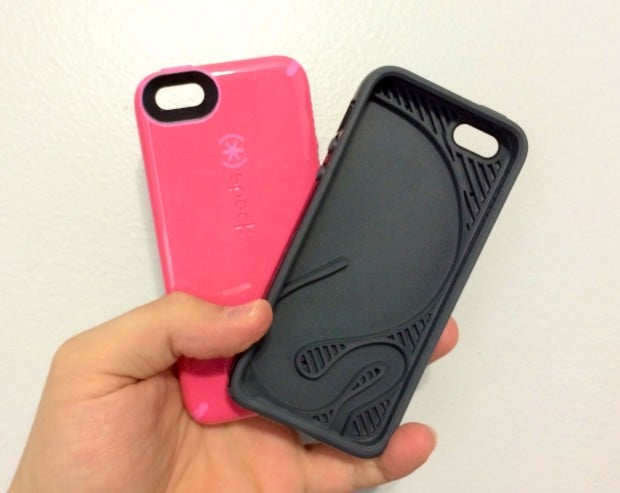 At first glance the Speck CandyShell Amped iPhone 5s case doesn't look much different than a regular Speck case, but there are a collection of holes on the left side and a channel on the inside the amplifies your iPhone speaker up to twice as loud without messing with the audio quality.
I was skeptical when I took this iPhone 5s case out of the box, but after snapping it in to place I was quickly impressed. Without the need for any battery, recharging or connectivity the iPhone 5s sound was louder and still delivered in good quality.
Granted this solution own't meet the needs of an audiophile who would love to listen on a $400 pair of headphones, but for the iPhone 5 or iPhone 5s owner that constantly needs to cup a hand around the speaker just to hear music or movies this case is awesome.
I put it to the shower test, which is another place I like to listen to music. The iPhone 5s is loud enough on its own if I set the phone on the edge of the shower, but with this case on I could leave it safely on the sink and still hear the music.
In addition to boosting the sound of any app or music on your iPhone 5 or iPhone 5s this case also offers protection from drops, like other Candy Shell cases from Speck.
This case is $44.95 from Speck and is available in four colors including light and bright pink.