Nexus 10: 3 Reasons ChromeOS Makes Sense
With refreshes for the Nexus 5 and Nexus 7, the tablet world awaits a new Nexus 10 tablet, especially after Apple slimmed down the iPad Air. Pundits at GigaOm and Pocketables suggested that Google should refresh the Nexus 10 and use ChromeOS. It sounds crazy, but putting ChromeOS on a tablet makes a lot of sense for a three reasons. It's time for a new Nexus 10 and it should run ChromeOS instead of Android. We don't need another boring Android 10-inch tablet, but one running ChromeOS would shake things up a bit.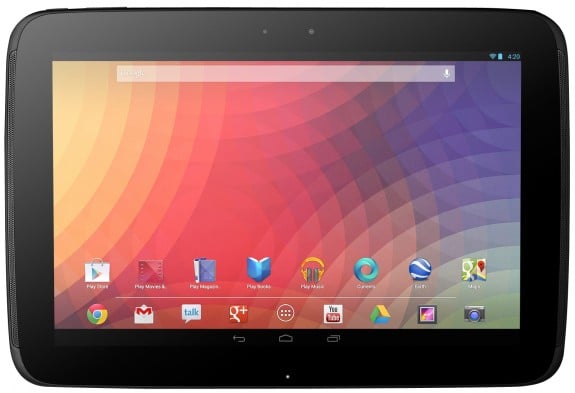 ChromeOS Works Great on Always-connected Devices
A tablet with LTE built-in would remove the biggest objection to ChromeOS proposed by the competition. When it's always connected via LTE it doesn't suffer from the "when you're not connected … it's a brick" problem mentioned in the following Microsoft attack ad. We also get access to Google Docs and anything else one might wish to do with a tablet online. Most of the gaming done on tablets works fine online, though some graphically rich games may not make the cut.
ChromeOS Reduces Hardware Costs
In the heated tablet market, getting hardware costs down translates into sales. As herds of tech buyers file through the displays at Best Buy or Staples, they look for the iPads and then the price. Sticker shock pushes some down the line to cheaper Android tablets. A low-cost Nexus 10 with ChromeOS would look appealing, especially since many such buyers already run Chrome as their browser thanks to their tech savvy cousin or grandchild who set it up for them at Thanksgiving or after the family reunion.
Currently the Nexus 10 Wi-Fi only model sells for $499 with 32GB of storage in the Google Play Store. The Nexus 7 with LTE and 32GB sells for $349, but that's for a more powerful device. ChromeOS doesn't need that much power or storage. Google could find an OEM partner to make a 16GB LTE model with a little less power than their 7-inch device. Google could sell it for $399 with LTE built-in. That undercuts the iPad Air Wi-Fi only model and the Samsung Galaxy 10-inch devices by at least $100.
ChromeOS Give Users the Full Browsing Experience
ChromeOS runs a full version of the Chrome browser making it possible to add extensions that add functionality right into the browser. ChromeOS fans and others who enjoy using Chrome on their computers could get excited about a ChromeOS tablet.
A full version of Chrome beats the terrible Android version for many reasons. Foremost, the Android version of Chrome handles passwords poorly. Users can install LastPass on Chrome in ChromeOS and access all their passwords at the tip of a finger. This makes browsing password-protected sites like the bank, Gmail and others much easier.
Google won't likely take this exciting step, but the growing number of ChromeOS users would love running the same operating system on both their laptops and tablets.