3 Ways the Nokia Lumia 925 Beats the iPhone 5s
A few weeks ago I decided to use Windows Phone 8 full time and place my Apple iPhone 5s back on a shelf in my office. Contrary to what some might think, the decision to do this wasn't out of ego, or some belief that Windows Phone 8 was somehow overwhelmingly better than iOS 7, the operating system that comes on the iPhone 5s.
Instead, my decision to switch back after six months and purchase the Nokia Lumia 925 came after carefully considering a few of the key advantages that the Lumia 925  held over the iPhone 5s.
Durability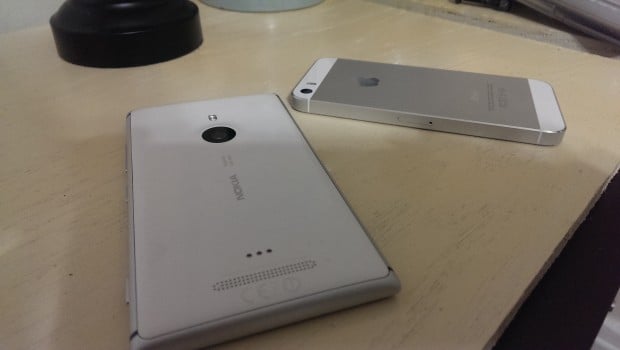 The Nokia Lumia 925 and the iPhone 5s look somewhat similar. In fact, both devices really do share most of the same build materials. Metal wraps both of their sides. The iPhone 5s has a glass and aluminum wrapped rear while the Lumia 925's rear is made up of polycarbonate plastic.
In the six months I used the iPhone 5s as my only device I never once dropped it. That being said, if I had there's no doubt in my mind that it would look like an epic mess by now; I've seen what a two foot drop can do the iPhone 5s, especially when its not in a case.
Less than a week into owning the Lumia 925, I dropped it in an airport parking deck. Being used to the iPhone 5s' fragility I expected it to be the end of the device's good looks at least. Falling from a height of about three feet, the Lumia 925 actually bounced off its rear and landed face down. I expected it to be horrifically mangled.
I have yet to notice a single scratch.
I must admit that mine is a fringe case. I hate cases on smartphones and I'm not prepared to ruin the svelte lines of a device and pay upwards of $80 for the experience. Smartphones need to be durable for me to consider picking one up.  In this key area the Lumia 925 surpasses the iPhone 5s hands down.
Camera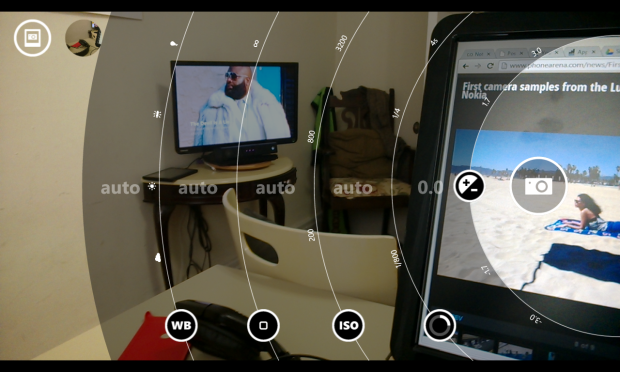 The iPhone 5s has a terrific camera with great optics that perform well in almost any lighting situation. A week spent abroad with the Lumia 925 has me convinced that Nokia nailed the camera experience on the device. Whereas the iPhone 5s takes great low-light photos, the Lumia 925 takes terrific photos in low light situations and allows for a bit more tweaking.
The Lumia 925's lens actually floats on springs inside the device internally. This allows the device to capture photos that would otherwise look horrible if the user has an unsteady hand. I can't help but feel that the Lumia 925's Nokia-made camera app is more seamless. Don't get me wrong, Nokia has still sprinkled out many of its camera experiences like panorama shots into separate apps that just confuses users. However the options that are included in Nokia Camera are straight forward. We're talking white balance, timing, exposure settings, custom ISO settings and more.
Finally, the Lumia 925 includes a physical camera button. I can't stress how much better that makes taking photos. Unlike the iPhone 5s, Lumia 925 users can bypass the lock screen by simply holding down the camera button. After a few seconds it'll take them directly to the camera experience. It feels faster than the process required to quickly take a photo on the iPhone 5s.
Microsoft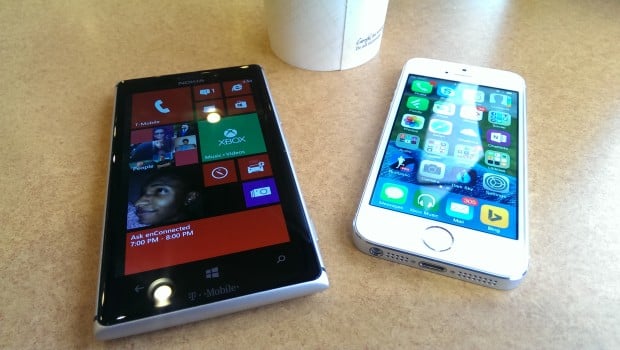 I'm of the opinion that Windows Phone 8 itself still needs a lot of work. Live tile notifications aren't a valid excuse for not having a centralized notification center and the operating system still feels as sterile as the iPhone did before Apple added wallpapers and alert customization.
First, both of those things are addressed in Windows Phone 8.1, the upcoming free update Microsoft is rumored to be formally announcing this April.
Second, the Microsoft ecosystem still has a few key advantages for anyone who uses even just a few of its products. Every Windows Phone includes a copy of Microsoft Office. Word, Excel, PowerPoint and OneNote content are all available to edit directly on the device. They all also sync directly from Microsoft's SkyDrive service. This is something I sorely missed on the iPhone 5s.
Strangely enough, Xbox Music also comes in handy too. It costs $9.99 a month but being able to keep the same collection of content and sync it to the Xbox One, Xbox 360, Xbox.com, a Windows 8 tablet, iPhone or even Android devices is a great win. That the service is pretty much available anywhere definitely puts it over iTunes Radio easily.
OneDrive, formerly SkyDrive, gives the Lumia 925 an advantage as well. Again, its usefulness is subjective since I happen to use many of Microsoft's products, like the Xbox One, Office and Windows. Still, that all of my documents and pictures are automatically synced and available across almost any number of devices just makes the Lumia 925 a better device for anyone who hasn't invested in an Apple TV and Macbook.
Read: Apple iPhone 5s vs. Nokia Lumia 925: What to Buy
It's for these reasons that the Lumia 925 worked out as a better device for my needs and I expect many more if they were to actually give it a try. The iPhone 5s still maintains a heavy app advantage, but the Lumia 925 comes pretty close to meeting users' everyday needs.